A heartfelt journey of lived-in knowledge encompassing food, culture and belonging, Ella Mitta's debut cookbook Ela! Ela! – To Turkey and Greece, Then Home brings to the table the stories behind some of her most iconic dishes.
The Melbourne-born writer, chef and pop-up pro, shares her first ever collection of food writing and personal essays, which speak to the origins and evolutions – and lead us to the recipes – of traditional favourites that have often been claimed by both Greece and Turkey, as they become engrained in Melbourne's multicultural food scene.
"The recipes are a mix of things I saw, ate and was taught," she says. "Years of cooking them have turned them into something more my own."
Mittas has built her career in food working under Brigitte Hafner, Annie Smithers and Ismail Tosun in Australia, honing her skills in London at NOPI, in Tel Aviv at Romano and in Istanbul at Lokanta Maya.
Her recipes have been featured in The Design Files and Broadsheet, and her food writing published in The Saturday Paper.
Ela, which means 'Come' in Greek, features mouthwatering traditional delicacies the likes of Cretan skillet pie with thyme honey, braised Roman beans with trahana, buttery chicken pilaf – dishes inspired by traditional and regional food. Each chapter of the book is based on a different region Mittas has worked in.
Ela! Ela! came out of diary entries and notes Mittas kept while travelling, as the imagery also complements her storytelling, combining film photos from her travels that she has taken herself, intimate scenes from cooking with friends, and candid food shots from shared meals.
"And yes, they are my film photos as well," she tells Neos Kosmos. "When I travel, I like to document my trips. I love looking back over notes from kitchens I've worked in, quotes of what people have said and all the strange interactions. The book was born out of that documentation. I wanted to make something to remember those years."
Through the stories and recipes in Ela! Ela! Mittas explores her travels through Turkey and Greece, her relationship with her Anglo-Greek identity, and her desire to connect to culture through food.
"I think the most obvious difference I found between Turkey and Greece while living there was due to the government.
"I found that the government in Turkey was more repressive, which really affected my experience of living there."
Mitta's says that there were so many similarities with the two cultures, specifically food, with a pivotal commonality being how heavily vegetable based both cuisines are, contrary to people's belief that Greek and Turkish foods are predominantly meat-based.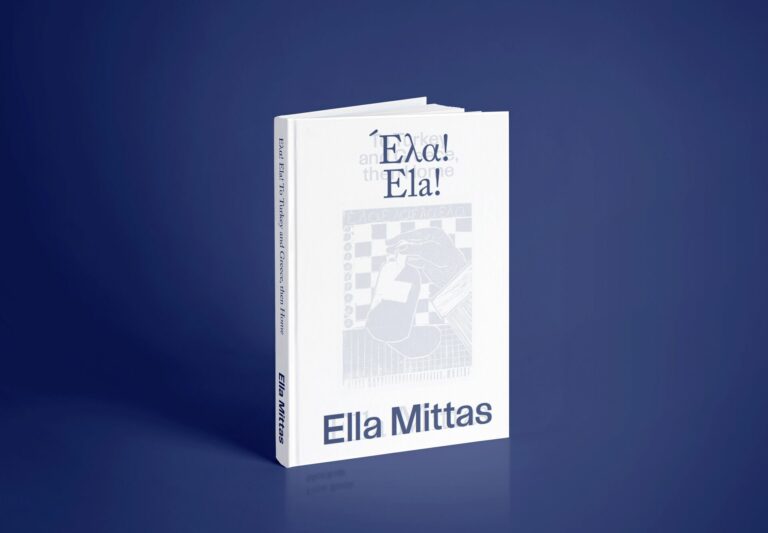 "So many of the words for food are the same, so many of the ingredients, so many of the dishes," she says.
"The food is very, very similar, apart from the influence from the Middle East in Turkish cuisine, which incorporates spices and chilli."
Mittas wants this book to convey aspects of the realities of working in kitchens. But also something of the reality of western culture.
"I think lots of what I learnt through writing this book was how entitled I was going to work in Turkey when I was so young and how I expected everyone to make it easy for me. So I think a big part of this book has been me realising the privilege of that."
"Also", she highlights, "knowing the importance of family and roots and not just missing them is a big part of what she is trying to convey."
The main thing she learned while writing the book was how integral food and cooking is to her sense of self, especially during the pandemic. Not working on any events for the best part of two years almost had her forget that she was a cook, however, sitting down to write the book made her realise she was keeping a whole world of sentimental culinary knowledge inside of her, much of it, passed down by her Greek-Australian family.
"My father's side of the family is Greek. They all live on one street, in houses next door to each other," Mittas says opening the book.
"There are holes cut between backyard fences, so everyone can be together easily. That one small section of street has given me a sense of community and belonging I haven't been able to locate in the rest of my life. It seems separate from the rest of Australia, but it's a version of Greece abstracted from the real thing; its traditions are built on distant memories."
Asked how the experience of working and living overseas -with said experience rooted in food- influenced her identity as a cook upon returning home to Melbourne, Mittas attributes a big part of her evolution on being exposed to so many traditional cooking methods.
"And I experienced first-hand different agricultural regions and why certain dishes have been created from them," she tells Neos Kosmos.
"Working and living overseas also just gave me so much cultural knowledge about music, about the way people are in certain areas, not that it necessarily comes out in my food, but I think having all of that background knowledge is important. I think taking all of that cultural knowledge and coming back to Melbourne and pairing it with great produce in more contemporary settings is the best thing I can offer to people."
To launch the book, Ella has organised a tasting event enhanced with the sounds of 'Greek Blues' and classics at Cams Kiosk in Abbotsford.
"The launch at Cams will include set meze based on dishes out of the book," she says.
"There will be live music, we are getting some rembetiko played live and there'll be DJs. I love doing events there because I get to cook interesting Greek food without limitation. I think they'll be very fun nights."
Mitta's deeply intimate book about food, culture and and family, is available for pre-order now from www.ellamittas.com or from all good bookstores from 15 October.
Gigantes with Tomato and Dill
Ella Mittas has also provided one of her favourite hearty recipes from her book to Neos Kosmos, Gigantes.(Serves 6 as a side)
Ingredients:
500 g dried lima beans or butter beans, soaked overnight
2 red onions, diced
2 garlic cloves, finely sliced
8 tbsp olive oil
3 capsicums, sliced lengthways
4 tbsp tomato paste
2 400 g cans diced tomato
1/2 cup dill, chopped
6 sprigs fresh thyme, chopped
3 lemons, juiced
flaked salt and freshly ground black pepper to taste
Method:
1.Soak your beans in plenty of water overnight or for at least 12 hours; this will help them to cook evenly.
2. The next day, cover the beans with water in a pot. Salt the water generously and add 2 tablespoons of oil and a few sprigs of thyme. I find the oil helps with the texture.
3. Bring up to a boil, then turn down to a simmer; the beans should take around 25 minutes to cook through. Make sure you cook them until they're creamy but not falling apart, as they'll get cooked a second time.
4. Once cooked, take them off the heat and allow them to cool in the cooking liquid. I find this prevents them from drying out.
5. While the beans are cooking, start your base for the sauce. Preheat your oven to 180°C. Sauté your onions for around 15 minutes until they are translucent, then add your garlic.
6. Sauté your garlic for around 30 seconds, then add in your capsicums.
7. Cook out the capsicums on a medium-low heat until they've lost a fair bit of their liquid and have started to caramelise. This will take about 15- 20 minutes.
8. Add in your tomato paste, fry off for around a minute, then add your cans of tomatoes. Also add in a can full of water.
9. Simmer until the sauce has come together: around 20 minutes.
10. Drain your beans, leaving a little of their cooking liquid to one side in case you need it during the baking process. Then mix the sauce through the beans, add in a few sprigs of thyme and bake at 180°C until you get nice crunchy caramel bits on the tops, which will take around 20 – 30 minutes.
12. Once the beans are finished, let them cool slightly before seasoning with salt, pepper, lemon and olive oil. Stir through the dill now, too and you're ready to go.