The Food For Thought Network (FFTN) was founded in 2001 by Varvara Ioannou, Chair, and has grown successfully in purpose and reach. This network is inclusive and diverse, supporting Greek Australian women across generations as well as connecting women from all cultural backgrounds and experiences. A professional network with heart, it draws women committed to the empowerment and progression of women across all areas of life, including work, family, language, culture and well-being.
On Sunday 30th October I felt honoured to be in a room of phenomenal women as I attended another successful FFTN event. We were all warmly welcomed by both Varvara Ioannou Founder and Chair and Maria Makris, Vice Chair. From the beginning I had a sense that I was joining old friends – that is the feeling you get when you attend a FFTN event regardless of whether it is your first time or you are a seasoned member and/or participant. There is a palpable recognition of the cultures we inherit, the impact of intergenerational ties and the responsibilities and dreams we each carry.
On this particular Sunday, in line with FFTN's vision and mission, this event continued to provide a supportive and important platform for women to address and reflect on the critical and pressing issue of family violence. The family and domestic violence issue was raised by FFTN founder Varvara as far back as 2004.
Now with a starting theme of 'You are not the only one' – a Q & A took place between committee members Georgia Pernitzis and Helena Kidd about the topic of family violence through the memoir of Maria Avraam "When the Past Awakens".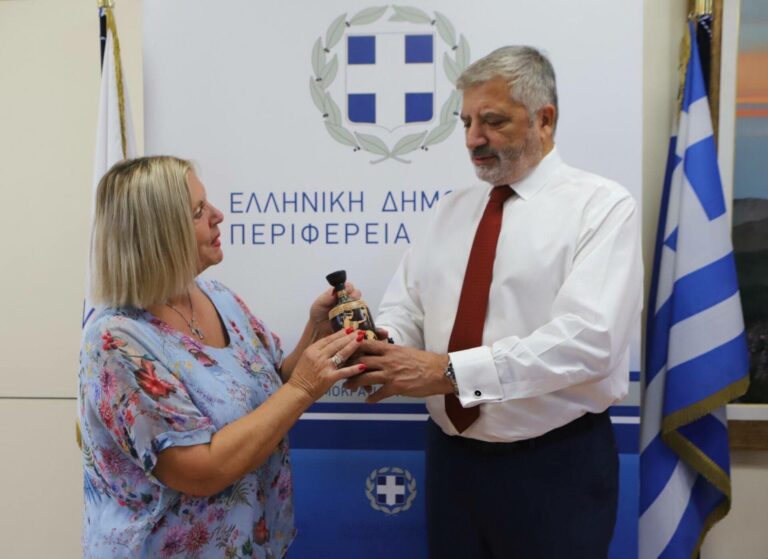 Helena gracefully shared her version of "silent shame". Her and her mother's words are still ringing in my ears -"Maria's story is about a woman not giving up, even when the psychological and physical pain was excruciating" and "You can never go back to something once it is damaged".
The session was emotional, moving and rippled with resolve for change. The questions went deep and it was heartbreaking to hear Maria's story. Yet it felt so important to hear it, and it felt like these stories must not be lost. There was recognition that parts of this story could be our own mother's and to this day many women tragically still experience high level of domestic violence.
Helena told us that her mother was ashamed of being a single woman and wore her wedding band to avoid the stigma and hardship she would endure if the community realised otherwise. It is heartbreaking to hear both Helena's voice and her mother's experience of violence. A horrific time – how did she find resolve, resilience, and strength of character?
Both these authors and our conversations reminded us that we do stand on the shoulders of our mothers, grandmothers, and foremothers. They endured so much, so we must continue to have these conversations, to support each other and speak out for change at both the systemic and structural level
Tolstoy said "all happy families look alike". We recognised that secrets are kept and on the outside we can appear 'happy' whilst each of us has a story to share, and they can be shared in these environments offered by FFTN. In a world driven by 'Insta stories' it is enriching on both an intellectual and soulful level to connect in the Food For Thought Network.
If you are looking for a place to connect and be with a diverse group of women who share a passion, vision and commitment to not only empower women but which sees women thrive, grow and expand, FFTN is it.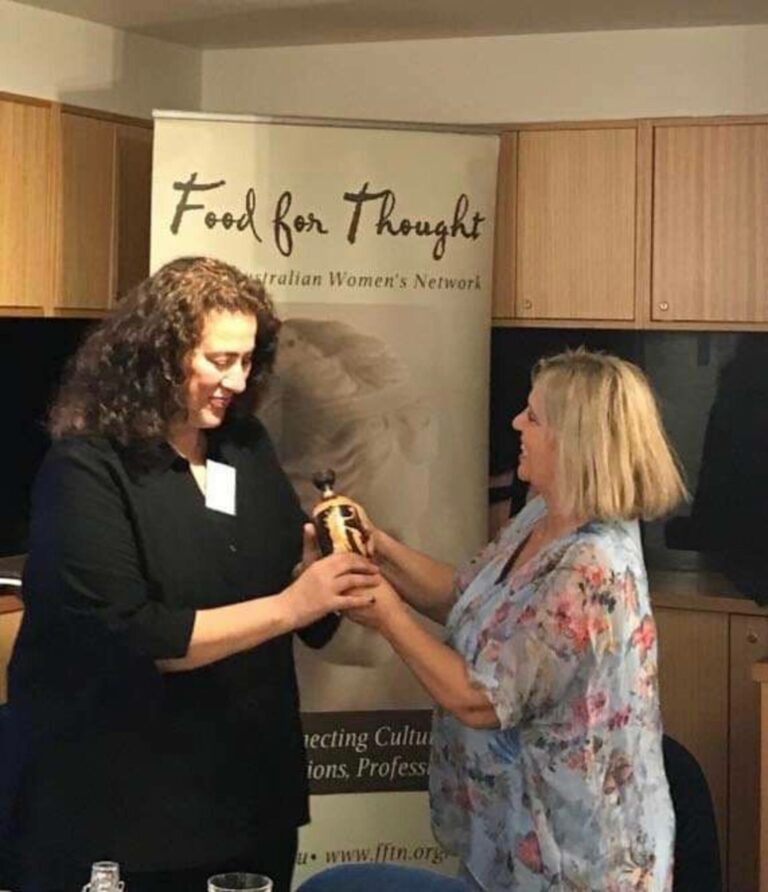 A MUCH DESERVED AWARD
During that event Varvara Athanasiou- Ioannou presented Professor Apostolopoulos with the Lekythos award from Mr Patoulis.
It was an honour and a privilege meeting with the Regional Director of Attica, Mr Patoulis to pick up the 'Λὐκηθος' (Likithos) award given to globally recognised medical researcher Professor Vasso Apostolopoulos and patron of Food for Thought Network.
I had the great pleasure in presenting this to our beloved patron, during our latest event on family violence which was held on Sunday 30 October.
Professor Apostolopoulos apart from her brilliant career is an amazing role model for us all as she juggles a career and a family, as a mother, daughter, wife. She deserves this award, adding to her already impressive collection of 100+ other awards.
Find out more about the awards here.