Driven by curiosity and respect for cultures, Eva Boleti let her adventurous spirit take her to Western Australia.
"It is an amazing experience. I never imagined that I would be living on the other side of the world from the country I grew up in, in a tiny Indigenous community. This experience has been a fantastic school, especially living so minimalistic," Eva told Neos Kosmos.
Boleti ended up teaching in a small Indigenous community in Western Australia?
"I decided to come here out of anthropological interest, and respect for the First People of Australia."
She's lived in Spain, Belgium, Portugal, Vietnam, with her latest stop being Australia, Boleti claims that "if you dare to migrate once, you become a citizen of the world, and you gain a resilience that guides you in many different areas of life", something she describes as a "great obstacle."
Guided by that principle, the 34-year-old Greek teacher found herself in a "Lilliputian indigenous community", east of Kimberley, Western Australia, where she teaches arts in a small school.
"The children here live barefoot, have an amazing spirit of solidarity, and their curiosity about the world, insects and people is really something else," she says, adding that their "spirit" reminds her of "little Greek kids", since they share "the same dynamic, team spirit", being "good buddies with each other", who "just want to chase the ball."
"It's like a big family!" she says.
EVERYDAY LIFE AND THE LOVE OF STUDENTS FOR GIANNI ANTETOKOYNMPO
Boleti teaches her students the Greek alphabet, as well as how to write their names in Greek, "as a kind of cultural exchange."
She makes clear, that the children there have an "aptitude for learning languages" as they already speak two or three Indigenous languages.
"School starts at 7am in the morning, where we prepare breakfast for the little ones, then class starts, with lots of outdoor activities during the day, then lunch, and finally at 2pm we take the children home on a shuttle bus."
The 34-year-old Greek teacher stresses the importance of bringing students in contact with the natural world, as she says this enhances and enriches their education.
"A lot of times we take our books outside and the students just love it," Boleti says.
In fact, she shares that she herself has experienced the impact of the different lifestyle, as she is only able to communicate with her family when she is connected to Wifi, which in her words, helps her "feel more present and more active for the community and for her students."
"I will be staying here for five weeks, and if I didn't have obligations and a PhD running, I would have stayed much longer," she admits.
Boleti, the only Greek in the area, was bombarded with questions about Giannis Antetokounmpo by her students when she revealed her origins. Her students love the Greek Freak and NBA Finals MVP.
"They know all about Giannis, they are very big fans. Two of my students managed to save enough money just to buy shoes designed by Giannis – which they only wear on special occasions. I'm trying to see what I can do to arrange a skype meeting with Giannis and the kids here, I think it would make them extremely happy! It seems like some things are simply universal."
THE "STRONG INFLUENCE" OF HER GRANDPARENTS' STORY
Eva reveals that a key reason as to why she feels a special connection to Australia, is "her wonderful grandparents," Alexis and Evanthia, who moved to Australia in 1958, where they had a family.
They raised their daughters in the small town of Bovral, New South Wales, and after 20 years of "hard work" and "business initiatives," they decided to sell-up and return to Greece, "closing" the chapter in Australia.
"My grandparents were a very strong influence on my childhood and adulthood, but also a very big inspiration to me. Their stories of their long boat journey, their amazing food recipes from friends in Australia, and their tales of hardships are all etched in my mind. Like their jokes, or their Greeklish phrases, like "I mean," at the end of every sentence, or "Pass me the ketchup re paidi mou," are all part of all the family's memories."
The "strong influence" of her grandparents' story, prompted Eva to "reopen" the chapter of Australia.
"I think the reason I love to travel and am 'intrigued' by any kind of cultural patchwork is because of my grandparents and their decision to leave the country they loved so much for a better life. Also, we have always been the Greek Australians in Greece, and in this way we have acquired the multicultural identity without actually choosing or planning it."
THE ACADEMIC INTEREST FOR THE GREEKS OF THE DIASPORA
Eva Boleti who was born and raised in Athens moved to Sydney three years ago. She teaches Greek, French, English and cultural studies and is currently working on her PhD in Greek migration at the University of Sydney.
Her research master's degree about culture that was completed in Portugal, "consolidated" her interest and love around cultures, "mainly from an anthropological perspective", and it goes without saying that as far as that interest is concerned, her moving to Australia has been a catalyst.
"Moving here, as a teacher of European languages, and especially through my contact with parents of my students who are the Greek Diaspora, a source of interest was created in how the Greeks of Australia feel about Greece, what drives them to maintain such a strong bond with it, and their desire to keep returning as travellers or even permanently."
While living and teaching in Western Australia, Eva is in the first year of her PhD, which focuses on the concept of 'nostalgia' and the phenomenon of 'homemaking', a concept that concerns the "elaborate" way in which "the Greeks in Australia managed to create a 'home' in such a distant continent, both geographically and culturally, keeping the language, customs, and culture alive."
Something that piqued Eva's interest was the relationship of future generations with Greece.
"I have noticed a nostalgic fondness from the children and grandchildren of immigrants towards Greece; not just for the natural beauty, and social life, but deeper in terms of language, music, food, and people."
"The Greeks here are a very dynamic, welcoming, and warm community. From "scapegoats" suffering racism and isolation in the 1950s, they have managed to create a groundswell of respect, perform great infrastructure projects for the whole country, and great achievements in the cultural preservation and cultural background of Australia."
"A special inspiration" for her doctorate was Pavlos Vrachnas, the 80-year-old student who is the only one with whom she has a one-to-one lesson.
Raised in Sydney, Paul was nurtured by his "grandmother from Samos" who taught him the music of Samos, "and passed on her love of the Greek islands, Greek religion and language."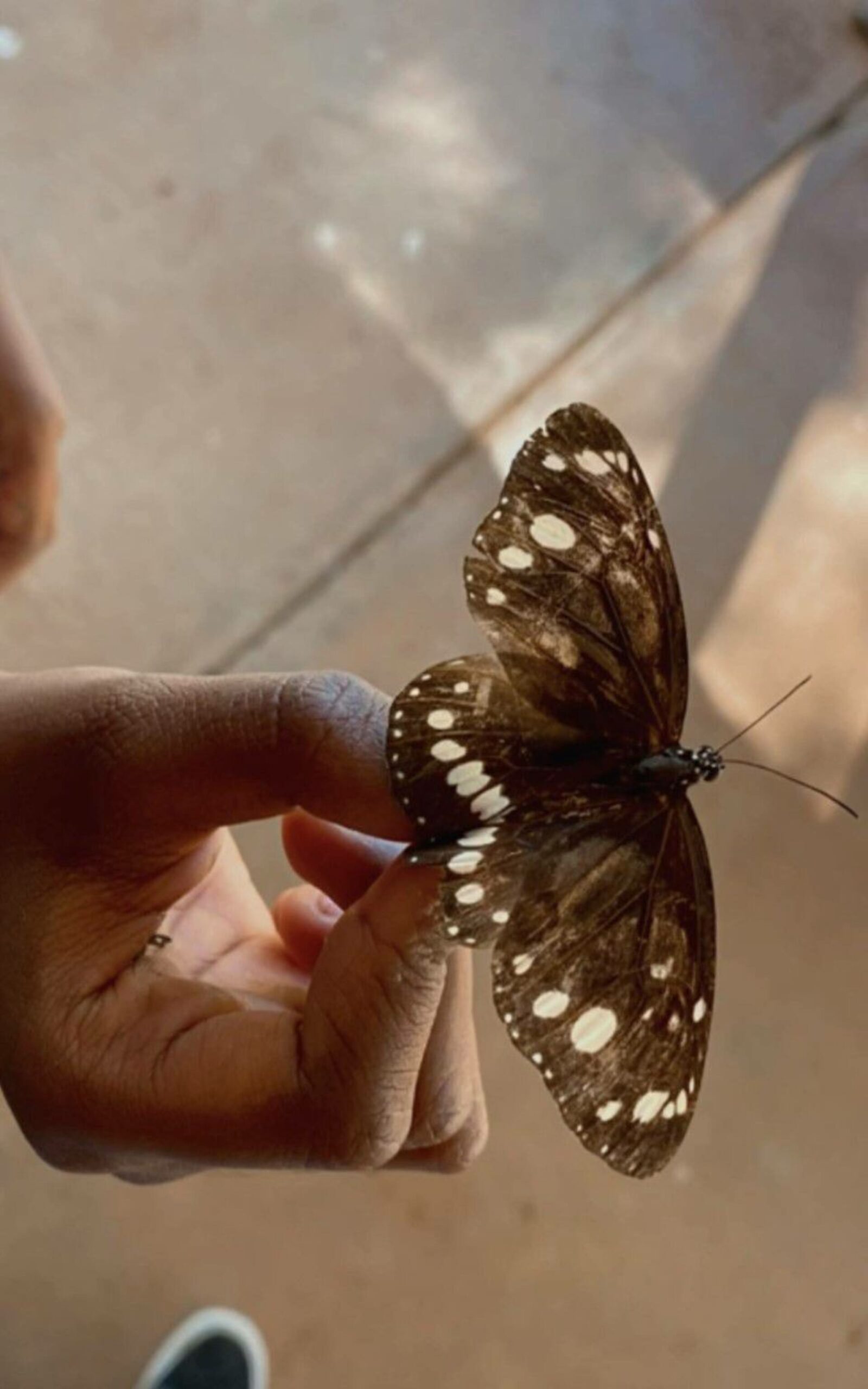 A fact that has blown Eva away, is that 70 years later, Paul still holds onto the "knowledge gained from his grandmother, which he has passed on to his children and now to his grandchildren."
"I think the Greek language has a unique way of charming and then staying intact. It takes a summer on the island, and everything comes back to memory," she says.
The Greek teacher is particularly eager for the second part of her doctorate, which "will contain material from interviews with Greeks of Diaspora," as she has "met wonderful personalities," whose stories "deserve to remain indelible in time."
Eva is also involved in a project at Sydney University (Heurist), which was set up to mobilise non-English-speaking Australian resources around the country's history, and even though it is an independent area, it will be used as part of her PhD thesis.
The project, which "pioneers in-depth research on non-English-language material, and specialises in diaries, letters, personal notes, and newspapers dating mainly around the great migration wave of 1950-1970, but also before", is a set of records that carry "great historical and sentimental value."
"All migration stories deserve to be remembered in Australia's history and that is the purpose of the Heurist."