After its first launch in Melbourne last December, Professor Anastasios Tamis' book on the Cypriots of Australia was launched last Sunday in Sydney, acquiring high appraisals from former NSW premier Bob Carr and other speakers.
The event was held at the hall of the Cyprus Community of NSW at Stanmore, with Mr Carr (also former Senator and minister for Foreign Affairs) hailing it as an "absolutely remarkable book" which does justice to the tremendous impact of the Cypriot community on Australia's migration history.
"In the post-war period beginning as early as 1946, they paved the way for the huge Hellenic immigration that was to gather force after Australia and Greece signed an Immigration Agreement in 1951," Mr Carr said in his speech.
"But almost like a spear hit of an occupying army, the Cypriots got here first and were here to welcome many Greek-speaking compatriots from the mainland in the 1950s."
The former premier praised the Cypriots for their successful integration into Australia without surrendering their heritage, which sowed the seeds for the eventual end of the White Australia policy.
"It was made possible because these early, tentative steps to migration from the Mediterranean world had proved an unqualified success," NSW's premier from 1995-2005 said.
Mr Carr concluded his sentiments on the book with a quote from its introduction that he strongly agreed with based on his experiences with the Cypriot community.
"I think of all the Cypriots I've known in the state I represented, and I accept what the professor has said in the introduction in his book, 'prompted by the necessity to honour "pioneer Cypriot settlers"'. It says it all. They deserve that honour and with this excellent book, they are receiving that honour."
The accolades continued by NSW minister for Multiculturalism Steve Kamper, who labelled the book an extraordinary achievement.
"While covering a period from 1880 through to modern times, this book sets a new standard for academic writing on Australia's immigration history…it is a fitting tribute to the Cypriot men and women whose hard work helped build modern Australia," said Mr Kamper, who also holds the portfolios for Small Business, Lands and Property and Sport.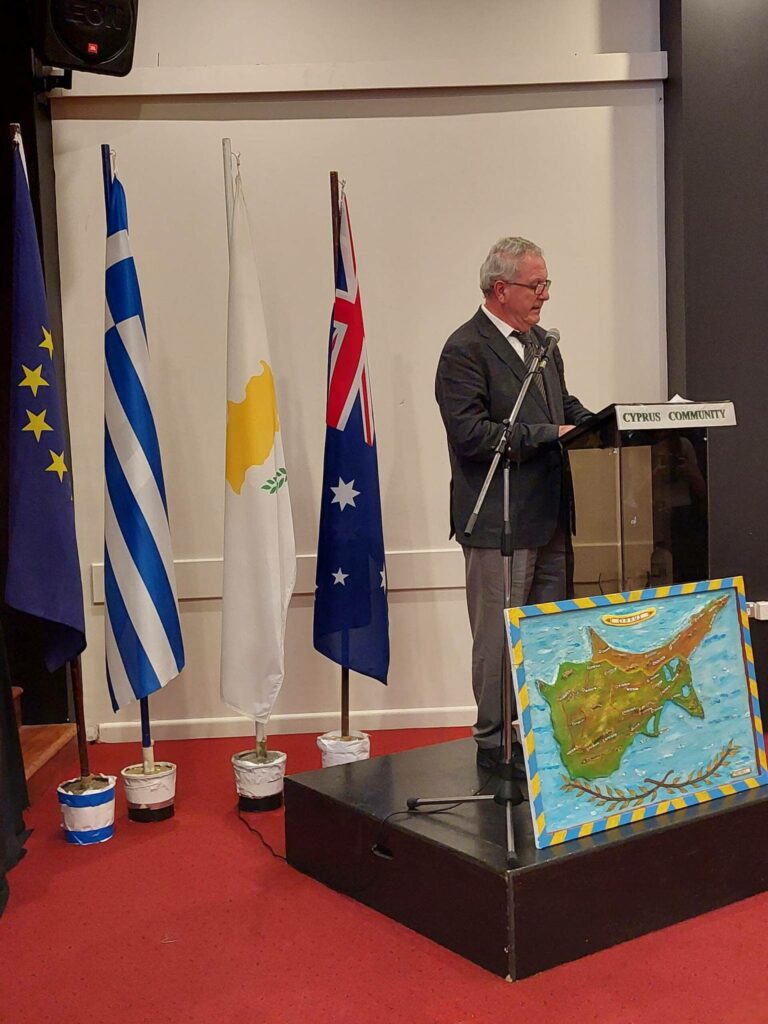 Federal Opposition Leader Peter Dutton, who was unable to attend the event, was also very complimentary of Professor Tamis' efforts in his statement on this book.
"As a former minister for Immigration, I'm delighted that the story of Cypriot migration to our country – an important part of Australian history – has been published…Indeed, any Australian with an interest in our migration history will gain much from this fine read," Mr Dutton said.
Professor Tamis spoke about how his book narrates the Cypriot migrants' struggle and fight to "preserve their identity, to maintain their culture and also to contribute to the Australian welfare".
"Cypriot organisations exist only because of volunteers who were offering their free time and their family time in order to maintain their identity and strive for their cultural survival," said Professor Tamis.
"They were trying to desperately maintain their Greek identity by protecting their language, by promoting their culture. They used their athletic meetings, not just to play football but to exchange their views in Greek. They were bringing their children, their infants to be accustomed and to have experience with the language."
Among the attendees were Antonis Sammoutis, High Commissioner of Cyprus in Australia, Ioannis Mallikourtis, Greece's Consul General of Greece in Sydney, Harry Danalis, President of the Greek Orthodox Community of NSW, Nia Karteris, Greek Festival Chair, Andrew Costa, President of the Cyprus Community of NSW, Panikos Ahilleos, President of Cyprus Hellene Club in NSW, Michael Christodoulou, President of the Federation of Cypriot Communities of Australia and New Zealand, Miranda Adamou, Co-Chair of the Justice for Cyprus Committee-NSW, Theo Theophanous, President of Cypriot Community of Melbourne and Victoria, former Federal MP Andrew Theophanous and former President of NSW Upper House Amanda Fazio.
The emcees for the event were Elise Papanikolas and Elli Stasi.
The event concluded with poems from the Cyprus Community of NSW school and performances by its dancing group.