Conway's Fishing Trading, a cornerstone of Footscray's Greek community for five decades, stands as an enduring institution in the western suburbs. The Goulas family, at the helm of Conway's, have not only made significant contributions to the local industry but also garnered acclaim for their pioneering approach in both wholesale and retail seafood markets.
This article explores the impressive business journey of the Goulas family, and their impact on Footscray's cultural history. They join the ranks of other celebrated figures in the renowned Hidden Hellenism mural, led by Dean Kotsianis, Peter Giasoumis, and the Greek Youth Generator (GYG).
Conway's Fishing Trading is integral in the suburb's Hellenic narrative. Their story continues to inspire reminding us that within the depths of passion and determination lies the potential to create something truly remarkable.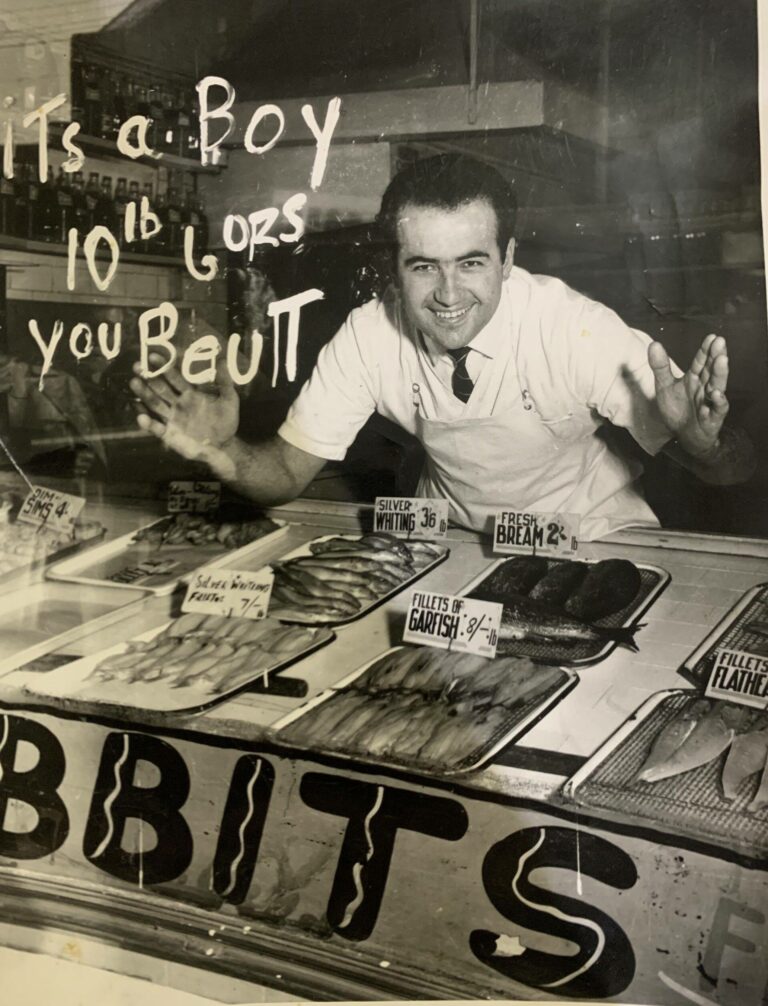 Four generations of Greek fishmongers
Since 1969, Conway Fish Trading has become a prominent force in the seafood industry, carrying a legacy that is intricately woven into the social fabric of Footscray.
However, the story begins in 1928, when Uncle Nick, driven by his aspirations for a better life, embarked on a journey from the humble village of Agiasma in north-western Greece to Melbourne.
Alongside his Irish love Eileen, Nick overcame numerous challenges and successfully established two seafood stores in Caulfield.
With a lineage of "four generations of fishmongers," the Goulas family has maintained a presence in the western suburbs for nearly a century, fostering strong relationships with suppliers and customers, continuously innovating their offerings to meet the evolving demands of the discerning market.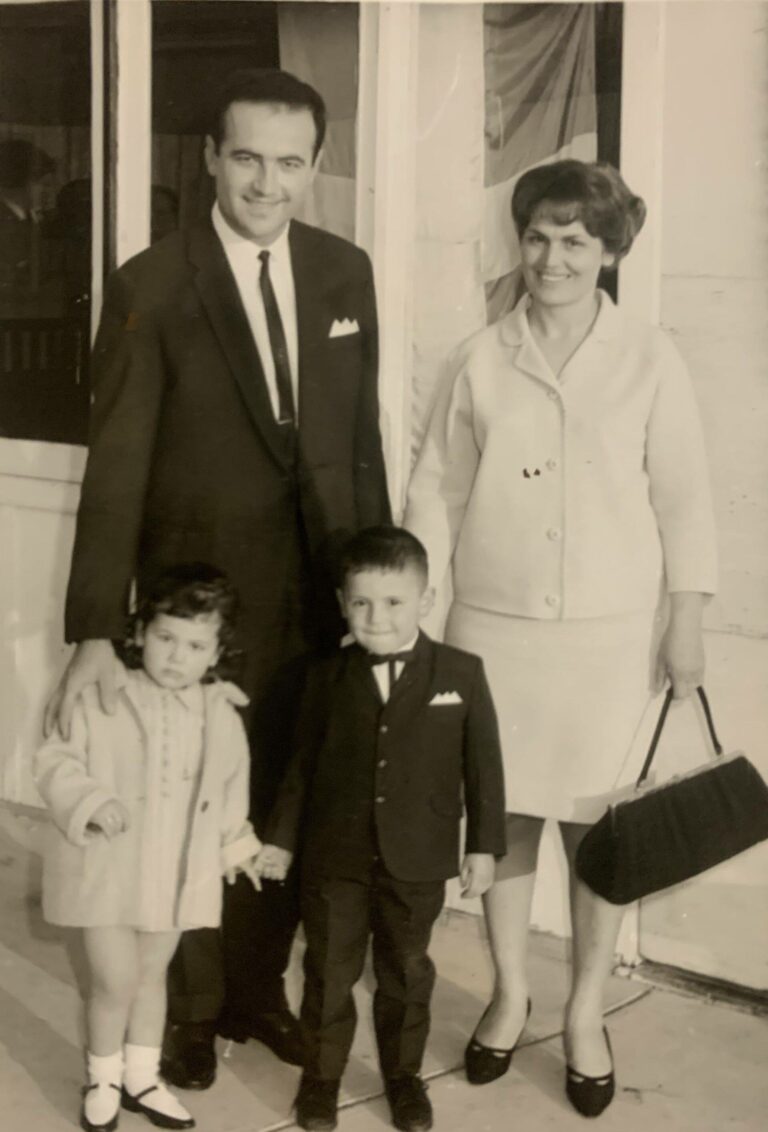 Laying the foundation for a brighter future
In 1954, 19-year-old, Con Goulas came to Melbourne, fuelled by the desire to escape the hardships of post-war Greece. He joined his uncle Nick's fish and chips shop located on Glen Huntly Road in Caulfied.
Nick recognised his nephew's managerial skills and expanded their business by opening a second shop. Over time, Con assumed more responsibilities and became the sole owner of the original business in 1956.
However, the opening of Chadstone store posed a challenge for Con's business as it drew customers away from the surrounding shopping district.
Encouraged by his wife to explore new avenues, he entered the building industry, with his brothers-in-law for a short period, constructing and selling his first house at a profit.
His journey shifted when his former fish supplier, Con Geralis, offered him a job at the fish market in South Wharf.
From Geralis' right-hand man to business manager, later in 1969, Con began selling seafood across the country from a truck with a partner named, Diamantaris.
His talent for fish would soon prove to be his key to success in the seafood industry.
Building the legacy of Conway Fish Trading
In 1969, Con started Conway Fish Trading – a significant milestone that marked the beginning of his entrepreneurial journey.
"He decided to get a van and hire a freezer. My father worked hard, so to spend time with me, he would get me along in the van," said Dimi Goulas, Con's son, to Neos Kosmos.
With the collaborative efforts of his brothers-in-law and the active involvement of his son Dimitrios (Dimi), at the age of 16 in 1979, Con made a dynamic comeback to the seafood industry. He focused on wholesale, supplying for fish and chips shops, while processing a wide range of fish, with shark as their "main product."
In 1983, they established their very own fish processing factory another foundation for their business's growth and expansion.
They began to receive visits from customers, particularly factory workers, who sought to purchase fish directly from them.
"People kept walking in every Friday, and they were bothering us, asking to buy some fish," Dimi recalls.
To meet the growing demand, they set up a counter with a window and scale, for walk-in customers. As foot traffic continued to increase, they installed a doorbell and acquired a new snow deli fridge.
"We switched the ringer off after about two or three months because we got so busy," said Dimi.
The establishment of their retail shop in 1986, became a turning point for their business, leading to increased activity, growth, and a larger customer base.
"We would be getting in here at 3:00 o'clock in the morning, unloading and fileting shark until 8pm at night.
"When my mother used to pick me up from school, I wasn't exactly lucky that I was getting a lift home. I was being brought here to pack fish with her. We worked very hard in those days."
Con took on a more processing-oriented role when they divided responsibilities, whereas Dimi focused on wholesaling, buying, selling, and organising product sales.
They expanded their activities, to include sardine processing for the pet food industry, importing from South Africa and Argentina, and trading. Their retail sector also grew, resulting in cycles of buying and selling, as well as renovations and improvements.
Coming a full circle
In 2003, they acquired new premises, formerly an auto shop, and by 2005 it was transformed into a fresh fish store, that stands today as a testament to their vision and dedication.
With the addition of their fish and chips shop, "Hot Fish," the business experienced a sentimental journey to the beginning.
"We've come full circle back to operating a fish and chips shop, just like in Caulfield," said Stacey, Dimi's wife.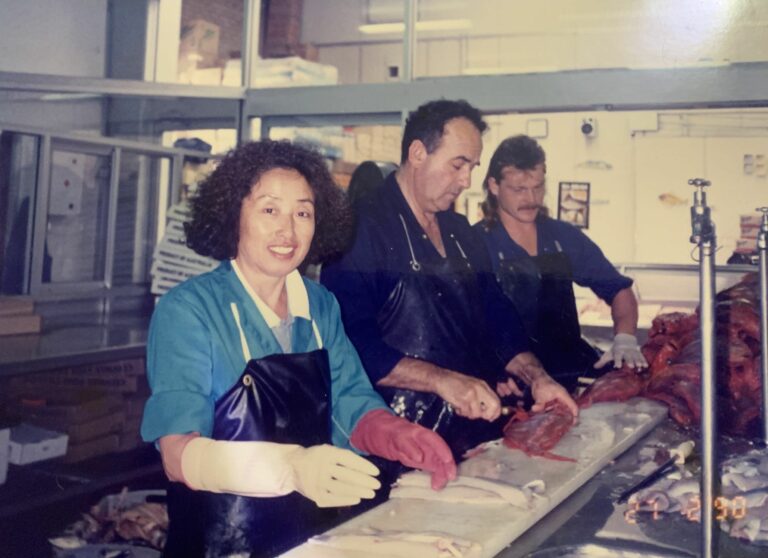 Currently, they operate three businesses: a wholesale operation, a retail fresh fish store, and a fish n' chips shop. This virtuous circle embodies the family's entrepreneurial spirit and hard work.
"What we've built over the years, is three businesses in one," added Dimi.
The Goulas family created a history wall, to preserve their identity while embracing the Conway brand that had become synonymous with their business.
"We wanted people to know they're buying from a Greek establishment, so we added our personal touches," Dimi explained. "It was crucial to show our presence as a family and let them know we're still here."
Dimi with the help of his wife Stacey, their young son Alexandros, and a dedicated team, leads the business and upholds the family legacy. Con also remains engaged, sharing daily updates with Dimi, who values his father's interest in the business.
"Every morning we have a cup of coffee together and I'm telling him what I'm doing, because I know he's interested," adds Dimi.
Conway's enduring presence in Footscray
Conways is one of the oldest businesses in the area with an industrial license.
"We are the last industrial licenced premises in this area, if our business closed, you wouldn't be able to build another fish factory here again, because it's all residential," he explained.
Dimi shared how his uncle, Alekos Iakovides, brought the Greek community together, through wrestling in the 1950s. Known as "the Golden Greek," he attracted large Greek audiences that watched him "wrestle at Festival Hall on Saturday nights."
The Olympia restaurant, by the Iakovides family, became a gathering place for Greeks who recognised Dimi's uncle from his wrestling career, reinforcing the family's bonds with the western suburbs. During the 1960s and 1970s the Greek community in Footscray experienced growth and prosperity.
According to Stacey, the cultural landscape in Footscray was influenced by a group of iconic figures and businesses, including Hellenic Furniture, Olympic Doughnuts, Tom Papadopoulos, Tim and Terry's fishing store, and others.
She added that "back then, the Greeks dominated the seafood industry," introducing diverse fish species such as orange roughy, flathead, and snapper, elevating the culinary scene beyond kippers and cod in old Australian fish and chip shops.
A love story of migration and the inspiring life of Genovefa Goulas
In the 1950s, a gender imbalance in the local immigrant population, prompted the Menzies government to bring more women to Australia to address the shortage.
Dimi says his father witnessed "boatloads of women" arriving at the station pier, where their "future husbands awaited them with flowers."
Dimi's mother, Genovefa Goulas (née Iakovides) arrived in 1958, and their family's story became intertwined with the larger narrative of migration and the pursuit of a better life in Australia.
In 1960, Con and Genovefa crossed paths at Evangelismos Church in East Melbourne. Their first outing in Williamstown blossomed into a lasting commitment, culminating in their engagement and subsequent marriage in 1961.
The media couldn't resist the tale that unfolded when their son Dimitrios was born in 1963, gaining attention for his larger-than-life size as a baby. Two years later, their joy multiplied with the birth of their daughter, Yvonne.
The recent loss of Genovefa profoundly impacted her family, yet her legacy of kindness, compassion, and generosity continue to shine brightly. Dimi fondly recalls his mother's active involvement in fundraising for charitable causes and her dedicated engagement with community organizations such as Yooralla, Guide Dogs Australia, and the Meals on Wheels campaign.
Her role was instrumental in establishing the Panagia Soumela Greek Orthodox Church in East Keilor, which earned her a prestigious award in 2008, making her "the first woman" to receive the organisation's highest recognition.
Inspired by her mother, Yvonne actively participated in philanthropy, earning recognition and a "Mother Teresa" reference in an article, for her charity work with the poor in India.
The art of creation
The Goulas family has poured their heart and soul into their family business, embodying not only perseverance but also their ability to create something meaningful.
Their fulfillment surpasses financial gains—it lies in the very act of creation itself. As Dimi puts it, "It wasn't just hard work, we were creating something."
"When I see a stack of fish in the market that no one is buying and grab the whole lot, I know exactly what I'm going to do with it. And then it's about how you can convert that it into a profitable result," he adds.
Their inspiring story serves as a testament to the power of creative thinking, seeing value in what others dismiss as waste, and skilfully transforming adversity into opportunity.