Twenty young Australians of Cretan descent returned from their tour of Greece full of enthusiasm and what will be lifetime memories of Greece. It was the first time third-generation Cretans from Australia and New Zealand came together to forge the inaugural National Dance Group under the Cretan Federation of Australia and New Zealand. Dance teacher Paul Spanoudakis took on the task of coordinating everyone for several months. They then met with their peers in Crete and proved that traditions and customs hold firm in the diaspora. For many, this was their first-ever visit to their roots. However, it won't be the last, judging from their enthusiasm for sharing their experiences with Neos Kosmos.
A favourite memory for most participants was participating in the kantada (Serenade) in Rethymno. This unique cultural experience saw them walking and dancing through the streets of Rethymno to traditional music played by Cretan Musicians Sifis Tsourdalakis, Babis Voulgarakis, and Manolis Kydonakis. The event was organised by the Cultural Association of Rethymno 'Tzanidakis' who, true to the spirit of Cretan hospitality, offered raki and sweets to the passersby before joining hands with the Greek Australian group to dance a Pentozali.
"I felt privileged to dance with them all as if we were one group. It was a surreal feeling and a memory I will keep forever," Marina Stavrinidis (19) and her brother Christos Stavrinidis (21) said.
Alexandros Mountakis (19), who played laouto, said, "Being able to watch my fellow youth dance and smile while I'm playing really warmed my heart. It made me very proud to play and encouraged me to further improve and grow my passion for my culture."
"I loved seeing old traditions celebrated in today's world," Dylan Giannouls (16) said, and Ana Tsourdalaki (19), whose papou is from Rethymno, said that it genuinely felt like home.
"The dancing, the shots of raki, walking the streets of Rethymno with musicians accompanying us and us singing along to mantinades felt surreal."
"I have gained so many close friendships with so many new people in the different dance groups that we were lucky to meet all over Crete: Viglatores in Chania, Tzanidakis in Rethymno and the Vrakofori also in Rethymno… These friendships will last forever.
"I have to say, though, my absolute favourite part of this trip was travelling with my beautiful friends from Queensland and Sydney. I feel so happy knowing that this trip has brought us together; I never thought I would become so close with people over such a short time," Ana said.
For Alexia Georgas (20), performing in Crete was an "unforgettable experience" after learning and completing in Australia throughout her childhood.
"The trip allowed me to immerse myself in the rich Greek culture and history by participating in various events. Among them, the Kantada in Rethymno was the highlight, where we dressed in costumes, sang mantinades, and danced freely, witnessing the joy our music brought to the town. It's a memory I will cherish forever."
Forming lasting friendships
"I connected with the homeland, bonded with friends and made new ones. I had the honour and privilege of performing in Crete in the presence of my Cretan grandparents, who showed tears of joy after each performance," Mathew Tsakos (14) said, adding that he felt incredibly proud to publicly acknowledge his Cretan grandparents' heritage in a speech.
Vayia Spanoudakis (22) said she enjoyed the adventure with other Melbourne and Brisbane Cretan youth. "It was amazing, and dancing alongside Viglatores Hania, Omilos Vrakoforon, and the Tzanidakis dance groups gave them another perspective of Cretan dance. "Dancing as the first ever Cretan Australian dance group throughout Crete was unbelievable; how we formed such an awesome dance group, having our families watch us was a highlight."
The tour in Crete included visiting the Arkadi Monastery, another incredible experience for the third-generation Greek Australians. Vayia said that after this trip, celebrating Arkadi every year will now mean a lot more to her since she stood where it all happened at the Monastery.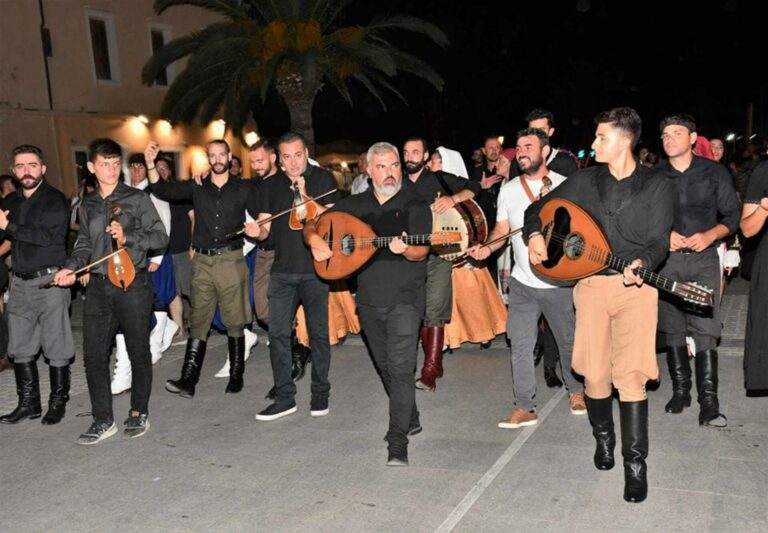 "I never understood the full story and why we celebrated Arkadi here in Australia; now that I do, I have so much respect for those Cretans who sacrificed themselves rather than surrendering in that difficult time," Patrissia Arvanitagis (21) said about this day.
While the group was in Athens, they had the honour of meeting the President of the Hellenic Republic, Katerina Sakelaropoulou, at the Presidential Mansion, where they were also given a guided tour. This was another highlight for Vayia: meeting with Katerina Sakellaropoulou and Major General Floros, commanding officer of the Greek Hellenic forces and, getting onboard ships, submarines and jets and experiencing training combats. "Each and every day, there was a highlight. I got to experience Crete very differently with our newfound friends in Crete. Still, most importantly, I did it with my Australian friends, who now I call family."
It was the first time in Greece for Angelique Belivanis (19), making this trip even more memorable. "The highlight of the trip for me was being at the Hellenic Airforce in Athens (Greece's Top Gun) and the last night that the Australian Dancing Group performed in Sitia, Crete. The tour was a success, with everyone bonding and getting closer."
Her brother Stamatis Belivanis (21), the visit to the Headquarters and Ministry of the Hellenic National Defence General Staff was an "eye-opening experience" as he saw first-hand where the Special Forces Unit of the country trained.
Antonios Arvanitagis (18) also enjoyed visiting the Military of Greece, including the Navy, the Submarines, and Ships. "Visiting the Airforce and having the opportunity to understand more about the jets that they use for all pilots of different experience and to also sit in one."
The presidential palace and touring the historical sites in Athens was unlike anything Chris Townsend (19) has experienced. Seeing "the amazing history of Greece and the creation of the Evzones' costumes. Seeing the depth of symbolism in each part was mesmerising. The dedication to country and tradition is unlike anything I have ever experienced. Seeing this in person was an honour and a gift."
Apart from all the dancing and site-seeing, there were days they got to enjoy with friends from Crete, including the dancing group Viglatores, with whom they went on a beach trip to Hora in Sfakia for the day, bonding over a swim in the cold water and eating lunch together as well as a long bus ride playing music and enjoying each other's company.
"It was a memorable tour that will never be forgotten. I thoroughly enjoyed all the parea on tour and being a part of the first National Cretan Dancing Group of Australia," Antonios adds.
Performing altogether one last time in Sitia stands out for Irene Vitetzakis (16). "The Australian group's connection and bond were shown during that dance, and our passion shone through. I will never forget when we finished performing and all came together to reflect on our achievements in the last two weeks. I will forever cherish that night, the rest of the tour, and the memories we all made together."
The programme would only be complete with indulging in the beauty of the crystal blue sea, which was a highlight for Parisa Tsourdalakis (12). She explored historical sites, participated in Cretan panagiria, made new friends, and danced at events in Crete.
It was "the most adventurous, extraordinary and vastly the most enjoyable tour experience of my life," Manolis Adamakis (14) said about the Cretan tour. "My friendships from different parts of Australia are still connected, which lights up my face and soul." His advice? "If you would like to see everything that I have said and you have been offered to be on this tour, accept it! You may never have a chance like this ever again."
For those wishing to register for the Tour of Greece for 2024, contact the Cretan Federation. According to President Antonis Tsourdalakis, next year's tour will be open to all Greek Australians, not just those of Cretan descent. For more information, contact the Federation via email: admin@cretan.com.au
The Cretan youth's journey to Greece, organised by the Cretan Federation of Australia and New Zealand, was part of a hospitality programme of the General Secretariat for Greeks Abroad and Public Diplomacy of the Ministry of Foreign Affairs.