Navarino Challenge has its 11th anniversary October 13-15 at Costa Navarino and Pylos, under the auspices of the Ministry of Tourism and the Greek National Tourism Organization.
The event is part of the Greek aspect of the #BeactiveHellas 2023 program run by the European Commission, and is supported by the General Secretariat of Sports.With the theme "Sports Unites", Navarino Challenge, organised by ActiveMedia Group, brings together young athletes, amateurs, Olympians, and top names in over 40 sports activities at W Costa Navarino and The Westin Resort.
This year it welcomes Greek football legend George Karagkounis, from the Greek national squad that became European champions in 2004. The former midfielder, with an extensive career in the Greek national team and top European clubs like Inter, Benfica, Fulham, will be the honoured figure of the event.
Football clinics powered by Hellman's will also be conducted for children aged 13 to 17.
Basketball activities will be supported by Trace 'n Chase, the Sports Memorabilia Partner of Navarino Challenge, this year focusing on the traditional 4on4 basketball tournament and a demonstration match for people with disabilities.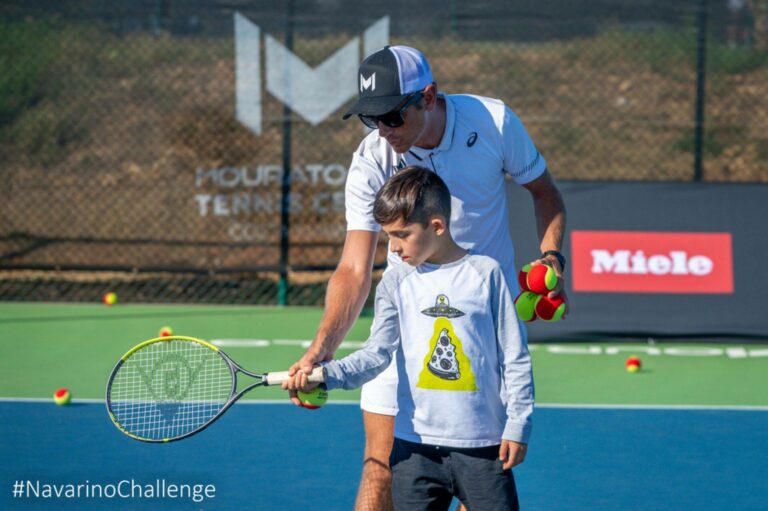 Participants, including amateurs and VIP guests, will engage in a thrilling "Knock out Challenge" offering unique prizes.
Navarino Challenge will also collaborates with former volleyball player Michalis Triantafyllidis to introduce pickleball, a rapidly growing American sport, at Triantafyllidis Beach Arena and the Mouratoglou Tennis Center Costa Navarino.
Participants can join free tennis introduction sessions and take part in tennis and paddle tournaments powered by Miele at Mouratoglou Tennis Center Costa Navarino.
Winners will receive gifts from top sports company Dunlop and Panellinios Agora Games.
For the first time in the event's history, Navarino Challenge will host the Navarino Challenge Marathon by That Gorilla Brand. Greek-American tourism ambassador and ultramarathon runner Konstantinos Karnazis will participate. Additionally, runners can choose the Navarino Challenge Half Marathon, a mesmerising 10 km seaside route, or the 5 km route powered by Miele, winding through centuries-old olive trees, suitable for brisk walkers too.
There will be a 1 km route for youth aged 10-14 powered by Europa and a 1 km route for children up to 9 years old powered by VIKOS.
All proceeds from the Marathon race and 50 per cent of proceeds from other running routes will be donated via the "That Gorilla Brand's Adventures For A Cause" initiative to protecting mountain gorillas and supporting hygiene facilities in Uganda.
Moreover, a new electric bike tour through the Navarino Bay area will be organised in collaboration with Navarino Outdoors, allowing participants to explore the unique Messinian landscape while minimising their environmental footprint.
The successful Beachathlon tournament will this year be powered by That Gorilla Brand, featuring track games for parents and children aged 6 to 13, will continue this year with the Olympic and European champion Periklis Iakovakis at The Dunes Beach.
Rock climbing lessons will also be available at the Navarino Rocks indoor climbing arena with the support of Navarino Outdoors, providing a full-body workout.
Meanwhile, FitnessArt will join forces with acclaimed physical education professor Dimitris Moros to offer CrossFit, high-intensity training, and spinning challenges powered by VIKOS.
F45 Barrio Salamanca Heavy Cardio Workout and Sunset Beach Pilates by coach Manti Persaki are also included.
Angelic Yoga Arts will present Sunset Beach Yoga powered by Messinian Spa at W Costa Navarino's beach.
For bookings and registration email booking@navarinochallenge.com or contact Vita N Travel at +30 210 3249070.