I am writing this from Alexandroupolis, capital city of the Evros region, the epicentre of Greece's wildfires this summer.
We are well into the second week since the first blaze started.
Monday, 28 August, was day 10. A Greek government entourage had just made their first visit to the region. Not quite the swift response you'd expect for Europe's largest fire on record.
Minister of Climate Crisis and Civil Protection, Vassilis Kikilias, was here just a day earlier.
But it's hard to argue this counts as a visit to the fire-stricken region.
Mr Kikilias landed by plane and was briefed by local officials at a meeting room inside the Alexandroupolis airport, before flying on a super puma to inspect blaze-affected areas.
Greek state 'gone AWOL' amidst unprecedented crisis
The minister's remote inspection follows a week of state silence over the record-breaking blaze.
For a government so heavily comms-focused, the ongoing lack of public statements about the situation facing Evros is astounding for locals here.
This comes despite Evros being a region traditionally supportive of the Nea Dimokratia (ND) governing party. In the recent May elections, ND came first in Evros with a whopping 43%.
Personally, I have no doubt that SYRIZA, PASOK or any other current parliamentary party would take a similar stance towards the crisis, should they happen to be in government.
Evros, in Greece's northeastern edge, adjacent to the mainland Greek-Turkish border, has been for years placed at the bottom of the central government apparatus' priorities.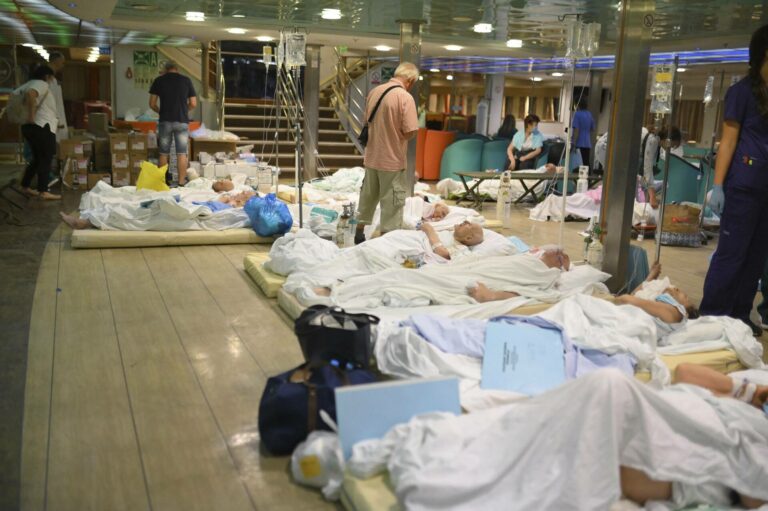 Unless a border migrant-deterring fence extension or a military agreement renewal allowing for the established US military force in the area, needs to be signed.
When the record-breaking fire subsides (by the looks of it, when there is nothing more left to be burnt), Evros will go back to being "a pin on the map" for many in Greece.
But there is one fire front that will keep alight.
That of division, ideological camps and migrant persecutions putting our common logic and sense of humanity under test. More on this later. For now, back to the awkward state silence.
Like many of my fellow citizens here, I find it deafening.
Take a moment to think about it. Have you ever encountered a no comment policy when Greece breaks a record?
Since last Thursday, 24 August, the area of 72,000 hectares burnt (now well beyond 80,000) has been officially verified by the EU monitoring system Copernicus to be the largest recorded on European soil.
We saw the Slovenian EU Commissioner for Crisis Management tweeting the sad record and The New York Times running a front-page about it.
Yet in Greece, not much beyond the catchy headline reproduced by media outlets.
Until day 12 of the unprecedented blaze, the Greek PM's most extensive comment on Evros since the fires started, was an indirect reference to the tragedy amidst a self-praise on the country's economic outlook.
"If there is something that could counterbalance this dark climate which justifiably prevails in Greek society due to the catastrophic fires, especially in the region of Evros, this is the very good performance of our economy, which was once again certified by all productivity agencies," Kyriakos Mitsotakis stated on Wednesday during a speech in Thessaloniki.
"Those hands are the only thing I want to keep in my mind"
To put it kindly, our response to the wildfires has been inadequate.
I'm referring to the Greek state response of course, not the local one.
No better words depict this reality than the meme roaming around Facebook groups these days captioned:
"So, what are we meant to do when receiving the 112 message? Stay or leave?"
For those unfamiliar, the 112 emergency communications service is the EU-wide public warning system, managed in Greece by the Ministry for Climate Crisis and Civil Protection.
Notifications sent to mobile phones every time a village in Evros was instructed to evacuate were irregular (not everyone received them I am told by individuals across the region) and were seen by many as a codified 'washing hands of responsibility'.
A friend gave me a straightforward explanation of the sarcastic meme, which I failed to grasp at first glance.
"You receive an evacuation order via the 112 service. And it's either go and farewell your house, belongings, animals and anything else on your property. Or stay at your own risk, in the hope of salvaging something."
At the other end of the response spectrum are those fighting the wildfires and helping out amidst the crisis.
From firefighters to locals and volunteers, their plan of action has been inspiring and effective against all odds.
A fellow Alexandroupoli resident posted a message on socials last week encapsulating our deep gratitude:
"As fires keep burning for the seventh consecutive day in south Evros, the only thing I want to keep in my mind is 'those hands'. Hands offering, fighting the blaze, cooking, digging the ground, opening doors of homes and businesses, giving hugs, cleaning hospitals, carrying animals to rescue homes, doing whatever they can to save whatever can be saved and beyond."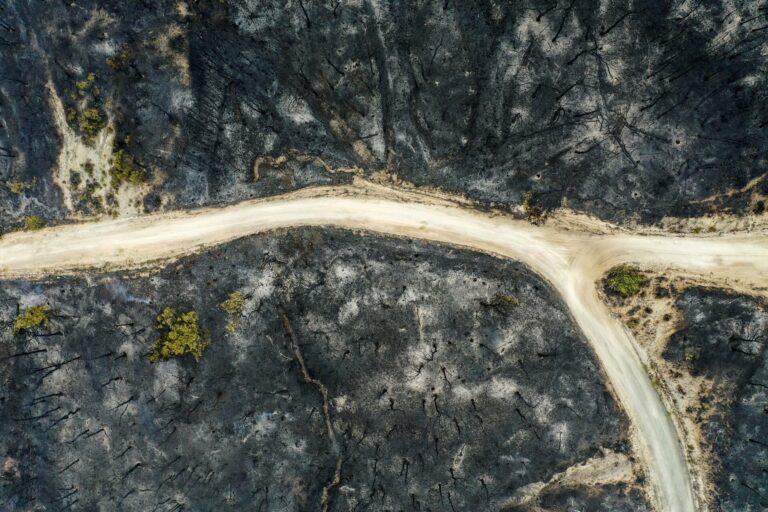 Same old story with a novel dangerous narrative
It's hard to find non-divisive words online these days by people living in Evros and even outsiders.
Across all ideological camps.
The experience of a local business owner in Alexandroupoli echoes the sentiment.
"I got a call from a customer saying 'Heading out to beat up migrants. Care to join?'. On the same day another customer called me asking 'Will you join us to beat up fascists?'"
The second call to "action" was a joke, the customer said. As if a call to violence can ever be humorous.
In the first call however, the customer was literal to the bone.
The hunt down of migrants is a reality in Evros (As much as it is in Rhodes island judging from social media call-outs).
A disgraceful reality for all of us living here, bearing inevitable similarities to pogroms and other persecutions.
It is as real as the loss of human lives we've experienced in Evros, as real as the thousands of animals lost to fires, the burnt villages, homes and livelihoods turned to ashes, as real as the irreversible destruction of Dadia forest and all green habitats vanished by the fires.
As real as the underfunding of firefighting and forest protection services has been for decades now in Greece.
Did you know that the firefighting corps is short by 4,500 employees? Or that water bomber aircrafts in their fleet, like the Canadair CL-215 which crashed in July costing the lives of two pilots, have been flying since the 70s?
Migrant hunts in Evros are as real as the solidarity spirit of thousands of locals trying their best when facing wildfires this year and before, with minimal or zero support from the current and previous governments.
I'm thinking of this paradoxical status quo as I'm hearing of a local who joined efforts in digging firelines in Avantas, one of the worst impacted villages in the region.
He is not a resident of the village, nor has any connection to it. He just went there to help because he could do so at a time fire protection measures for the village depended on volunteer work.
Guess when he decided he couldn't stay any longer.
When witnessing Evros locals coming to the village for a violent binge against migrants.
This week, arson charges against the remaining 9 migrants of the cohort captured by a local civilian militia were dropped.

The sole evidence against them was the testimony of their capturer.
But the narrative of migrant arsonists is well established within the local community.
"Only Velopoulos (leader of Elliniki Lysi party) cares for us and came all the way here to see what's happening," a local tells me.
During his visit to Evros, Kyriakos Velopoulos stated:
"The truth is that fires did not start randomly. Police arrests and announcements confirm that arsons were executed by illegal migrants."
I tried to find the announcements he was referring to but no luck. I could only locate official police statistics.
Up until last week, there were 140 on the spot arrests for arson across Greece, 23 of which were intentional.
Can you guess how many of those arrested were migrants who crossed the border?
Zero.
I also found a media release by Vassilis Kikilias, the Greek Minister for Climate Crisis and Civil Protection.
It was issued on the same day of the Copernicus announcement about the Evros wildfires being the largest EU blaze on record.
No reference to the record-breaking disaster in that media release.
No mention of years-long fallacies in fire prevention and response.
Greece suffers from wildfires every single year for various reasons, including arson.
But whatever the cause, response is always inadequate, and this year simply catastrophic for the country's northeastern frontier.
The media release on that day was not about Evros. Fires had already started elsewhere and media attention returned once again to the Attica default mode.
On the very day Evros was confirmed to be the epicentre of Europe's largest wildfire on record, the Ministry's media release referred to the National Park of Parnitha, located in a 30 km distance from Athens.
Curious over what it was about?
For many of us in Evros the focus came as rather unsurprising.
It was themed around the one thing 'they' have most likely figured out that works in stopping people from protesting about all the other 'stuff':
"Those scums, the arsonists."