"It's definitely a shock when you are told that your child has a childhood form of dementia," Niki Markou, told Neos Kosmos describing the day she received the devastating diagnosis about her 19-year-old daughter, Angelina (Ange) Lati, five years ago.
"It's not common knowledge. If you hear of older parents getting dementia, as upsetting as it is, it's not a shock, because there's awareness. But when it's about your child, and you are told it is terminal, it's very confronting."
The Cypriot Australian teenager is one of 2,300 people in Australia who are deteriorating from childhood dementia, and she is the only one in the country who has Lafora disease, an ultra rare genetic disorder, with around 80 known cases globally.
A recent study published in the medical journal, Brain, identified 145 genetic disorders that cause childhood dementia. The symptoms mirror those experienced by adults with dementia, according to The Childhood Dementia Initiative which was founded only two years ago, to raise awareness, give hope, support families, and accelerate much needed research in this little-known field.
It is the first organisation of its kind in the world, founded by its CEO Megan Maack who has lived experience of the extreme care needed, having two children of her own living with dementia.
All these rare genetic disorders, that lead to childhood dementia, add up significantly, Dr Kris Eldridge, head of research at the Childhood Dementia Initiative, told Neos Kosmos.
It translates to "one in 2900 births, which in Australia means 100 babies born each year – two every week! It's a similar occurrence to cystic fibrosis, and it causes as many deaths each year as childhood cancer," Dr Eldridge explains how important it was to bring them all together as a collective. "When they're isolated, and considered individually, it is very hard to get any action."
Childhood dementia exists
Most people don't even know childhood dementia exists, which is why the organisation launched the campaign FACE it on Wednesday, (during Dementia Action Week 2023), inviting children living with this life-limiting disease and their families, to send a strong message to the community with face-painting activities flooding social media platforms.
Ange was excited to take part in this campaign, although after a few hours she was forced to leave due to her debilitating symptoms.
Her decline is getting harder to manage with her mother needing more support every day to make it through.
"It's one-on-one care all the time and it's very exhausting."
Despite her deteriorating health, Ange is a typical teenage girl yearning for a normal life. "She loves all things girls her age like. She wants to go out, she wants to meet boys. She still wants to do all that, dance, have fun, put makeup on, look pretty. And so she struggles and she gets upset, especially when she sees her friends or cousins moving on, driving, wearing nice clothes, or with their boyfriend."
The young Cypriot Greek used to dream that she would sing, become an actress, or work in Beauty. With her friend they would make up business names, until everything came crashing down when she experienced her first seizure, her mother recalls with emotion. She remembers how it took her awhile to accept that her young vibrant daughter was slowing down due to the cognitive decline of dementia.
"It's very hard to watch your child suffer. And knowing that it won't stop."
There was a glimmer of hope, when they managed to get access to an experimental enzyme replacement therapy, an infusion which Ange gets in hospital every second week.
"She's been on it for the last 15 months. I'm not sure what it's doing. At this stage, she should be wheelchair-bound. And she's not. So we think physically it's helping, but not enough to stop the seizures. The process is slow. We're in no man's land, but it's hope."
The average life expectancy for children with dementia is just nine years, with 70 percent of them passing away before they turn 18.
Markou hopes that if this treatment proves effective, other children may receive it at the time of diagnosis, potentially slowing down the progression.
Creating awareness and a safe space
Working closely with researchers and organisations that are associated with The Childhood Dementia Initiative, and being on the board of Chelsea's Hope Lafora Children's Research Fund, Markou is passionate about finding a cure.
"My goal is to create awareness so other families can find us and get the support they need and learn how to give their child a better quality of life, and get information about treatments."
Ange is the only known case in Australia with Lafora disease. But there could be others, just just like her.
The good moments are less and less, but Markou says Ange still finds joy occasionally, watching Magic Mike movies, and breakdancing and body rolls and musicals, like Mamma Mia. "Or like today when her nurse brought fake eyelashes, and she put them on. And that was it. She was her best friend all morning."
The years of anguish and exhaustion have taken a toll, and the distraught mother says she slept for the first time properly in five years, during their recent respite at the Manly Adolescent and Young Adult Hospice. This brand new centre is the only one in Australia, that provides care for young people like Ange.
"With Childhood Dementia you can't go to aged care facilities for respite, or end of life, other than a hospital, so this place is great. They just take over, and they know her so well now. She's got her own room. And I stay in an apartment downstairs. It's priceless."
Markou who has been fighting for years to justify what she needs for her daughter, urges other parents facing a similar tragic journey, to reach out to organisations for help. "That help is priceless, especially when you're in crisis mode, knowing that you've got someone to reach out to, and fight for what you need."
"Do not to settle," she adds. "Get the best care you can get for your child. And love them. Love is the most important thing no matter what. Love heals everything and helps everything, but getting support -so you have that energy, so you can still be the mother- is also very important."
Half the time she says, she feel like her nurse. "But I want to be her mother. I shouldn't have to hold her down to give her medicine. That's not what I want to be doing at the end of her life. It's a very hard thing. You do what you have to do, but mainly, it is about keeping her comfortable."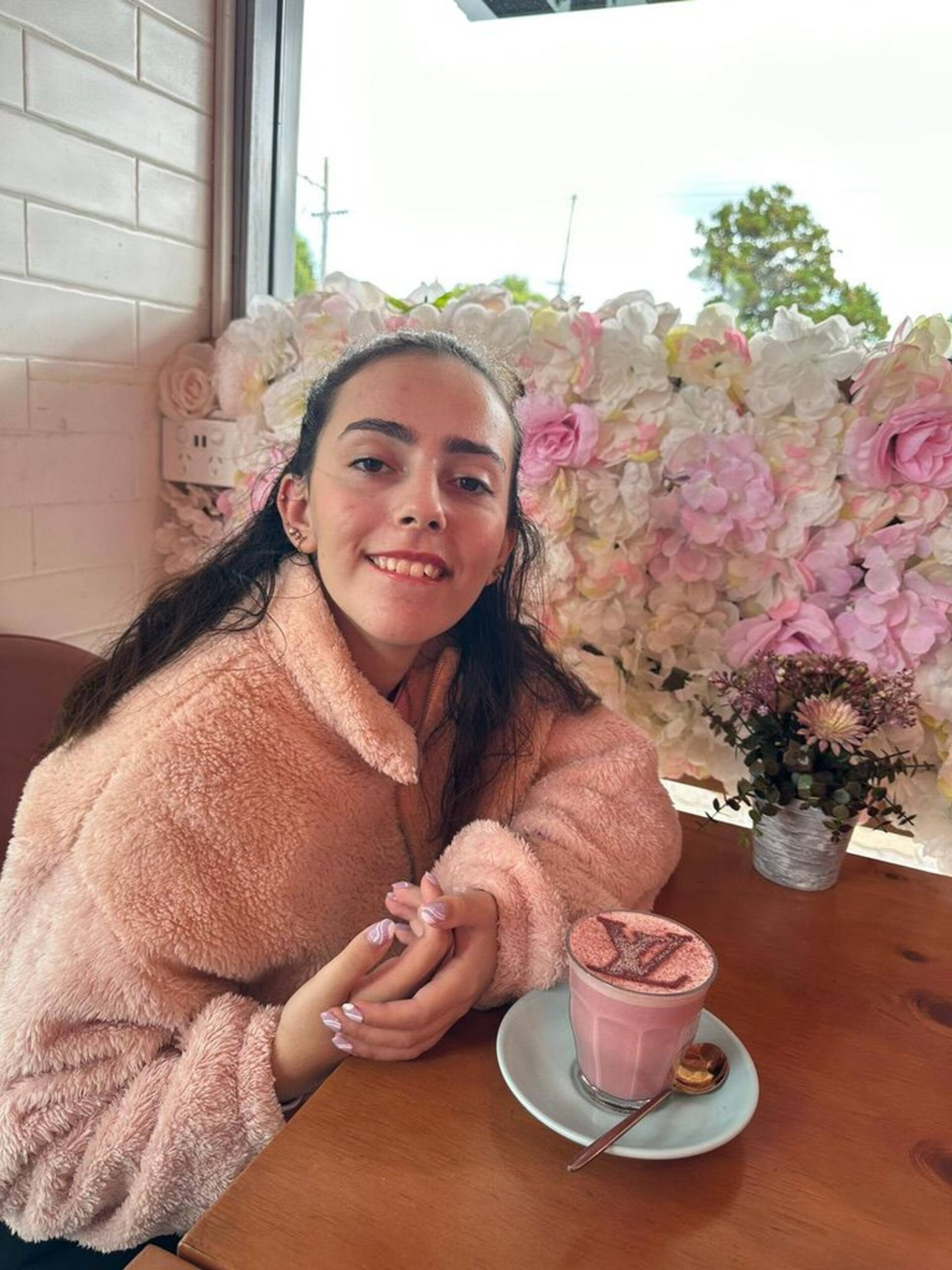 Ange's story is also part of an insightful documentary Fighting the Rare (www.fightingtherare.com) which shines a light into research on Lafora disease, through the testimonies of researchers, patients and their relatives.
For more information about childhood dementia, visit www.childhooddementia.org