As the final siren went off last Friday night, I just laid down on the floor of my lounge room repeating out loud, "We've made the grand final – we've made the grand final".
I was like I did the work, but was in fact those incredible 23 footballers who fought tooth and nail to defeat GWS by a single point to make the AFL Grand Final.
It was four years on from losing to that very same team by four points in the prelim – and a year on from losing in the prelim by a point.
I could go on about near chances to ultimate success. In my lifetime alone, since 1999, Collingwood have played in grand final in five different years, about to run out for a sixth, but have only won once. We have made 11 prelims now, losing five of them.
2018 still haunts me to this day, five goals up in the first quarter to lose by just five points.
There has been much more pain for those older than me.
Just look up Colliwobbles – there's a lot in there – but now is not the time for looking back and asking what if? We look at the now, and we have the chance to equal those dastardly Bombers and Blues on 16 flags, so those fans can no longer have that one up on us.
But I will say, I just hope with all my heart we win this weekend, exacting revenge on Brisbane for 2002 and 2003.
Back to last Friday, the Pies held the one-point lead for the last five or six minutes or so, and my youngest sister was that immersed in it all, she had not realised it was us leading, she was that stressed.
It reminded me of the 2020 Elimination Final against West Coast, where we once again, won by a point, and as the siren went off and I jumped up and down, she sat there still like she could not process what was happening.
Seeing your team in a grand final is a special occasion, that warrants big festivities, getting together with family and friends, you name it.
I was too young to remember 2002 and 2003. 2010 and 2011 I remember going to yiayia and papou's, where my uncle, aunty and cousins also lived.
I was so enamoured with us winning in 2010 that I was running around their house, arms stretched out as far as they could, and in the process clotheslined one of my sisters like we were in a wrestling ring.
2018 I watched with all my immediate family at home as I actually had to go to work right after watching us lose. Imagine that, being depressed about a grand final loss, just to have to go to work at a depressing Hungry Jacks.
This year I believe a BBQ with family is on the table but what do the rest of the Greek Aussie Collingwood supporters have planned for the big day?
My cousin Michael Herodotou will be watching it with his Magpie supporting mates, right before they head off for a bucks night. If the Pies get up, there will be more reason to party!
His kids Elias and Ella, with their mum Charlotte have a pool party with other kids, and likely to come by and visit us.
Dean Tsopanis, alongside his wife and daughter Mia, will be heading over to a friend's house to watch the game.
This weekend is extra special for two reasons. His family grew up in Collingwood, and it'll be the first his daughter will be part of, even though she'll probably not remember this it shall be a cherished moment for her parents.
The friend he'll be visiting is our very own journalist Fotis Kapetopoulos, a Collingwood tragic since he arrived in Melbourne in 1993, living on Easey Street, 500 metres from Victoria Park.
Coming from Adelaide he was actually a Port Adelaide fan, but that was prior to them joining the AFL, so became "ensconced" in the Magpie Army.
"On Saturday I will be hosting some friends, all Pies fans, for hot dogs, party pies and sausage rolls," he said.
"My son – traitorous spawn of mine is a Geelong fan, like his mother – so I've ensured Hercules the Parsons Jack Russell is a Collingwood dog.
"Both Herc and I will be willing the greater victory of all – Collingwood to take the flag – Go the Pies!"
Then you have those lucky bunch who will be in attendance.
Emmy Makrenos is one of those lucky few. She'll be going with her dad and family friends, continuing a tradition of nearly 20 years.
"We go every week together and the grand final is no exception! I'm so nervous but so excited for Saturday! Go Pies!"
Paul Paraskidis and his mate have gone to the footy together for 30 years or so.
They entered the members ballot for tickets, and were fortunate enough to have been selected.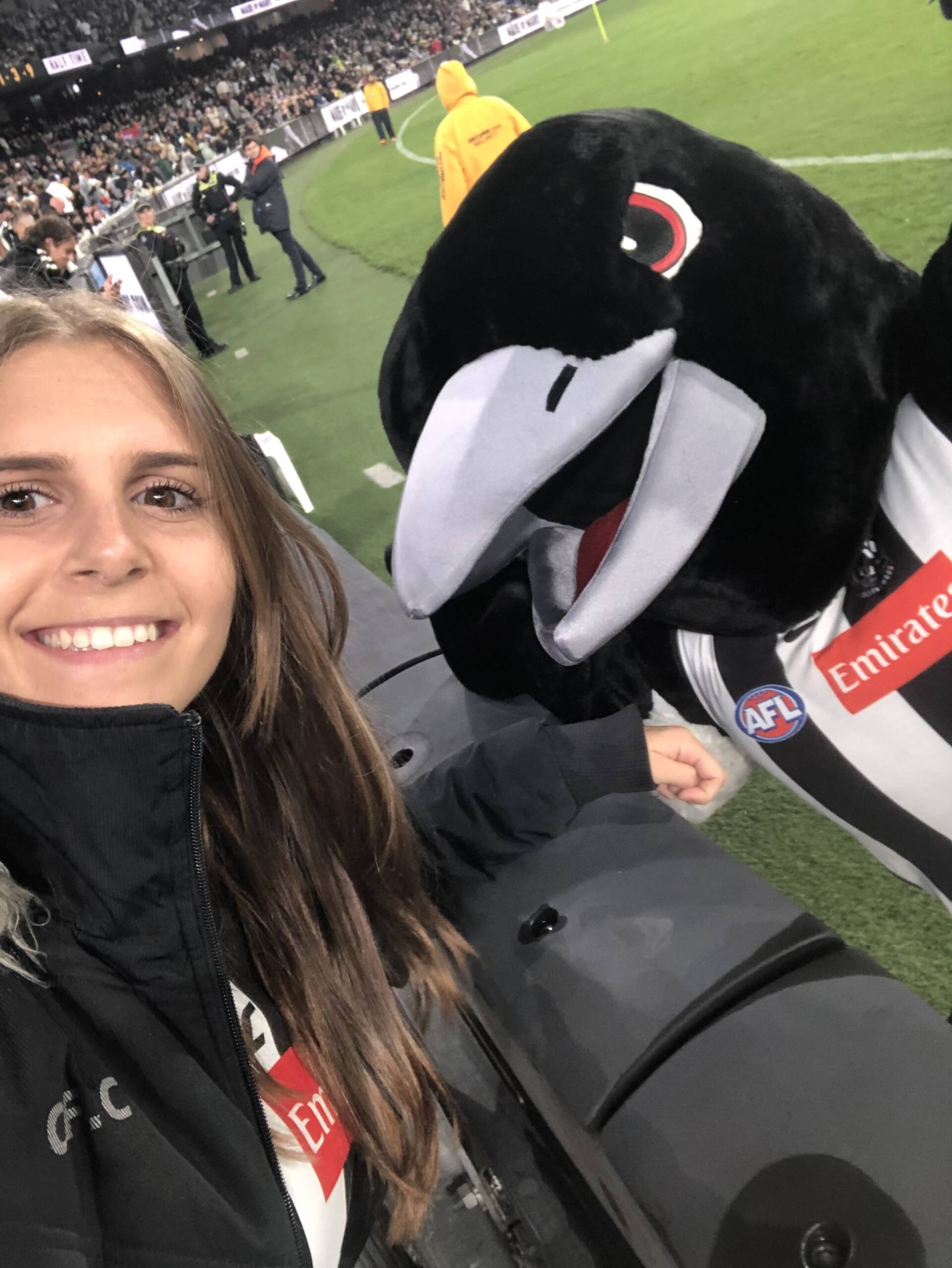 For some getting a ticket is a must – and by any means necessary according to Ben Panotis.
"We were going to get a ticket, whether we had to beg, murder or I don't know what," he laughed.
He even managed to get executive suites with aircon, dining and all – wow that must be nice.
"We will be arriving early, do the Aussie thing and maybe have a few drinks outside and just celebrate with the other Collingwood supporters."
"Hopefully it goes our way, and we can carry our celebrations later in the evening.
"My wife's a Carlton supporter so she won't be coming to the game, so it'll be all fun and games."
Collingwood is supported by many, and I mean many, record number of members and millions of fans around the country. All will be nervously watching on this Saturday, be it at home, the pub, a live site or the MCG, with friends, family or themselves. It just happens a lot of them happen to be Greek.