With the upcoming referendum for the Voice to Parliament less than two weeks away, a number of Greek-Australians, representing various organisations, united to hold an informative discussion on what it entails and the importance of it.
The event was held at Marrickville Pavilion (located on the site of Marrickville Library) last Saturday afternoon, showcasing a panel of speakers discussing their perspectives on the Voice.
It was organised by a number of community groups, independent from the Yes or No campaigns, with support also coming from the Inner West Council who provided the Pavilion as the location.
Community groups included, the Ethnic Community Services Co-operative, Addison Road Community Centre, Inner Sydney Voice, Canterbury City Community Centre, and BEH Legal Services.
The public meeting saw six speakers engage with the topic of the referendum for the Voice to Parliament that is set for October 14.
The first speaker was Mark Buttigieg, Member of the Legislative Council of NSW with the Australian Labor Party and currently Parliamentary Secretary for Industrial Relations, for Work Health and Safety and for Multiculturalism.
Mr Buttigieg, whose wife is of Greek origin, stressed that "the point of these gatherings is that when we go out of here today, we talk to people who are not persuaded".
He reinforced the importance of establishing the Voice as a means of ensuring governments listen to First Nations peoples about issues that directly affect them.
"What the constitutional recognition will do is enshrine the necessity to listen to our Indigenous Peoples. If as a modern, multicultural, diverse society, we can't bring ourselves to do that, well, in my view, we're not a society, we're not a nation."
Nareen Young, Professor for Indigenous Policy at the UTS Jumbunna Institute for Indigenous Education and Research who leads Jumbunna's highly innovative Indigenous People and Work Research and Practice Hub, said very plainly "we just want recognition in our own country."
"I don't know of a community more placed to do that, which has such recognition of their own ethnicity and deep connection to your country. We want you to be part of this change for us," Professor Young said.
Esta Paschalidis-Chilas, who is the CEO of Canterbury City Community Centre and the President of the Federation of Pontian Associations of Australia, shared the empathy she feels for the Aboriginal and Torres Strait Islander people who, like many people from her Pontian roots, were displaced from their home.
"I've always believed that the best solutions are developed with people who are going to actually get a result from it. The Voice will give First Nations people an opportunity to influence the decisions that are going to get them the outcomes that they want," said Ms Paschalidis-Chilas, who is the granddaughter of Greek refugees from Pontos.
Kay Pavlou, an award-winning director of documentary and drama who is Australian-born to Cypriot parents, concluded her speech by saying that this referendum represents another instance in which Hellenes can use a singular word to make a tremendous historical impact.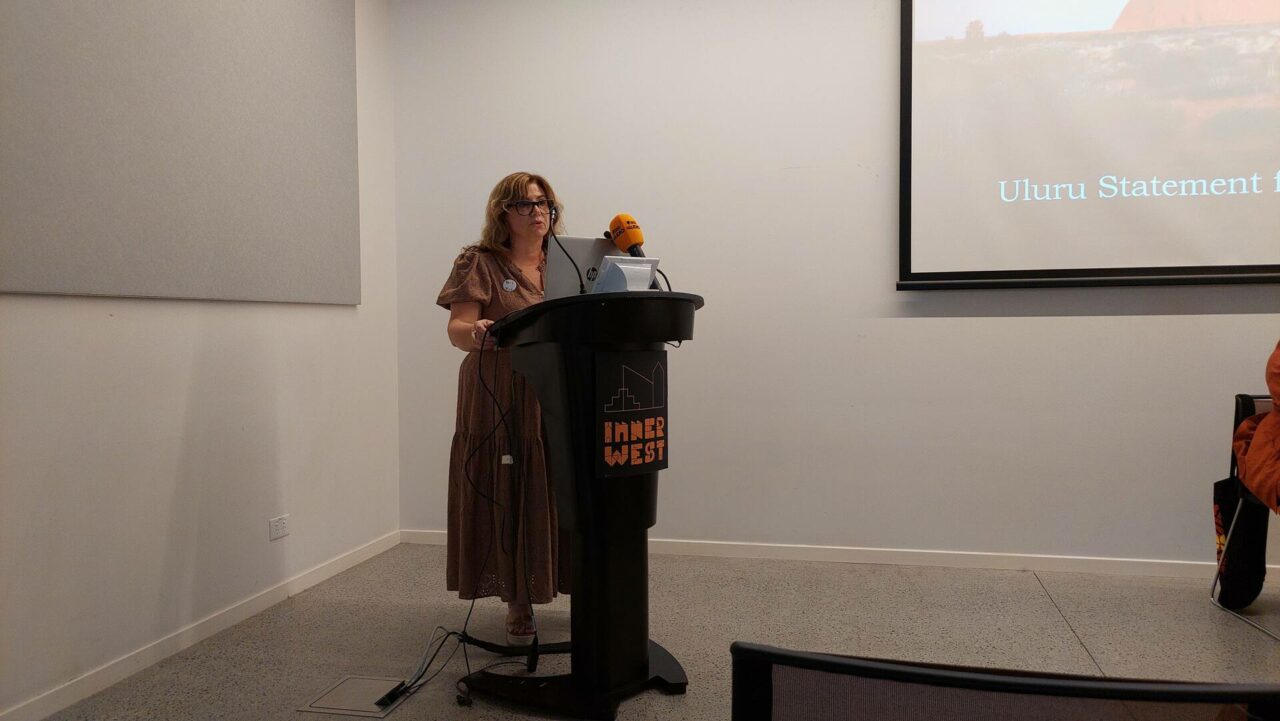 "Greeks have Όχι Day, saying no to the fascists during World War II. October 14th is not a No Day, it is a Yes Day," Ms Pavlou said.
Theodora Gianniotis-Minas was the last formal speaker and she used her time to clarify certain concerns some have regarding the Voice.
"The Voice does not have veto power, it will only be giving advice," said the Director at BEH Legal and solicitor with a Masters in Environmental Law specialising in Cultural Heritage.
Ms Gianniotis-Minas, who is also the Development Officer of the Australian Archaeological Institute of Athens, relayed how Greeks have had radically different experiences in this country when compared to First Nations peoples.
"When we came to this country, we were considered as people. Aboriginal and Torres Strait Islander people were still flora and fauna. When Greeks came to Australia, they allowed you to vote. Aboriginal and Torres Strait Islander could not vote until the 1967 referendum," she said.
"When you arrived, they let you keep your children. Aboriginal and Torres Strait Islander people had their children stolen: the Stolen Generations."
In addition to her clarifications on the Voice, Ms Gianniotis-Minas also shed light on the proper method to vote on the referendum, needing to write the full word of either "Yes" or "No" on the ballot paper for it to count.
Following the speeches, former professional wrestler and competitor in the 1956 Olympic Games for Greece, Tony Kontellis, was invited up to share his experiences in witnessing the harsh realities First Nations peoples have faced.
He emphatically said, "we need to hear the voice of the first Australians", while also stating the need to teach their languages in order to preserve that aspect of their culture.
The event also featured a recording of the 2017 Uluru Statement from the Heart read out in Greek, as well as a Q&A session for guests to ask the panel any questions on the upcoming referendum.
The public meeting was facilitated by Themi Kallos, Executive Producer of the SBS Radio Greek Language Program.