The Hellenic Australian professional and business community came together last night for the dazzling annual gala event, the 2023 HACCI Excellence Awards.
Entrepreneurs, community leaders, welfare organisations, arts and media organisations, and student representatives were there.
TV anchor Peter Hitchener was the emcee, and HACCI's Vicky Alexiou and Peter Giasoumi presented the awards.
The Bank of Sydney Business Excellence Award went to Chris' Foods, and the Professional Excellence Award, by BDO Australia, was presented to internationally acclaimed author Christos Tsiolkas.
Tsiolkas of Loaded, The Slap, and Damascus fame spoke by video link. They paid homage to previous Greek Australian writers and all migrants like his parents, who he said were the foundation stone for his work.
Departing Football Australia chair, Chris Nikou received an award for his nine-year contribution to the beautiful game in Australia.
HACCI Chair Fotini Kypraios said she was "proud to be part of a multicultural community of exceptional achievers" and a team of "dedicated volunteers".
"These volunteers work tirelessly to promote the ideals and values passed down through many generations through the thread that connects Hellenes worldwide," HACCI Chair Fotini Kypraios
"These volunteers work tirelessly to promote the ideals and values passed down through many generations through the thread that connects Hellenes worldwide,"  Kypraios said.
She said HACCI celebrates the Hellenic Diaspora "achievements and share in their pride for their Hellenic roots."
Some of Melbourne's most eminent Greek Australians and members of the community attended, such as parliamentarian Lee Tarlamis, the Greek Consul General Emmanuel Kakavelakis, Greek Community president Bill Papastergiadis, HACCI WA president Dr Elena Limnios, and HACCI SA board chair, Kosta Koutsonas.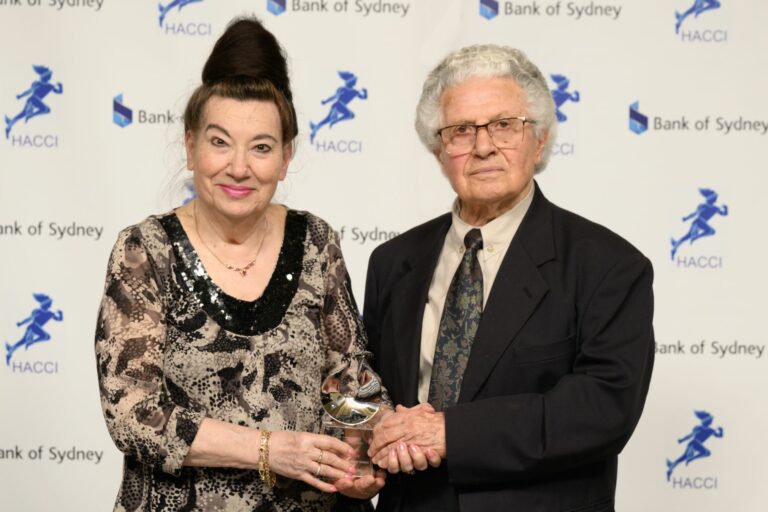 The gala began with a musical tribute to the late Vangelis Papathanasiou (1943-2022), a pioneer of award-winning electronic musicals and soundtracks for major films like Blade Runner, Chariots of Fire, 1492: Conquest of Paradise, all performed by pianist Adam Rudegeair on the Melbourne Town Hall Grand Organ.
Greek-Aboriginal musical theatre and opera star Zoy Frangos performed a selection of his one-person show, Variations' including songs made famous by Elvis and Dalaras. They followed on with a duet with his wife and celebrated opera singer Elisa Colla.
Melbourne's Greek music band, Anagennisi, performed traditional and contemporary tunes.
Speed painter Brad Blaze entertained the well-dressed crowd by creating works of art on the spot inspired by Hellenic culture. The paintings were auctioned to raise money to support Prof. Vasso Apostolopoulos's groundbreaking research on pancreatic cancer and breast cancer vaccination at Victoria University.
All guests left with a gift package of Melvourni frappe-style coffee and aromatic diffusers from Thematikos. Consolidated Travel gifted a $2,500 travel voucher to one lucky winner. Flowers Vasette prepared breathtaking flower arrangements presented to the winners – the outstanding organisations and individuals that made an indelible mark on the Australian Hellenic Diaspora.
The 2023 HACCI Excellence Award Winners
Spiro Stamoulis Lifetime Achievement Award: Dina and Kyriakos Amanatides
Bank of Sydney Business Excellence Award: Chris' Foods
Professional Excellence Award, presented by BDO Australia: Christos Tsiolkas
Innovation Award, presented by Directed Group: Adrian Sapountzis Spencer.
Woman of Influence Award, presented by SalaryMasters: Pelagia Markogiannakis
Community Service Award, presented by PRONIA: Dina Petrakis
Sport Award, presented by Heidelberg United FC: Chris Nikou
Chris Saristavros Young Achiever Award: Dean Kotsianis