When George Kasimatis, owner of one of the most acclaimed restaurants in Adelaide's CBD, was advised his business had won the award for Best European Restaurant in Australia (Savour Awards, Restaurant & Catering Hostplus Association, Australia) in Brisbane on Monday 26 October, he was in Adelaide doing what he knows best – offering his customers the ultimate dining experience in a warm, minimally magnificent environment where beautifully orchestrated dishes, fresh food produce, fine wines and great coffee are offered, all complemented by excellent customer service.
Georges on Waymouth also won The Advertiser Food Awards' Best Lunch in the City on Monday 9 November.
"George's on Waymouth opened its doors 13 years ago and my goal has always been to provide exceptional customer service together with fresh seasonal produce.
"Therefore everything gets prepared in-house, from our own bread to homemade pasta and desserts," says the hard-working 42-year-old, whose passion for the hospitality industry was embedded in him by his father back in Canberra.
His father, who has owned coffee bars since George can remember, taught him that humility, hard work and customer service is what makes a business successful. Following his father's footsteps, George jumped into the deep end when he moved to Adelaide to pursue his career options further.
"After completing my Diploma in Hospitality and Hotel Management and having obtained enough managerial experience back home, I felt that it was time to learn more about food and wine," explains George.
Having had a soft spot for Adelaide due to his extended family living in SA, the self-motivated individual moved to the festival state in 1999 at the age of 27, where he also met his wife Voula shortly thereafter.
"Adelaide has always been a love of mine and the right place for me," he says.
George operated some of the most successful restaurants in SA while also studying at The Wine and Spirit Education Trust and working as a bricklayer's assistant to pay his bills.
The real surprise came when he quit his managerial roles only to take on a waiting position; he wanted to work with an iconic figure in the food scene and one of Australia's best-known chefs – the legendary Cheong Liew.
"To me it is all about learning. This is what keeps me motivated and inspires me to do great work," he says.
The vast knowledge and invaluable experience gave George the confidence to take the next step and open up the Best European Restaurant in SA, a title obtained three years in a row.
"Who would ever have thought that a little restaurant in Adelaide would win and will now be entered into the Hall of Fame?" says George, keeping in mind that an award of this calibre also brings tremendous responsibility towards his customers.
"Sometimes it is easier to go under the radar. I tell my staff that awards are great but it is our customers we must focus on, respect and serve, if we want them to come back.
"These days everyone is time poor, but customers are not fools. They know what they want and it is our duty to meet those demands with a smile and a can-do attitude."
Moving forward, and with Waymouth Street turning into a corporate district, George's on Waymouth is unquestionably one of SA's premier establishments. In 13 years of operation, it has grown from six to 23 staff, with its service expanding to breakfasts and lunches five days a week (Monday to Friday) and dinners from Tuesdays to Saturdays.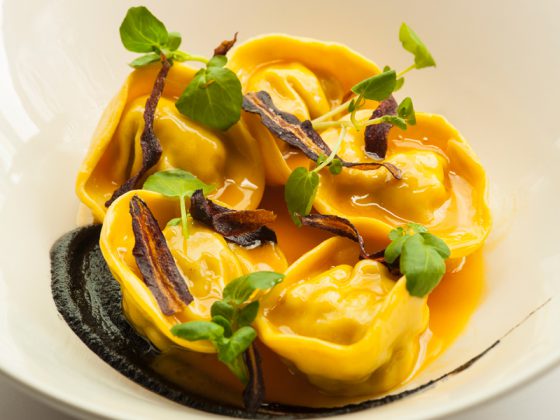 The seasonal menu changes quarterly with strong influences by Greek, Italian and Spanish cuisines, matched with an internationally- acclaimed wine list. "European food has always been popular but slowly people are paying attention to European wine," he says.
While George informs me excitedly that he has joined forces with two great local wine estates in the Barossa Valley and Hahndorf, in the same breath, he feels proud that one of the best wine sellers at the restaurant comes from the northern area of Greece.
"I am proud of my culture, my history and Greek background and I am also grateful for everything Australia has given me and my family," he tells Neos Kosmos.
Always passionate about wine, the successful business owner took a side-step in 2012 and accepted George Calombaris' offer to work as venue manager for his signature restaurant in Melbourne, The Press Club.
"It was a hard decision to leave my business for six months and look after the flagship venue but I will never forget my time there, mainly because I learnt a lot about myself as a manager and as a mentor."
"I was and still am a big believer that, as a business owner, one always needs to keep their finger on the pulse and hover like a helicopter, but at the same time I wanted to step outside my walls, then return and analyse where I am at," admits George, who put all his trust into his wife and staff running George's on Waymouth during his absence.
As for what it takes for a business to be successful, George is adamant.
"To me it is all about the story.
"Let your staff and your customers know where you are and where you are going so that they can be part of the journey, but also listen to everything they tell you."
Proud Australian Greek George Kasimatis is passionate about two things – his business and his family.
On the business front he is always ready and determined to achieve further success and explore new ventures. As a dedicated family man, he wants to continue being a great husband to his wife Voula, who has given him tremendous support throughout the years as well as the best role model for his two sons, Victor and Peter who – to George's delight – love spending time at their dad's restaurant.
It seems they are right when they say that the apple doesn't fall far from the tree.