Granted, a year has gone by the initial planned launch date of 1821 reastaurant, but it was worth the wait. The Sydney CBD venue finally opened its doors this month and the turnout has been tremendous.
Jim Kospetas' latest venture is said to have cost him over $3 million, with everything − and when we say everything we actually mean everything − being shipped from Greece.
Athens-based interior designer Dimitri Oikonomou is responsible for 1821's luxe, decadent space that brings contemporary Greek dining culture to Sydney. Oikonomou, who is famed for his award-winning hospitality interiors, has created magic in the main dining room leading to a private dining area upstairs. There is also a high-end vodka bar, set to start functioning later this year.
"We literally had to ship everything from Greece!" chef David Tsirekas (formerly of Perama and Xanthi) exclaims when looking back into missing three opening slots due to building adjustments.
The indulgent menu includes flavours such as ouzo-cured salmon with skordalia, toasted almonds, mulberry and pomegranate dressing, and caramel baklava ice cream. Lobster and mackerel pasta with shaved bottarga, Greek san choy bow, white chocolate feta cheesecake and lakerda (charred and pickled bonito on bread with black-garlic skordalia), chips with oregano and crumbled feta and lamb forequarter slow-roasted for five hours and finished on the barbeque are just some of the irresistible items.
Tsirekas' Greece-inspired food is pushing the boundaries of modern cuisine by Greek-ifying one of the most popular Chinese restaurant classics among other international flavours.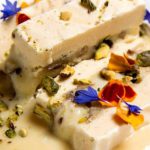 Meanwhile, there is a wide selection of cocktails and spirits, not to mention wine − from Greece and international producers − to perfectly match each dish and dessert. If you find yourselves in Sydney, definitely give the Aphrodite Bellini (featuring solitaire sparkling Greek wine) and the Ouzotini (with ouzo 'mini', mint infused vodka, peach schnapps and lime) a go − or two.
In terms of naming, 1821 commemorates the first year of the Greek War of Independence, especially referring to the Odessa bunker where a group of ambitious Greeks started the Greek Liberation Movement. Just as that small group of Hellenes set out to liberate and unite regions of Greece under one flag, Kospetas' venue aspires to unite people fond of Greek culture and cuisine, introduce new progressive ideas and 'liberate' their palate.
122 Pitt St, Sydney, NSW
Phone: (02) 8080 7070
[email protected]
www.1821.com.au