When former Greek-born banker Télémaque Argyriou decided to do a 360° turn and leave his promising career in finance to open Kalimera, a super stylish food truck in London's city district, he never anticipated attracting so many businessmen, bankers and executives, who would line up to try real contemporary Greek food of culinary greatness that's almost impossible to find anywhere else in the heart of London.
According to the 40-year-old businessman, who has completed a LLM degree at the University of Leon (France) and an EMBA at the ESCP Europe Business School, it took him all of half an hour on the internet and just 15 pounds to launch a completely fresh and exciting concept, which for the last two years has been bringing rays of sunshine and golden drops of extra virgin Greek food, sparkling verve and creativity to the heart of London.
In an interview with Neos Kosmos, Argyriou talks about his personal journey from finance to gastronomy, his passion in marrying the traditional recipes with updated modern additions, and Kalimera's permanent new home in the UK's business capital.
Was the GFC the catalyst for your life changing decision to abandon your career in the banking industry and follow a completely different path, that of the 'fast food' industry, or were you simply a visionary?
It was the GFC indeed. After 2008 the conditions in banking deteriorated and I felt like this was not the environment I wanted to continue working for. I always loved gastronomy, especially the Greek one, and I was always getting upset with how underrated Greek food is in London. This, in combination with the fact that breakfast and lunch options are quite average and lack variety, made me think about a fast-dining Greek-inspired concept − that's when I created Kalimera.
How did you come up with the idea of a Greek canteen in the heart of London, and how hard was it to overcome the red tape and various local government regulations? Did you have a statistical approach or use certain criteria in choosing your locations?
The UK is a very entrepreneur-friendly country and regulations do not prevent people from opening new businesses. I think the difficulty lay in finding the right locations and getting market pitches. Catering is highly competitive and there are already many great concepts out there. Greek food is completely underrated and almost absent in London – not to mention modern Greek food. I wanted to bring this over to the capital and introduce something healthy that contains variety and follows the Mediterranean cuisine principles without being boring.
How did the Londoners initially receive your idea? Are you the first Greek canteen roaming the city's streets or the latest incarnation of an established order?
Reception was immediate and very welcoming. We are not the first Greek canteen in London, but we are the only one doing modern Greek food and also doing dishes other than just wraps. There are some Greek trucks but there is nothing established. We are not enough to create a movement. Yet.
Briefly, what would one find on Kalimera's regular menu and which item would you say is your specialty and most popular one?
Deconstructed moussaka, chicken souvlaki with avocado tzatziki and hummus, lamb souvlaki with mint tzatziki and melitzanosalata, salad boxes with meat or cheese, Greek salad with feta spread and roast potatoes. Moussaka is our specialty as we manage to do a very light one that suits the likes of the city workers, and the most popular is by far the chicken wrap.
How do you achieve an authentic Greek experience? Do you import products from Greece? If so, could you give us some examples?
We try to source the majority of our ingredients in the UK as we always try to have the lowest possible carbon footprint. Others, like pita bread, Greek yoghurt, Greek pasta and herbs, are imported directly from Greece.
How many people work for you and who has the honour of overseeing the preparation and cooking?
Six people in total work for Kalimera. Chef Christos Kardaras is the one overseeing the kitchen operations and organises everything for all orders to be done in a timely manner. He is also the one coming up with new ideas and concepts.
Do you miss your previous career and have you ever thought of returning to the banking and finance sector?
Not really. If I have completely changed my way of living it is because the finance sector was not attractive to me anymore. I also feel much more comfortable in the entrepreneurial environment.
What advice would you give to your fellow Greeks who are seeking new opportunities outside of Greece?
There are several opportunities outside Greece but a lot of drawbacks as well. They should prepare for their trip well in terms of country knowledge, market research and knowledge of the language.
Do you consider London your new home?
Definitely, London has been home for almost seven years now. It's an amazing city that has a great vibe and lots of energy.
What do you think makes Kalimera so successful?
The fact that the food is delicious and service fast and professional. Also, because it shows a fresh, beautiful and contemporary face of Greece – and people are bored by clichés of sea and sun that do not correspond to the reality of the country.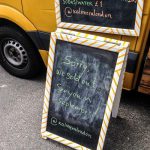 Kalimera has now found a permanent home. What made you change the concept and seek a permanent location? Why did you choose Camden Market?
We always wanted to combine mobile and permanent locations. Camden Market is a very old London market which is undergoing a transformation and is calling for new and fresh brands to be part of it. We always like the mix of old and modernity and we thought it would be ideal for a permanent residency.
How different is the English culture compared to the Greek culture and how easy was it for you to adjust?
The culture is quite different as you can imagine. I had previously lived for 17 years in France and worked for a year in NYC, so I'm a sort of cultural chameleon. I adapt easily wherever I go!
Do you have a life motto and how does it help you in your day-to-day dealings?
Always persevere and never give up. It helps me when things get tough to remember that I should never bend and always seek for solutions.
Where does your family originate? What's your family background?
My family comes from the island of Evia on my mother's side and from southern Laconia on my father's side. My father has an olive grove, where he cultivates and harvests organically in St John Theologos in Sparta. That's the olive oil we use in our recipes and that is now available for sale in Camden Market.
Kalimera is now open at Camden Market, Unit 311, Camden Lock Place, Camden. For more information, visit their Facebook page www.facebook.com/KalimeraLondon/ and follow them on Instagram @kalimeralondon