Nestled in a perfectly restored neoclassical two-storey mansion from the early 1900s in Metaxourgeio, Athens, Aleria's decor strikes the perfect balance between luxury and ambience featuring an elegant bar and paved courtyard.
Keeping elements of the past and infusing it with new modern styles, the space reflects the cuisine's philosophy which combines modern cooking techniques with memories of traditional home-cooked food.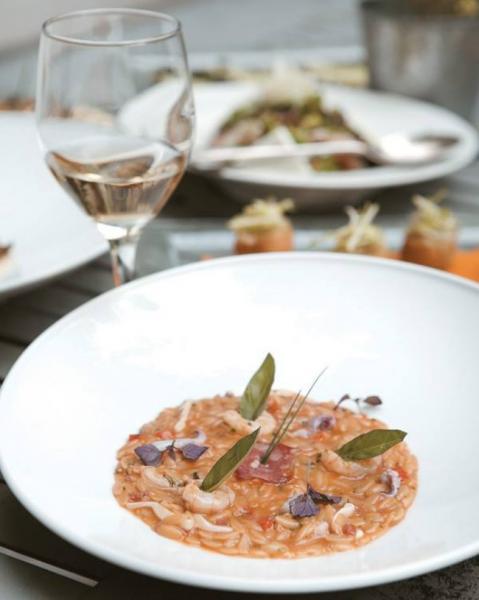 Upon entering one is mesmerised by the paintings on the walls and the ceiling decorations, which give way to the unique wallpaper designs, which in turn compete with a combination of ceramic wall and floor tiles and cross-pattern parquet.
Aleria is Art Deco, post classical with a modern twist offering the finest Greek cuisine that uses the freshest and best quality ingredients Greece has to offer seasonally, just as its owner, Nikiforos Kechadiadakis had envisioned when the building was passed on to him by his parents. The young businessman managed to have Aleria listed amongst the best European restaurants but he was not alone in that achievement. He trusted his menu to Gikas Xenakis, one of the country's most talented chefs and considered one of the pioneers of Greek creative cuisine, bringing Aleria a Toque d'Or award.
The amberjack tartare marinated in bergamot dolmas filling and cream from sea urchin eggs, and the red pumpkin mousse caramelised chestnuts, cured pork and fresh black truffle are to die for. The restaurant has its own gourmet version of pastitsio made with thick pasta, braised oxtail, shiitake and foamy béchamel, but the seafood orzo risotto with grilled peppers, salami, and basil is one of our favourites.
Aleria also has one of the best wine lists in Athens, presenting carefully selected acclaimed and rare wines to accompany its delicious cuisine.
Aleria Restaurant
Megalou Alexandrou 57
Athens, Greece
+30 21 0522 2633
www.aleria.gr