What if the aromas and spicy flavours of the most beautiful island country in the eastern Mediterranean Sea could be experienced here in Melbourne?
Cyprus is located off the coast of Syria and west of Lebanon, northwest of Israel and Palestine, north of Egypt and east of Greece.
The rich and flavoursome food of Cyprus is closely related to Greek cuisine, with strong influences from the Byzantine, French, Italian, Catalan, Ottoman and Middle Eastern cuisines.
"It can basically be summed up with only two short words: simply delicious," says chef Marios Nicola, co-owner of From the Butcher to the Chef.
"Together with my partner Jim Hajitilemahou, we offer the flavours from Cyprus that will excite you. Everything is made from scratch and with love."
Marios uses nothing but the freshest ingredients to fuel his traditional homemade recipes, which is what made his food truck company stand out in the first place. Within just one year of operation in Melbourne, the From the Butcher to the Chef team managed to make a name for themselves. The demand was so high and the queue so long that opening a physical store was a natural step. The Preston community pocket at the upper end of Bell Street seemed like the perfect location.
Indeed, in less than six months the unassuming eatery has become a favourite spot for the locals. People start lining up at noon and the Cypriot joint is literally packed until after 2pm. Just before dinner all the foodies and souvlaki lovers start rolling in again, until late.
"Our family recipes have been passed on for years and cultivated into our mouth-watering souvlaki," Marios explains.
"In Cyprus, souvlaki refers to the small chunks of meat on a skewer, as well as the whole package of it being contained in a large pita alongside tomato, cucumber, onion, parsley and sheftalia."
For those who are not familiar with Cypriot cuisine, sheftalia (singular) is a traditional Cypriot food which is a type of crépinette, a sausage without skin, that uses caul fat to wrap the ingredients rather than sausage casing.
"Everyone makes sheftalies differently. You'll love ours as they come packed with an overdose of parsley and onions," Marios enthuses.
Caul fat is transparent and naturally fatty. The filling is made of ground pork mixed with finely chopped onion and parsley, salt and pepper and formed into small round balls. These balls are then placed on the spread caul fat and squares of caul fat are cut around them and wrapped, making little sausages − the sheftalies (plural) − that are then grilled until golden brown. Like all grilled meat dishes in Cyprus, sheftalies are always accompanied by fresh lemon quarters and plain thick yogurt or tzatziki. Mind you, Cypriot tzatziki tastes different to the Greek − it's lighter, still garlicky, but more minty, without pickles.
If you haven't had sheftalies yet, you are seriously missing out!
Meanwhile, Cypriot-style souvlaki is not like the Greek. The little pita bread is fluffier and has a pocket in the middle so it is not wrapped around the meat and salad but filled with meat, sauce and juicy, fresh veggies like a pouch.
At From the Butcher to the Chef though, gyros souvlaki with the Greek pita bread is also available − with a twist. Marios' secret lies in the way he grills his mixed meat on the rotisserie and the spices and herbs he uses. As simple as his menu might seem, tasty is what it actually is.
"All souvlaki come prepared with your choice of generous protein along with tomato, cucumber, onion and parsley. At From the Butcher to the Chef we offer lamb, chicken, pork … we even have a vegetarian one," Marios explained while we ordered a mixed chicken and lamb pitogyro, as it's called in Greece.
"You can also up-size the souvlaki of your choice by adding an extra skewer if you're extra peckish."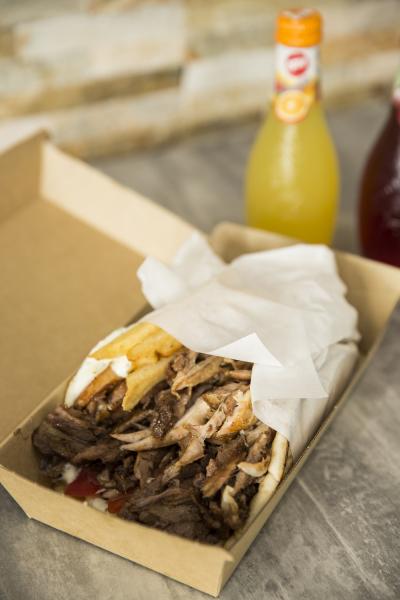 On the day we visited, they also had some specials on offer, a succulent kleftiko (slow-cooked oven-baked lamb) and a delicious kolokasi me xoirino (pork with taro).
Apart from the specials, which we recommend you try, you are by no means allowed to leave the premises without getting the koupes.
Koupes (plural of koupa) were traditionally a street finger-food in Cyprus. The mince pork meat croquettes were served as a snack or as part of a meze dish and remain a popular Cypriot menu item today.
"Our koupes crust is made of bulgur wheat, flour, oil, salt and stuffed with ground meat, onions, parsley and spices," Marios continues, emphasising that his koupes are "easily the best you'll have outside Cyprus".
"Tastes just like being on the beach on the island as a kid!"
For those adventurous and ravenous eaters who would like to get a taste of everything, we would recommend the mixed grill without hesitation. The platter comes packed with one pork skewer, one sheftalia, one koupa, a wine-marinated sausage, mixed lamb and chicken gyro, pita bread and chips accompanied by a seasonal salad and tzatziki. This will give you an all-round taste of what From the Butcher to the Chef is like.
Now, for dessert, Cypriots specialise in very sweet cakes and pastries, favouring honey, fruits and nuts and pastry. Honey is drizzled over loukoumades or lokmades (small doughnuts), and syrup is poured over the traditional semolina casserole halva. At the shop you will find several traditional desserts. In addition to the restaurant and food truck, they also do catering with both Cypriot and Greek foods− served from the truck with guests ordering or, alternatively, meals can be distributed by waiting staff. Birthday parties, company picnics, festivals, community events, or office and sporting club functions; they do it all. From the Butcher to the Chef has delicious and affordable finger food menus that are perfectly suited to events both large and small, made to measure according to taste and budget.
"It's not a party or an event until we pull up," Marios enthuses. "Our food will make it one of the memorable talking points of any occasion!"
Don't be fooled by the simplicity of the Preston fit-out, these guys know how to cook up a storm and serve the heartiest food with a genuine smile. Every bite is busting with meraki and heaps of love all the way from Aphrodite's island.
Find them at 597 Bell St, Preston, VIC − 0416655576. For more head to www.fromthebutchertothechef.com