Ever have those days where you're hungry but can't seem to pinpoint what it is you feel like eating? Well Stav's has you covered, at least when it comes to Greek and Asian flavours.
Located in Sydney's San Souci, owners Alex Evripidou and Kerry Dramountanis are redefining everything we know about traditional Greek food and have set out to create a menu that perfectly fuses flavours from each cuisine.
"Australia is like the gateway to Asia. A lot of trendy foods have an Asian influence, so we wanted to embrace what Australian's love at the moment and fuse it with old Greek dishes," said Dramountanis in an interview with Broadsheet.
For those not so keen on the idea, it's not a complete bastardisation of the cuisine. The pair have identified a crossover in cooking techniques, taking favourite dishes to the next level.
"In Greece, fried zucchini chips are a big thing, however we've embraced the idea of tempura. It's an Asian cooking technique but it gives our zucchini chips a lighter flavour," Evripidou said. On the menu you'll find gyros served with duck, shallot, chilli and plum sauce, along with the kataifi prawn san choy bow salad with ginger dressing and sushi rice.
Meanwhile their slogan 'Drinks, Eats & Beats' also makes Stav's the perfect spot to swing by for a tipple. There's an extensive cocktail and wine list, many of which are imported from Greece, along with a local pinot noir and pinot grigio on tap as is common in Greece.
"In Greece, some restaurants have wine barrels at the back that are their house wines. They pull it straight from the barrel. It represents that old-school, 'village' nature, but it's modernised because it comes through the copper pipes," Evripidou said.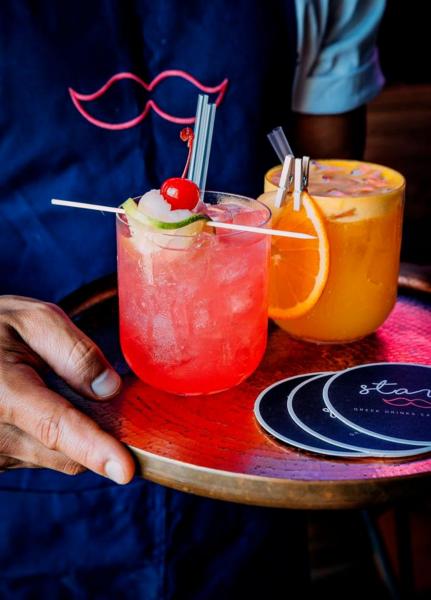 That's not the only inspiration the owners have taken from Greece. The fit-out has the fill of cosmopolitan Athens, with a stand-out neon sign and walls decorated in graffiti some of which is text from film Zorba the Greek.
But hang on; Alex, Kerry … who's Stav?
"Stavros is a typically Greek name. In a sense, anyone can be 'Stav'," said Dramountanis of the inspiration behind the eatery's name.
"We want people to come in and let go of the daily grind and be 'Stav'."
Stav's is located at 8 Water St, Sans Souci, NSW. For more, like their page on Facebook, give them a follow on Instagram @Stavsdrinkseatsbeats, or visit stavsdrinkseatsbeats.com