Eat Like The Greeks, Mediterranean Diet The Key To A Long Healthy Life, Mediterranean Diet Can Ease Depression Symptoms . . . are just some of the headlines being published of late, with writers raving about the benefits of adopting a traditional diet eaten by southern Europeans, one of the most nutritious varieties coming from the island of Crete.
But unlike other diets, this one is not a fad and is refreshingly balanced without demonising food groups.
Helping to spread the good word are nutritionists and dieticians, Lisa Peterson and Desi Carlos.
With degrees in Nutrition and Dietetics, they work together at Tree of Life Nutrition in Queensland's Woolloongabba, while also travelling across Brisbane and its outer suburbs to over 20 practices.
Recently the Greek Australians decided to join forces and they started Two Greek Girls Cooking, an online resource through which they also offer individuals consultations, seminars, catering, and cooking demonstrations and earlier this year released their lifestyle book Mediterranean Eating – Cook Eat Live.
"Both myself and Desi's family are of Greek descent so we both individually had an interest in [the] Mediterranean diet. In conjunction with this we see a lot of patients who benefit from implementing the principles of the Mediterranean diet. We were individually formulating guidelines, plans and discussing recipe modification in consultations and we thought we need to get this message to the broader community," Lisa tells Neos Kosmos.
She says her interest in the Mediterranean diet is particularly close to home, having seen the benefits in action through her grandfather who, like many migrants after moving from Greece to Australia, started to adopt a Western diet which had a negative impact on his health.
"My interest personally stemmed from growing up with a grandfather who had poorly controlled Type 2 diabetes and I was always very interested in foods' reaction with his chronic disease," Lisa reveals.
But for Lisa and Desi what also helps to set the Mediterranean apart from other diets is that it is a lifestyle rather than merely a form of sustenance, and one they were exposed to through their families.
"We both love that Greek tradition is to bring family together with their love for food and each other," she says.
"We eat in way that celebrates food, the abundance of good quality, fresh food that makes us feel good and celebrates life. We use good quality olive oil, we enjoy lots of fresh vegetables and salads, seafood features a lot in our diets, and most importantly, we know how to enjoy a great Greek sweet . . . occasionally!" she adds.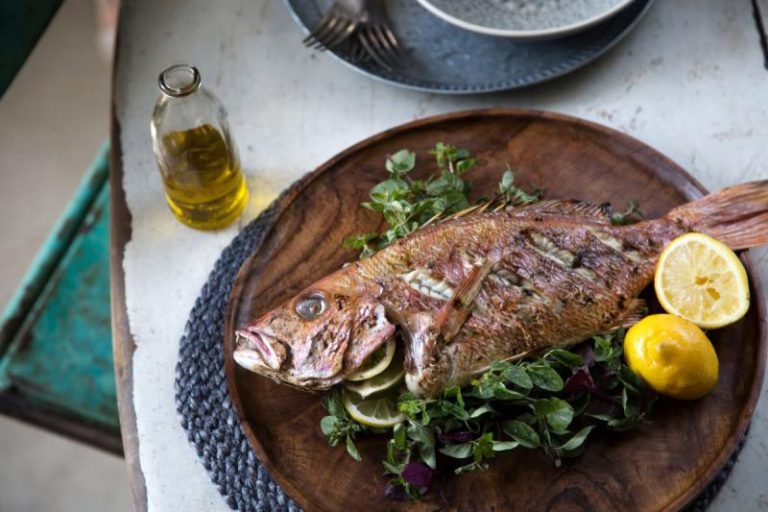 We spoke to Lisa about the challenges and benefits of adopting a healthy lifestyle and why they are such advocates of the Mediterranean diet.
A lot has been written about the benefits of the Mediterranean diet of late. Why are you and Desi advocates of the diet?
We couldn't be bigger advocates of the Mediterranean diet if we tried! The research behind following a true Mediterranean diet and the links to reduction in all inflammatory diseases – cancer, cardiovascular disease, diabetes, arthritis and more recently dementia and Alzheimer's – is astounding. How can we not be advocates of such a lifestyle and way of eating? We not only love the Mediterranean diet due to its chronic disease prevention benefits but also the fact that it is inclusive of all food groups, it's satisfying, delicious and sustainable!
Reflecting on your experience in nutrition and dietetics, what would you say are some of the biggest mistakes people make when it comes to their eating habits and approach to food?
I believe it's very difficult for the public to make choices when it comes to knowing and understanding the 'best way of eating'. This is because the media is constantly bombarding us with the 'new way to live', 'new research', 'new answer to everyone's problems' when it comes to weight and health outcomes. I believe individuals need to eat in a way that makes them feel good, is inline with their goals and that they can see themselves maintaining for years to come. They should not feel restricted or deprived just to get to where they want to be. We want everyone to enjoy the food they eat on a daily basis while reaping all the health rewards.
What are some of the benefits people can expect by making an effort to eat wholesome, healthy and tasty food?
If individuals have diabetes or high cholesterol they will notice an improvement in their sugar levels and/or LDL (bad cholesterol) levels.
Through eating nutritious wholesome food, individuals are likely to notice weight loss and/or weight maintenance which will improve blood pressure, increase energy, prevent onset of weight related chronic disease issues, improve aches and pains in their joints.
As if this isn't enough individuals will almost immediately notice improvements in energy levels and reduction in bloating.
Through Two Greek Girls Cooking, you and Desi offer individual consultations and seminars. What can people expect from these services?
Individual consultations allow us to really focus on the needs of our client and assist in behaviour and nutrition changes for long-term success.
Our seminars are groups of approximately 20 people and include the research surrounding a Mediterranean diet, how to implement it with ease into the lives of attendees and their families. In addition to this we include a virtual supermarket tour which teaches our attendees how to navigate the supermarket claims and nutrition panels. We also add on an eating out component to ensure our attendees still enjoy their social lives while eating in line with their goals.
You also offer cooking demonstrations and catering. Can you tell us a bit about that?
Not only do we want to share our delicious food through catering we also want to make sure our clients are confident to implement our recipes at home and share them with their family and friends as well as enjoy the benefits of Mediterranean eating long term. It's simple, delicious and family friendly. Our cooking classes show our clients that good, nutritious food can be absolutely delicious and simple!
Lisa and Desi's 10 ground rules to implementing the Mediterranean eating plan long term:*
1. Use extra virgin olive oil as the primary source of dietary fat. Include also whole olives;
2. Eat at least 5 serves of vegetables each day;
3. Consume 2 serves of dairy each day;
4. Have red meat no more than once a week and preferably choose grass fed meat. Consume up to 2 serves of poultry and up to 2-3 serves of eggs per week;
N.B. For protein alternatives for people who follow a vegetarian diet include eggs as well as vegan choices such as legumes, lentils and nuts.
5. Include at least 3 legume-based meals each week;
6. Eat at least 4 serves of fish and up to 1 serve of other seafood once a week;
N.B. Protein serves per day: Consume 1½ – 2 serves of protein per day of fish, chicken, eggs, lean meat and/or legumes.
7. Get a variety of fresh and dried fruit each week aiming for 2 serves daily;
8. Choose wholegrain breads and cereals with meals. Include up to one serve starchy vegetable, 3 times a week;
9. Have 1 serve of nuts each day;
10. Adults: Drink wine in moderation; consuming no more than 1 standard drink each day, and preferably red wine (150ml).
N.B. Drink plenty of water and stay active (try walking at least 3-4 hours per week).
* For full details of the eating planning, visit the Two Greek Girls Cooking website.
To access the services offered by Two Greek Girls Cooking, visit their website.
You can also follow their work and get tips on following a healthy, balanced diet through their Facebook page and Instagram.