With 27 years in the wine industry, for wine educator and consultant Jenny Polack, wine from Greece was never on her radar. In fact far from it. Past experience from working in bottle shops that stocked mavrodafni and retsina that were kept on shelves for the few local elderly Greeks who bought them, had left a bad taste in her mouth. So it was a big surprise for her when an organic retsina in France five years ago kickstarted a love affair that would see her take a whirlwind trip to Greece's wine regions.
"I tasted it and was like 'Wow! This is quite lovely'," Polack recalls.
"Greece to me is quite interesting because I think it's changing in a very dynamic way and it's exciting to watch. There is life in Greece after crap retsina afterall!"
Someone who agrees wholeheartedly is Angie Giannakodakis, sommelier and co-owner of Epocha and Elyros, the only Cretan restaurant in Australia awarded a hat in the Age Good Food Guide 2017.
Having developed a passion for Greek wine while working in Greece as a sommelier, since returning to Australia in 2003 Giannakodakis has been on a mission to get Greek wine on Australian's radar and on to the winelists of the best restaurants across the country.
So when she was asked to become the official ambassador of POD (Protected Designation of Origin) Naoussa, a wine zone in the north of Greece comprising 19 vineyards that specialise in the indigenous variety xinomavro, she jumped at the chance and has been working hard at it ever since.
Over the past week she has hosted a delegation of wine producers from Naoussa, including Yianni Stergiou from Novacert, Maria Kelesidou from Kelesidis Estate, and Stratos Katis from Vaeni Naoussa, to present five impressive food and wine events to the public and industry members.
Last Friday I attended the consumer dinner at Epocha, where four delicious courses were paired with 16 red wines from 11 wineries of Naoussa, and serendipitously I was seated next to Polack, who says she is really understanding the region as a whole by seeing, and tasting, the difference in style.
Asked if she had a favourite wine for the night, her list is unsurprisingly extensive.
"The Melitzani Naoussa 2010 from the last bracket, the Kelesidis Merhali 2009 in the second bracket – actually that bracket as a whole – the A.A.O.S Vaeni Grand Reserve 2012 and A.A.O.S Vaeni Naoussa 2015 were very good. And in the first bracket the A.A.O.S Vaeni Damascenos 2013 and Markovitis Naoussa 2013. So there's not one wine that stands out, but quite a few," she enthuses.
To get a better idea of whether you would like xinomavro if you have yet to have the pleasure of trying it for yourself, if you enjoy Tasmanian Pinot or a Barolo (Nebbiolo), xinomavro is your go-to.
Each wine was enhanced by the perfectly paired menu, which featured duck liver parfait, beef cheek daube and polenta, and Castellano raw sheep's milk cheese. But it was the second course of faro with wild and cultivated mushrooms topped with winter truffle in particular that was a favourite especially paired with the Kelesidis Merhali 2009, enhancing the flavour yet still light on the palette.
"The faro . . . oh my God, I'm in love! That was so amazing. Any meal if I walk away and there's something that stays in mind that strongly, that's a real positive," Polack said.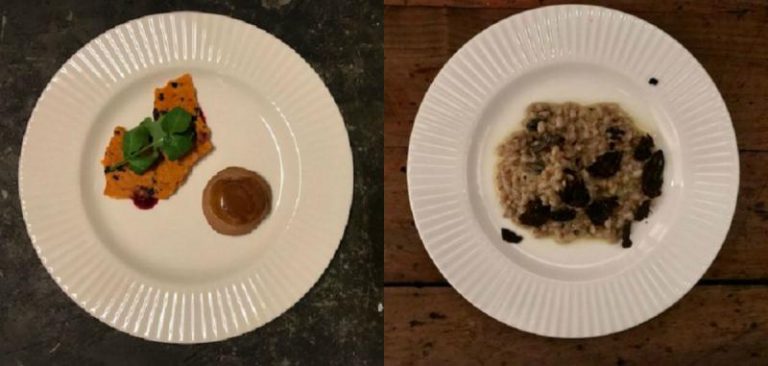 But when it comes to wines from Greece, and Naoussa in particular, Polack says that what makes them particularly appealing along with being lighter-bodied with higher tannins and savoury notes that make them more food friendly, is their ageability.
"In this age of everything needs to be drunk now, consumed ASAP, it is so refreshing and so good to see and because that keeps diversity," she
explains.
PDO Naoussa is one of the oldest wine regions in the country to go modern, with rules and regulations in place for each winery to abide by.
Currently the wines of Naoussa are being exported to 31 countries, with the latest addition to the list being Brazil. Top consumers are China and Russia, with Australia, despite the large Greek diaspora, ranked at 29th.
Comprising just 500 hectares, the Naoussa wine region is relatively small in comparison to others. Situated up north, it is a cooler continental climate where slope is important in ensuring that crops are facing the sun. Also when it comes to xinomavro, the soil is very important which is not the case for all varieties, which has an impact on the resulting flavour.
The new generation of winemakers currently at the helm are bursting with knowledge having gone to France in the 70s and 80s to study in Lyon, Dijon and Bordeaux, and are now applying their learned techniques in Greece, along with new equipment.
"So they're not using cement like some other regions do, but they are using Allier French oak, they're using maybe a little bit of American, they're buying cooling systems that can extract more flavour to start with. They're doing all the things correctly and plus they're keeping some of their organic ways of doing things too, not overworking the vineyards, so as far as their fruit is concerned they're still keeping to that method," explains Giannakoudakis.
So it's really an example where old meets new world and Polack says that the organic approach is one that appeals on a global scale.
"There is definitely a movement towards organic and knowing the origin, so any producer like Maria Kelesidou from Kelesidis – she's only got four hectares of vines. It's miniature. The whole farm is only 25 hectares in total. That's a similar size to somebody in Burgundy or a Mornington Peninsula winery in Australian terms. So for her to come all the way over to Australia to sell her wine, these are special wines," Polack says.
One common sentiment that has come out of this past week's events is an appreciation for the consistency of the wines and their quality.
"They're surprised at the value; the added value that they get from drinking these wines, wines that are similar tasting but without the higher price," says Giannakodakis.
But once word gets out, that may not always be the case says Polack.
"Barolo and Barbaresco were always highly regarded, but they weren't highly priced and now they are, so it's fashion also. In Burgundy itself there was a stage where that wasn't doing so well. It'd be fantastic to see the wines of Naoussa actually attaining that sort of status," she says.
This change of heart for Polack and her new-found enthusiasm for Greek wine may have surprised her, but it hasn't surprised Giannakodakis in the slightest, who from the get go knew there was something special about wines from Naoussa.
"When I got here in 2003, they were ridiculing us, that Greeks don't make wine, they don't know how to – and obviously, we do. This is true for Naoussa especially; I feel it's a doorway. They're the gatekeepers to this whole thing exploding and so hopefully within the next two or three years we'll have all 19 producers on people's lists. And I'm not talking about the taverns, I'm talking about all of Melbourne's great restaurants; if it's a Japanese restaurant, an Australian restaurant, Italian – there needs to be at least one or two xinomavro on their list," she says. "I hope we opened a few more doors this week."
For those interested in the wines of Naoussa, they can be obtained through Douglas Lamb Wines,Tirnavos Imports, Cosmic Wines, and Tsantali from Fox Wines.
* Jenny Polack was the first Australian to study the renowned international OIV Master of Science in Wine Management. In 2016 she received the Best Wine Educator Award from the Wine Communicators of Australia.