Home to a rather substantial Greek Cypriot community, Melbourne has recently welcomed another Cypriot eatery.
The popular Cypriot Street Grill opened a physical store in Oakleigh's Eaton Mall on 31 October and "the response has been absolutely amazing", owner and chef George Papageorgiou tells Neos Kosmos.
"We had been thinking of opening a restaurant for a very long time but hadn't found the right location. We were actually holidaying in Greece when a friend called and told us of this great spot in Oakleigh that was available.
"The moment we got back, we arranged to go check it out and the rest is history," he explains.
George and his wife Georgia are the power duo behind the city's much loved street food brand name. The two discovered a mutual passion for food after a trip to Cyprus, where they dabbled into their families' favourite traditional recipes. Even though Georgia didn't have a background in the food industry, she was able to catch up with her husband who is a qualified chef by trade.
"Before starting the pop-up stall, we were so amazed with the richness of flavour in Cypriot cuisine. We had to bring these flavours to Melbourne and present them with the same passion our mothers and grandmothers would," he adds, stressing that what made Melbourne's Greek and Cypriot communities embrace their business was the decision to always provide their clientele with quality, home-cooked food.
"We still take part in Melbourne food festivals, markets, and private functions but we always wanted to expand the general street food that we do, although we are entering the market with a simple menu until we see how people react to our flavours. We will gradually be adding more," George says.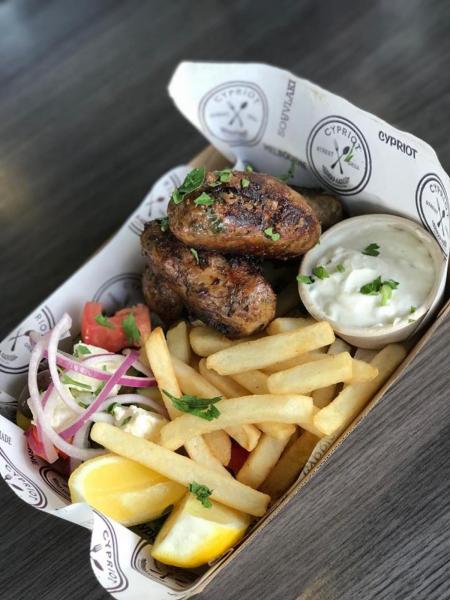 At the moment, the Greek Cypriot Grill in Oakleigh is open from Tuesday to Sunday offering delicious sheftalies, koupes, juicy pork skewers, not to mention Cypriot and Greek souvlaki.
"We do both souvlaki styles, although the original Cypriot souva is much different to the Greek. We don't put tzatziki in; the traditional Cypriot filling is with cucumber, fresh parsley, onion, lemon juice, and tomato and you can have either sheftalies inside or a mix with sheftalia and pork skewers," he goes on explaining that there is also a difference in the way Greeks and Cypriots marinate and season the meat, with the first being slightly more complicated.
"We will also do tashinopites as a special for the Christmas period, so make sure you don't miss out!"
For more information, go to facebook.com/CYPRIOTSTREETGRILL