Walking through the streets of Seddon earlier this week, I stumbled upon what can only be described as a little oasis. Tucked away down Bellairs Avenue, conveniently located across from Seddon Railway Station, is Fig & Walnut.
The Edwardian cottage shopfront has a welcoming rustic feel to it, and walking through the doors a whole world unfolds; a bustling cafe leading to a sunny courtyard filled with natural light and lush greenery.
Owned by Vera Xanthis and Goran Boskovki, Fig & Walnut opened just over a year ago and has well and truly become part of the local fabric; and it's not just because of the smiling faces that greet you upon entry, and the delicious aromas wafting out of the kitchen, but due to their mission for the greater good.
While many businesses claim to be community-minded and eco-friendly, this is the "real deal" says head chef Sophie West.
"Vera's really community and everything's eco. So that's been new for me because a lot of businesses say they're eco-friendly but they're not," she says.
"Everything's recycled, everything's renewable; instead of plastic we use glass. For example people can get a refund when they bring their juice bottles back, stuff like that. So that's been really well received."
As the former owner of Junie Moon's and Cafe Romulus (now called Spence), if there's one thing Sophie understands it's hospitality. When she walked into Fig & Walnut 10 months ago she says she instantly got goosebumps and knew she was onto something special.
SHARED PANTRY
A unique feature of Fig & Walnut is their community pantry. Situated at the front of the cafe, the concept is a throwback to when people felt comfortable to visit a neighbour to borrow some sugar.
"For example you can take the cans of baked beans that you haven't used for six months, they're still fine, you can put them in there and take something else, and vice versa; you can rotate your pantry. So instead of sending it into landfill you can rotate it. It's not just a social thing, but environmental as well," says Vera.
"And you don't have to give to take," she adds.
"It's normal for people like you and I; they were short of money one week and they found some pasta and some sauce unopened and they take it. It's all about sharing. We have to help each other as humans."
The Fig & Walnut team are also socially conscious on a grander scale, working with the local community to host fundraisers. Their most recent events include those for grassroots organisation Climate for Change, when the team hosted a lavish vegan banquet, selling eco-friendly wine and raising funds to go towards increasing the number of people concerned about and prepared to act on climate change.
MEDITERRANEAN SUMMER VIBES
Now the summer weather is here, head chef Sophie has introduced some delicious lighter offerings to the menu, perfect for the transition from spring to summer.
"We try and keep things seasonal, so we introduced a lot of the really nice spring veggies. We put a really beautiful cured salmon on there. So we're trying to do a lot more inhouse instead of using things like smoked salmon. Fresh stuff, doing it ourselves," she says.
What's refreshing to see is that the team cater for those with allergies and to every diet, priding themselves on being willing and able to modify their menu to suit people's needs whether it be vegetarian, vegan or gluten-free.
"A lot of places you go to, the menu says 'no modifications', but I think if you're paying for a service you should get that service and that's something really good about Vera," said Sophie.
"For example we're very conscious about having at least two or three vegan things on the menu at any one time, and in he cabinet as well, we always have vegan things in there."
The Fig & Walnut menu and cabinet feature delicious options to enjoy in the cafe or to take home that are created using produce made from scratch inhouse or sourced from small businesses and local producers.
"We get our haloumi from a local who has set up a commercial kitchen in his garage. He doesn't speak a word of English, he just comes in and says 'haloumi, full milk!' Even our granola – we could make it – but Vera's like 'No. We're supporting locals!' So we get it from a woman up the road and even our lemons come from neighbours up the road," says Sophie.
So far their approach has been well received, and it's not uncommon for customers to pop their heads into the kitchen to say hello and praise the chefs on their work.
FIG & WALNUT VISIONS
Next , the cafe is looking to expand their offerings with take-home dinners for busy families, and selling their housemade preserves. In the short term, they are looking to attain a liquor licence with a vision to stay open later to offer customers the opportunity to sample local beers and wine, and to put the head chef's butchery expertise to use.
"Vera is a very proud Greek woman, she really is," says Sophie.
"So we would like to stay with the Greek tradition and do things like on Sundays have spit roasts and have a really nice charcuterie. I'd like to do some cured meats and things from where Vera's from, Thessalonica-style. So it's really exciting because that's my jam, I love doing that kind of stuff."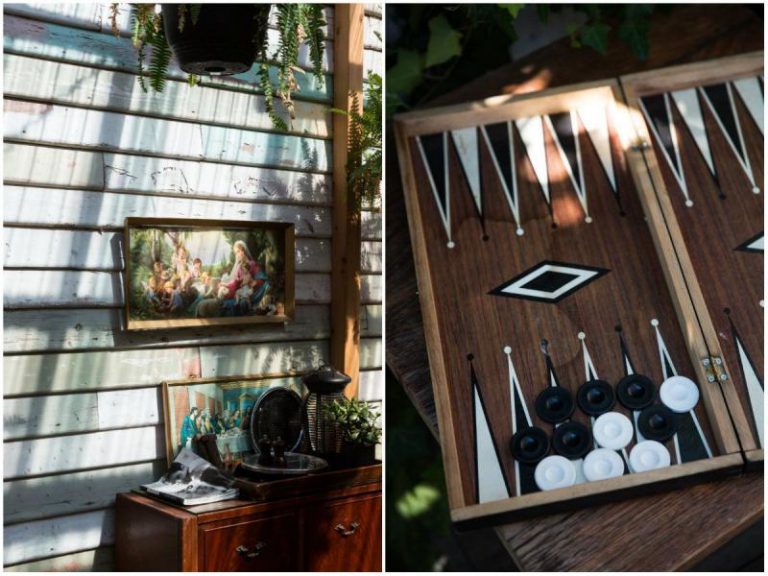 THE TRIFECTA: TAKING COMMUNITY TO THE NEXT LEVEL
In July, Fig & Walnut welcomed their neighbours into the adjoining shopfront, which has been transformed into a beautiful and considered gift store called Lonni.
Owned and run by Roselyn Moncrieff a trained florist who used to supply the cafe with fresh flowers. Friends with Vera from doing the school run, the women hit it off so well that when the opportunity came up to work in close proximity, Roselyn jumped at the chance.
"I've always wanted to open a little store, and I've always been interested in styling and sourcing stuff," she says.
Always on the look out on social media and at design markets to find up-and-coming designers, her ethos is similar to Vera's and she also endeavours to support locals.
"There are a lot of local mums who are designing, and artists in the area, and I just reach out to everybody. If they don't have a local stockist most people are happy to be onboard."
Meanwhile, this weekend Bellairs Avenue will be hitting the ultimate trifecta; adding an edible nursery to the mix.
The cafe is teaming up with Jayne Moore, a former cook at the cafe who over the past few months has been building a nursery of fresh and edible goodies.
"Jayne came up with a plan to convert the back of the property into a nursery and it's all edible. So she's going to be selling seedlings, and also effectively supplying us in the cafe. We grow a lot of our own fruit and veg here ourselves, and it's going to be a big boost for us," says Sophie.
"Jayne's paved the back area and she's going to set up a little area just behind the cubby house where kids can go and paint rocks and take them home. She's done an amazing job out there; It's going to look fantastic."
Little Corner Nursery officially launched on Sunday 26 November with a live band and activities for the little ones. Accessible through the cafe and also through the street behind, the nursery has been built from recycled materials and will be open to the public seven days a week.
Fig & Walnut is located at 11-13 Bellairs Ave, Seddon, VIC. To see some of their delicious creations, follow them on Instagram @figandwalnut and like them on Facebook facebook.com/figandwalnutcafe