The myriad of column inches that have been devoted to Regiment CBD since it opened is impressive. From Gourmet Traveller, Delicious magazine, Architecture Australia to Time Out, which nominated Regiment for best café of the year. And of course the Good Food Guide. So, it is amongst this buzz that Neos Kosmos travelled to the heart of Sydney's CBD to see what all the fuss was about.
As you walk along George Street it's difficult not to be ambushed by the light rail construction that has peppered the city. But turn into Regimental Square and the scene changes. The memorial site was upgraded in March with new seating, street lights, and more space for pedestrians, and it is where Regiment CBD is located. Looking at its curved glass structure you can see that it reflects the heritage buildings across the square. As you walk into the brand-new building which houses the cafe you notice sandstone, marble, brass, and black timber and a natural wood finish that fans out across the ceiling. So it's no surprise to learn that Regiment was shortlisted for best cafe, design in Architecture Australia's 2017 Eat Drink Design Awards. However owner Zach Hiotis says Regiment's centrepiece is its coffee machines.
"What we've brought to the CBD are the Synesso Hydra machines and they are seen as top end," he says. "The coffee we use is from Five Senses. They're a Perth-based roaster and they're really big in Melbourne. Coming into the Sydney market I took a slight risk with bringing in a lighter roast. Sydney drinkers are generally dark coffee drinkers. We like a good punch in our coffee but seeing the queues here I know that using Five Senses coffee means we've got that right. They've been great to work with. We're seen as their flagship store for Sydney."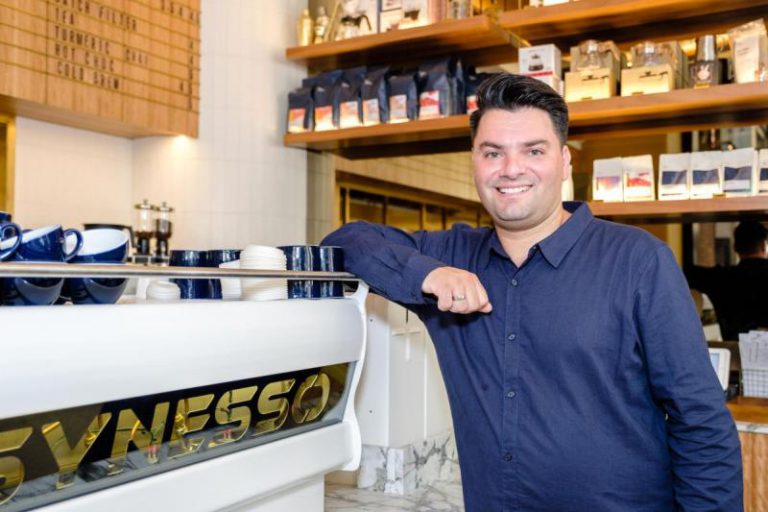 Being in the CBD, fast service and high quality is expected, and Hiotis revealed that serving over 1,000 coffees a day is due to the use of the German innovative milk frother called Übermilk.
"They are cutting-edge technology, and [by] matching them up with our Synesso we're extracting amazing coffee and giving out a consistent product which has been well received in the city," he says.
"The Übermilks haven't even been launched in Germany yet. But when I was building the new cafe I was looking at what's new and how the market is changing and evolving.
"With the Übermilk technology the milk is getting heated and dispensed with the perfect micro-foam, so you have consistent milk every single time, there's no barista error. If there's a different barista on, you won't know, [the Übermilk] won't exceed the temperature or under heat it."
While receiving all these plaudits is good for business, Hiotis says that being featured in a certain Greek Australian newspaper means that little bit more.
"I'm really proud to be here today talking to Neos Kosmos," he says.
"Both of my parents are Spartan and came here in the early 70s. I've been back to Sparta a few times and I love Greece. My parents are very proud of my achievements over the years. I know every time I open a shop, mum and dad get so proud. You can just see it in their faces and I really enjoy that.
"As far as industry stories, being in Good Food is huge. I was also stoked to get into a Delicious magazine as well. To receive such an accolade like that and be put up there with some of the best like Neil Perry was a huge achievement for us, which is essentially a Monday-to-Friday corporate environment café. But sitting with you today, has made my day. I'm Greek. I'm very patriotic and I love this opportunity. I can't wait for mum and dad to hear about this."
Hiotis has been in the cafe game for nearly 20 years and while he garnered some positive reviews with a business he owned 10 years ago it doesn't compare to the plaudits he has been receiving with Regiment.
"The only other time was in 2007 where we won Cafe of the Year in Cafe Culture which is an industry group," he says.
"That was in St Leonards and I continued there for close to seven years. That was the only thing that I can think of that has come close.
"But, coming into the Sydney CBD I said I'm not to going be just like everybody else. I'm going to try and be the best coffee, cafe, espresso bar, food outlet that I can be in the footprint that I have.
"There have been some mornings when I have been walking down to the cafe when I've been thinking 'here we go again' and then I look on my phone and there has been an article, or a review and it just gives me that enthusiasm to come in and give it my all. It shows me that we are on the right track and that we have been recognised. It keeps us going."
While the coffee machines and cafe design are notable you can't visit the CBD based cafe without being blown away by Regiment's food which is a different level in presentation and taste.
"Our chef Lisa Northmore's background is fine dining," Hiotis says.
"I'm a cook/chef myself, so I thought pairing myself with Lisa who has the delicate side of things with fine dining, that we would be able to produce fine dining quality food for a lunch or a breakfast situation.
"So, you'll notice with all our dishes they are all fresh ingredients. The sesame we use on our smashed avocado is like a lemon-infused sesame seed. It's called yuzu and it's from Japan. We've also got sea grapes which are peppery grapes on the avocado in our poke bowl. We use sashimi-grade salmon and tuna and our lobster roll also has finger lime in it.
"If you only listened to your customers and don't try and push their boundaries as well, then the menu will stay the same. So, we do what we believe in. Otherwise we'd still be doing a ham and cheese focaccia. We still have people coming in asking for Turkish bread and we have a bit of a giggle because that is so 90s. You need to push the boundary, otherwise you play it safe and you don't evolve."
Some reviews have stated that Regiment is the kind of cafe that will give Melbourne a run for its money and while Hiotis is overjoyed at that talk, he concedes Sydney still has work to do.
"I was flattered by that," he says.
"But I love Melbourne's cafe scene. They've got a lot more love and instil a different warmth into their cafes that a lot of Sydney cafes miss. I'm not saying that we're bad, we've done an amazing job in Sydney as well. But I think Melbourne does a lot of things first. A lot of Sydneysiders are going to hate me for that, but I do think they do.
"The idea of this cafe was taking that experience people have on the weekend and asking why wouldn't they want to experience that Monday to Friday? And that, for me, that is what Regiment is about."