There's been an air of anticipation amongst locals of the inner west since word spread, with a little helping hand from social media that an eatery serving up traditional souvlaki – just like they do in Greece, chips and all – would be setting up shop on Victoria Street.
The quaint shopping strip is admittedly bustling with one too many cafes, and has been missing a fast food outlet where you can pop in and get something quick, delicious and on the go that isn't a toasted sanga.
So after some minor set backs, Meat the Greek welcomed its first customers at the end of November with a soft opening, before reopening this week after the holidays, and owner Jon Siotas and his team are rearing to go.
Born and raised in Melbourne's west, Jon says he was surprised when he noted that there weren't many souvlaki bars in the area given the significant Greek population.
"A lot of people have said 'we don't always want to have to drive to Oakleigh to get a souvlaki. We'd love to just be able to pop down the road and get one'," he says, and after a bit of market research, coupled with a love of food and entertaining those closest to him, he was inspired to take the plunge and open Meat the Greek.
Having been living in the UK pursuing a career in town planning for the past three years, upon returning Down Under in April last year he decided to give up the 9 to 5 job, and transition to hospitality to follow his passion.
"It's been something that I wanted to do for many years," Jon told Neos Kosmos.
"Whenever I've done spits at home, I've always gotten great satisfaction when people have told me how much they've loved the food I've cooked for them. So it's just being able to sort of please people with the food I've prepared for them and I thought 'why not?'"
The owner has consciously kept the menu simple, citing that he wanted customers to "know why they're coming here – to get a souvlaki", and so that the focus could truly be on quality of the product and service.
The meat is delivered fresh to the shop the day before being served, giving Jon ample time to marinate using his own combination of herbs and spices.
Coming from a Greek family, his father originates from Giannina and his mother Lesvos, he says food was always a focus in the Siotas household and seeing the women of the house lovingly prepare simple, yet delicious flavours, was passed down to him.
"I've always enjoyed putting on spits for my mates and every month or so we get all the boys around and do that, and I thought if I enjoy doing that so much, maybe I should try and make a living out of it," Jon reflects.
It's these same friends who had the pleasure of taking part in the taste test of different combinations to come up with what is being served up now in store, and while Jon is humble – "it's not like I've come up with some unbelievable thing that's never been done before" – customers are already singing him praises, selling out of yiro hours ahead of close in their first weeks of operation.
There are pork and chicken yiro on offer, carved fresh off the spit, and served in pita bread that is lightly toasted on the grill for a soft centre and crispy exterior, and filled with tzatziki, tomato, onion, chips, and the meat of choice.
Jon says he was unsure of whether to sway from lamb, which is synonymous with Greek cuisine in Australia, but says he is pleased to see locals siding with his choice and giving the pork a go.
"It's been really positive; a lot of the locals have come in and embraced it. The response to the pork has been good because I was sort of iffy at the start whether I should do pork or lamb but I thought I should try and do something different, like how they do it in Greece and they're really enjoying it," he says.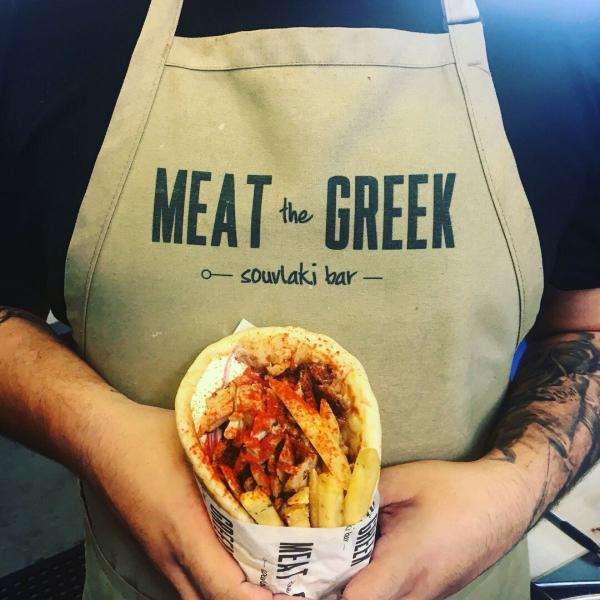 Also available in a pita is the Bifteki (mini burgers made from ground beef and pork mince), or opt for the platters available with generous servings of pork, chicken or bifteki.
Meanwhile vegetarians need not fret; there is also a delicious meat-free option that even has the most carnivorous second guessing their choice, filled with saganaki cheese, roasted sweet red peppers and the rest of the trimmings.
All the favourite sides are also on offer, featuring chips served plain or with feta, saganaki drizzled with honey and sesame seeds, pita with dips, and a traditional Greek salad for balance.
Complimenting the menu is the space, which has been transformed into an open, fresh eatery with a ceiling centrepiece of hanging greenery, and Meat the Greek's cheeky tagline on display "Everyone should have a little Greek in them".
"The main thing for me is that customers are saying they love the food and the flavours," says Jon.
"That gives me great joy and happiness."
Meat the Greek is located at 105A Victoria St, Seddon, VIC. For opening hours and to stay up-to-date, get social on Facebook and Instagram @meatthegreek.seddon