Ktima Biblia Chora is located in the foothills of Mt Pangeon at an altitude of 380 metres, in the village of Kokkinochori, Kavala, in northern Greece. It was established by oenologists Vassilis Tsaktsarlis and Vangelis Gerovassiliou, who planted an organic vineyard there in 1998. The estate has since grown to 48 hectares, sitting 100 kilometres east of Thessaloniki and 50 kilometres south-west of the city of Kavala. A state-of-the-art winemaking facility is located in the vineyard and produces all of the estate wines.
Biblia Chora's philosophy centres on producing premium wines that express the unique character of the Pangeon ecosystem.
To achieve this goal, special care is taken during both cultivation and wine production, while making the most of the owners' knowledge and experience, combining tradition with technology.
In a special private dinner event organised by Greek winery Ktima Biblia Chora at the Press Club restaurant, Neos Kosmos was invited to discover the premium range of organic wines produced from the PGI Pangeon terroir in northern Greece.
The dinner, curated by George Calombaris and moderated by Greek Master of Wine Yiannis Karakasis, offered an excellent pairing promoting traditional Greek takes on Australian dishes to offer the opportunity to wine connoisseurs and critics as well as restaurateurs to become acquainted with some of Greece's excellent wines.
In the dimly lit restaurant, the staff brought out the starters, some of Mr Calombaris' staples, yet for many, unexpected savoury versions of classic sweet flavours.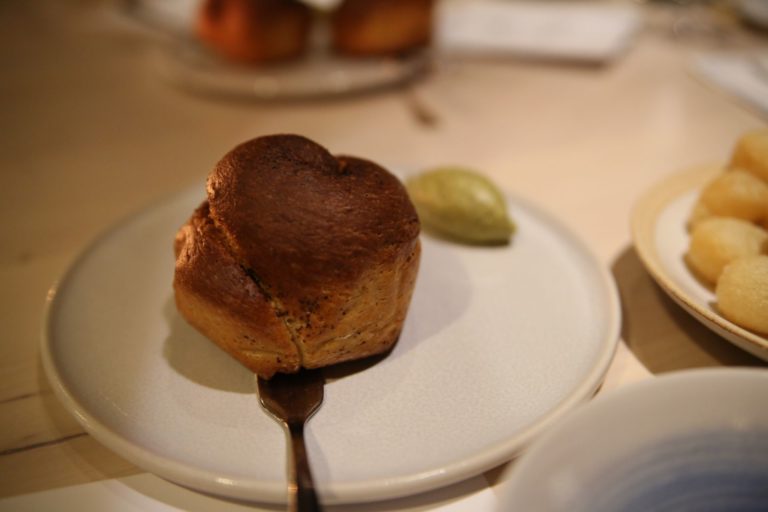 A freshly baked tsoureki still exuding the aroma of cinnamon was, in fact salty, served with a herb butter spread, alongside taramosalata sprinkled with ouzo Yarra Valley caviar, and salt and vinegar loukoumades; the perfect accompaniment to introduce the quite lemony and fruity 2017 Biblia Chora White. The 60 per cent aromatic Sauvignon Blanc varietal is mixed with the winery's expansive Assyrtiko to give a pale green-yellow colour juice with stark clarity, served at 10°C. It was a great match for grilled, seafood-based hors d'oeuvres.
However, when the baked patates in truffle were served – a very Greek take on the yuzu soup – the Biblia Chora White brought out the aromas of the herbs and the hidden citrus of the first course in the most unexpected way, leaving everyone wanting more.
Not long after, our glasses were graced with the clear and aromatic 2017 Biblinos Rose and Areti White Assyrtiko. This Assyrtiko varietal is cultivated on the Biblia Chora estate, near Ambelia, where the soil is limestone and clay.
Once the grapes are crushed, the juice is fermented in stainless steel tanks, where it is allowed to rest on the fine lees for several months. It has a light yellow-green colour, expressive nose with aromas of citrus (lemon, orange, bitter orange) blending nicely with mineral and metallic notes.
Served at 12°C it makes a great pairing with fish and white meats with light sauces. It worked well with the mussel and artichoke avgolemono barley, however, I must confess most palates preferred how the rose stood up to the challenge. The aroma of cherries, combined with notes of citrus and gooseberry flowers was an excellent balance to the dish; a good idea of what it could do combined with more exotic and fruity sauces.
The third course, a smoked wallaby kleftiko hidden under greens and eggplant chips was a rather challenging dish for some. The wallaby, spiced up and cured, was served as tartare on a double dish, with the bottom layer filled with slowly burning herbs. This unique kleftiko was paired with the 2017 Ovilos White, a result of combining two excellent varietals – Assyrtiko and Semillon (a Bordeaux varietal), which grow in the warmest but most barren spot in the vineyard, along the Pangeon hillside. The core of the dish wasn't my favourite as I personally find the wallaby too strongly flavoured to consume, however, I did find this white rather interesting and with good pairing potential.
The main nose exudes apricot and honey with notes of tropical fruit and citrus; add a delicate sense of nuts and vanilla on top of that. This Semillon, could easily compete with many Australian, Tasmanian, and New Zealand whites, not to mention its French counterparts.
My personal favourite was the papia, aka duck, sitting atop a mouthwatering citrus and mastic-infused bed. This course was exquisitely paired with the 2010 Areti Red and the 2012 Ovilos Red.
The Ovilos Red is derived from the Cabernet Sauvignon varietal. It is a wine with a long ageing process, produced from extended maceration of grapes and ageing in new French oak barrels for 16 months. It is then allowed to mature in bottles for 24 months. It has a deep ruby-red colour with exquisite aromas of raspberry marmalade, red fruit and violet in harmony with cedar, smoke and milk chocolate for a skilful blend. It has a full-bodied, rich flavour with impressive structure and an artful balance between its acidity and generous tannins and can be cellared for at least 15 years.
For me, it was like drinking the dish and vice versa. It was arguably the best pairing my tastebuds have experienced so far; I couldn't get enough. Its main aromas remind the nose of raspberry marmalade, red fruit and violets combined with cedar, smoke and milk chocolate. It has a distinct flavour that would perfectly compliment red meats, lamb or goat as well as many nuts and cheeses. Like many great things, it is not available in Australia (yet)!
The Areti Red left us all with a good impression, an Agiorgitiko that does not originate from the Nemea area. Deep red, fruity aromas and strong tannins; less full-bodied and more acidic it would make a better match for cheese platters and deli or casserole meats.
Last but not least came the dessert, an unusual pastry topped with radicchio and hazelnuts, slightly moist with honey. Next to it a piece of goat cheese that tasted like blue cheese. What at first seemed like a weird combination of ingredients combined with a special 2013 Areti White vintage got to titillate our tastebuds in a thought-provoking way.
Once again the Wines of Greece team introduced Australians to vintages and titles that make Greece proud, delivering a closing night to remember.