Archbishop Makarios, the new primate of the Greek Orthodox Church of Australia, will be in Melbourne until 15 August. His goal is to meet with as many parishioners, Greek schools and other community groups as possible. During this time, Neos Kosmos will be covering his visit with a blog featuring highlights from his tour.
For a full programme of his schedule CLICK HERE.
Send your photos featuring His Eminence to mary@neoskosmos.com.au or post them onto our Facebook Page and we will include them in our photo gallery.
Saturday, 10 August
The children's archbishop visits Alphington Grammar
Archbishop Makarios of Australia is proving to be the children's archbishop thanks to his focus on youth and happiness when he is surrounded by children. He was particularly pleased at Alphington Grammar School kindergarten. The school, founded by the Greek Community of Melbourne, is celebrating 30 years of education. Alphington Grammar Principal Vivian Nikou and the two deputy principals welcomed the Archbishop, who enjoyed learning about the school's curricula and having some down time playing with the children.
Throwback gallery from Archbishop's visit to Templestowe
Archbishop Makarios visited the Parish of Saint Haralambos on Thursday 8 August as part of the Great Paraklesis Service.  On his Eminence Archbishop Makarios' arrival to the Parish, the Sunday School children chanted the Apolitikion of St Haralambos in English. The Archbishop expressed his joy of hearing the children chant the hymn in English in the Byzantine tone and gave his blessings to all the children.
Many people attended the service to greet the new Archbishop and also listen to his speech.  Following the Service, a dinner was held for the Archbishop which was also attended by a very large number of the congregation.
Thursday, 8 August
St John's College, Preston
The symbolism of Archbishop Makarios' entry into St John's College on Thursday was similar to Jesus Christ's triumphant entry into Jerusalem on Palm Sunday.
Children lined up on the Olive Grove corridor waving their little Greek and Australian flags and throwing rose petals onto the entourage. There was pomp, pageantry and pandemonium as soft trembling voices yelled, 'Axios!' 'Axios!' (Always Worthy)
The archbishop took his time greeting his little friends, winning over young churchgoers with his huge smile and approachable nature. In fact, his first words upon his arrival was: "Where are the kids?"
An air of elation was evident as the students waited, happy to be out of their classes for the afternoon. "I'm so excited to see the archbishop up close. He's more than just a man. He's the archbishop of Australia and he's very special!" Adina Demiras from Year 3K told Neos Kosmos.
Asked about how he can make church more appealing to young people, school captain Evangelia Iliadis told Neos Kosmos that his "presence" is what would make the difference. "He needs to speak to us himself, and that might make a difference," she said. "Social media would help too."
They were surprised upon hearing that the archbishop has an Instagram account that numbers 2,377 followers.
Junior captain Ilias Kapoulitsas suggested to "make church more fun", while school captain Maria Pop said that social activities after church and youth days would be helpful.
On this day, there were no complaints. The children greeted the Archbishop as though he was a rock star.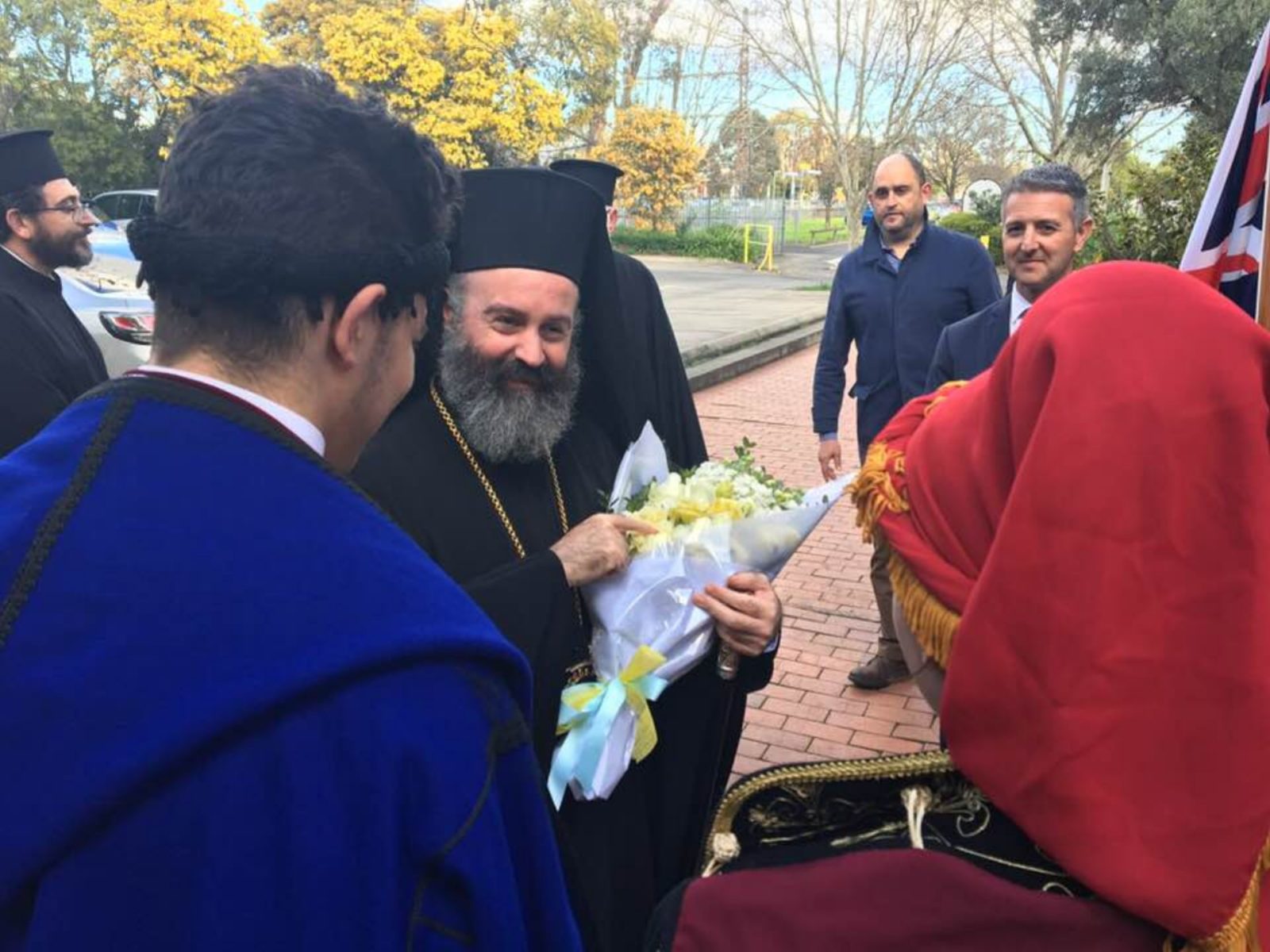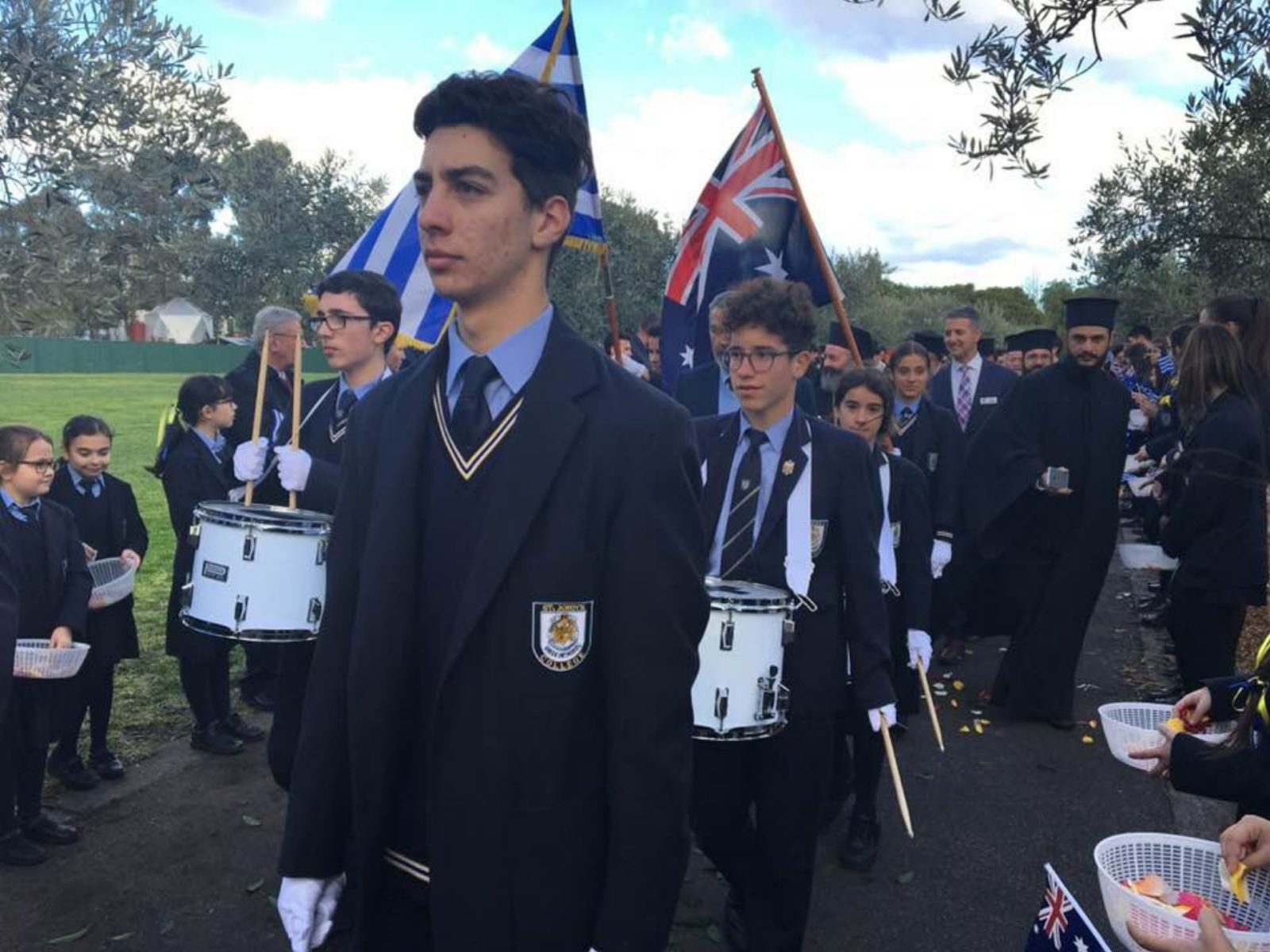 Walking along a path strewn with rose petals he was taken to a robotics class, where he played with the children's handiwork, promised to be back to create a robot as part of the group and wondered if he was in the presence of a young "Einstein".
At the assembly hall, he enjoyed a specially prepared programme of songs and speeches, followed by an array of gifts including olives from the school's own olive grove planted when Patriarch Bartholomew visited in 1996.
Addressing the crowd, he said that he felt as though he were in heaven. "At this moment I feel that I am not in earth but I am in heaven," he said. "I felt that from the first moment that I entered this school. This is a message that came to my heart from God."
He added: "This school will not close. This school  has a great future."
09.00
Droves in Thomastown
City of Whittlesea Mayor Kris Pavlidis met with the Greek Women's Group of Lalor and Father Eumenios at Thomastown, followed by a service to honour the Feast of the Metamorphosis at the Transfiguration of our Lord where parishioners, once again, showed up in droves to welcome Archbishop Makarios.
On her Facebook page, Mayor Pavlidis described Archbishop Makarios as an "engaging, progressive and intellectual man".
"We discussed Melbourne as the largest Greek diaspora city, but without a homogenous population as each area has its own idiosyncrasies," Mayor Pavlidis told Neos Kosmos. "We would like to further our discussion. He also remarked on the intergenerational issues and youth engagement which was apparent at the event."
Mayor Pavlidis also had the opportunity to meet with the Archbishop's parents who accompanied the hierarch and she paid tribute to their parenting of such an exceptional human.
READ MORE: Archbishop Makarios offers his 'whole being' to the people of Melbourne
The photos below were taken by our reader Dena Cooper. Her daughters Mikayla, 9, and Todora, 4, were very excited to meet Archbishop Makarios and had made a book with drawings and writing for him. Little Todora also goes up with the vespers to chant the church hymn every Sunday at the Transfiguration of our Lord in Thomastown and got to chant in the presence of the Archbishop on Tuesday.
Wednesday, 7 August
Archbishop visits Neos Kosmos newspaper
As part of his road trip to Melbourne, Archbishop Makarios has met with schools, media groups and Greek stakeholders.
He came to Neos Kosmos offices at 3pm on Wednesday, accompanied by Bishop Ezekiel and Bishop Iakovos. On his first trip to Melbourne, the new hierarch told us that he was impressed with the Greek Australian community and their commitment to their faith.
A user of social media, he has been overwhelmed by messages sent to him by the community and is particularly interested in approaching young people and bringing them to the fold.
During our meeting he told us that the church is interested in collaborating with other Orthodox hierarchs in Australia and will continue to adopt an outward-looking approach and show a welcoming face to the community. Interested in listening and learning, he said that he met with community members. "Whatever you propose, that is good for Greeks regardless of where it begins, I will support it," he said "Let's not forget where we began and what we represent."
We touched upon a number of measures. Stay tuned for our interview.
Archbishop visits Greek Community of Melbourne
Archbishop Makarios visited the Greek Centre on Lonsdale Street to get a better understanding of the Greek community of Melbourne and Victoria.
Among issues discussed was the history of the community of Melbourne and issues of concern to it.
GCM President Bill Papastergiadis was on a trip to Greece, however he told Neos Kosmos that the community "had the privilege some years ago to have Archbishop Stylianos make his first visit to the Greek community of Melbourne.  That visit marked a turning point in the relationship between the Greek community and the Archdiocese."
Following a warm and productive relationship with the former hierarch, the community welcomes a fruitful relationship with the new primate of the Orthodox Church. "His visit represents not only a continuation of our excellent relationship but also the start of a new path of collaboration and friendship," Mr Papastergiadis said.
"We welcome the visit and we welcome the Archbishop enthusiasm for our collective future."
Neos Kosmos photoreporter Kostas Deves just sent us through these pics of Archbishop Makarios' visit to the Greek Centre.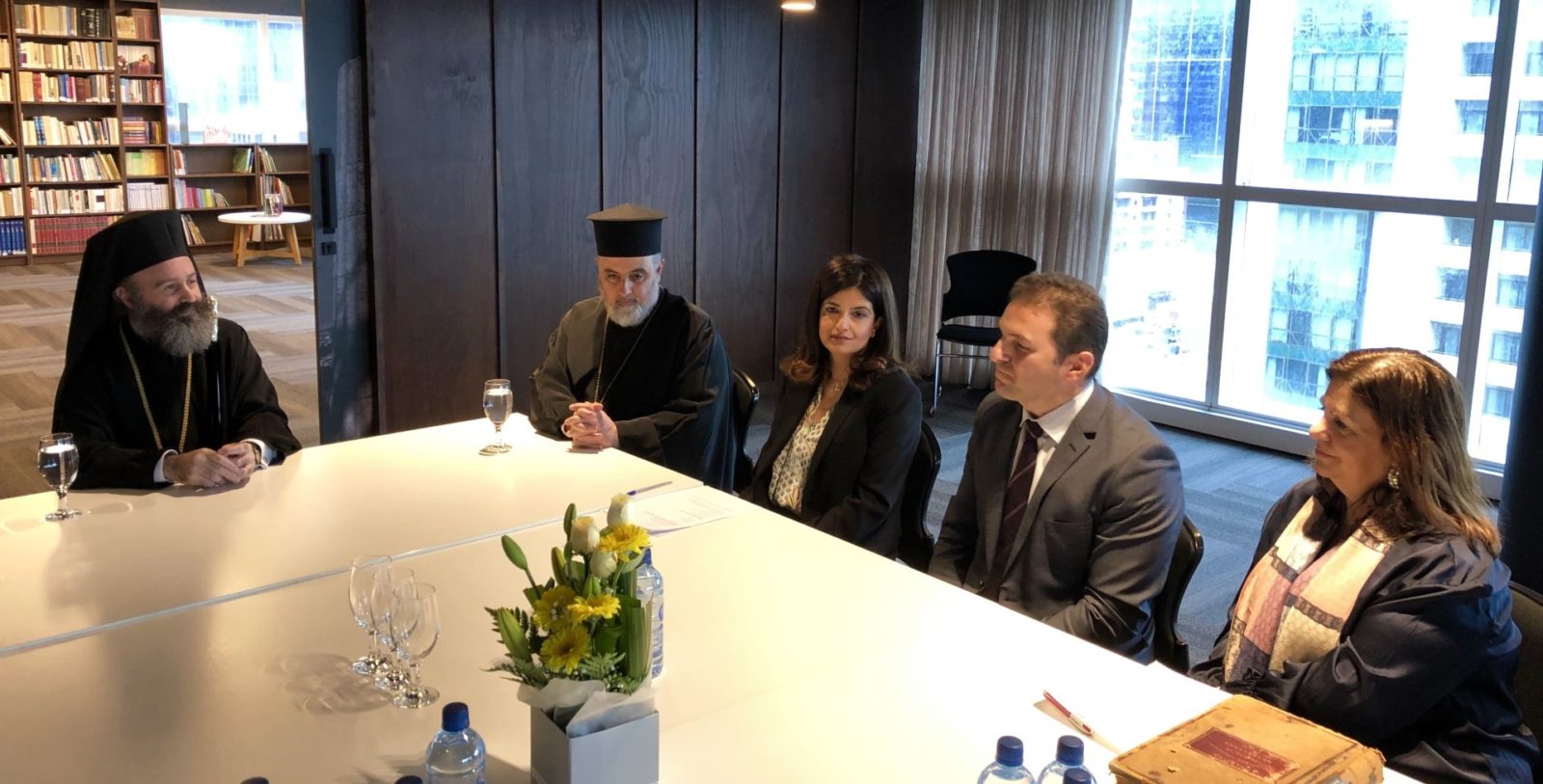 Visit to Thomastown
Chris Kontos took these photographs from the service at the Transfiguration of the Lord in Thomastown.
Archbishop visits parishioners in Coburg
Tuesday, 6 August
10.00
MP Maria Vamvakinou had a wonderful evening with His Eminence Archbishop Makarios of Australia, along with my Parliamentary colleagues on Monday evening.
Hosted by the Parliamentary Friends of Multiculturalism, which Ms Vamvakinou co-chairs alongside Russell Broadbent MP. Each Member of Parliament and Senator had the opportunity to discuss the Greek communities they have within their electorates and raise their concerns with the Archbishop.
The Archbishop thanked the Federal MPs and Senators for their commitment to the Greek community in Australia, and all the work they have done – and continue to do – within their electorates.
RELATED ARTICLE: Greek culture and our elderly dominate Archbishop's meeting with Federal MPs
Last night at the Festal Vespers Service at the Transfiguration of Our Lord Parish, Thomastown.
08.00
Successful event – welcoming of new Archbishop to St Nicholas, Yarraville
Neos Kosmos is still receiving photographs from Sunday night's event at St Nicholas Greek Orthodox Church in Yarraville welcomed the new Archbishop of Australia Makarios of Christoupolis. The evening commenced with a welcoming ceremony involving students from the school and members of the Greek community, with approximately 700 people in attendance. Spokesperson for the church Father Alexandros told Zoyee Kartalis  "we were thrilled to host Archbishop and look forward to what the future of Greek Orthodoxy brings for the next generation of Greeks in Melbourne."
Video from his time at St Nicholas by George Papadopoulos: 
Photos by Kostas Loe: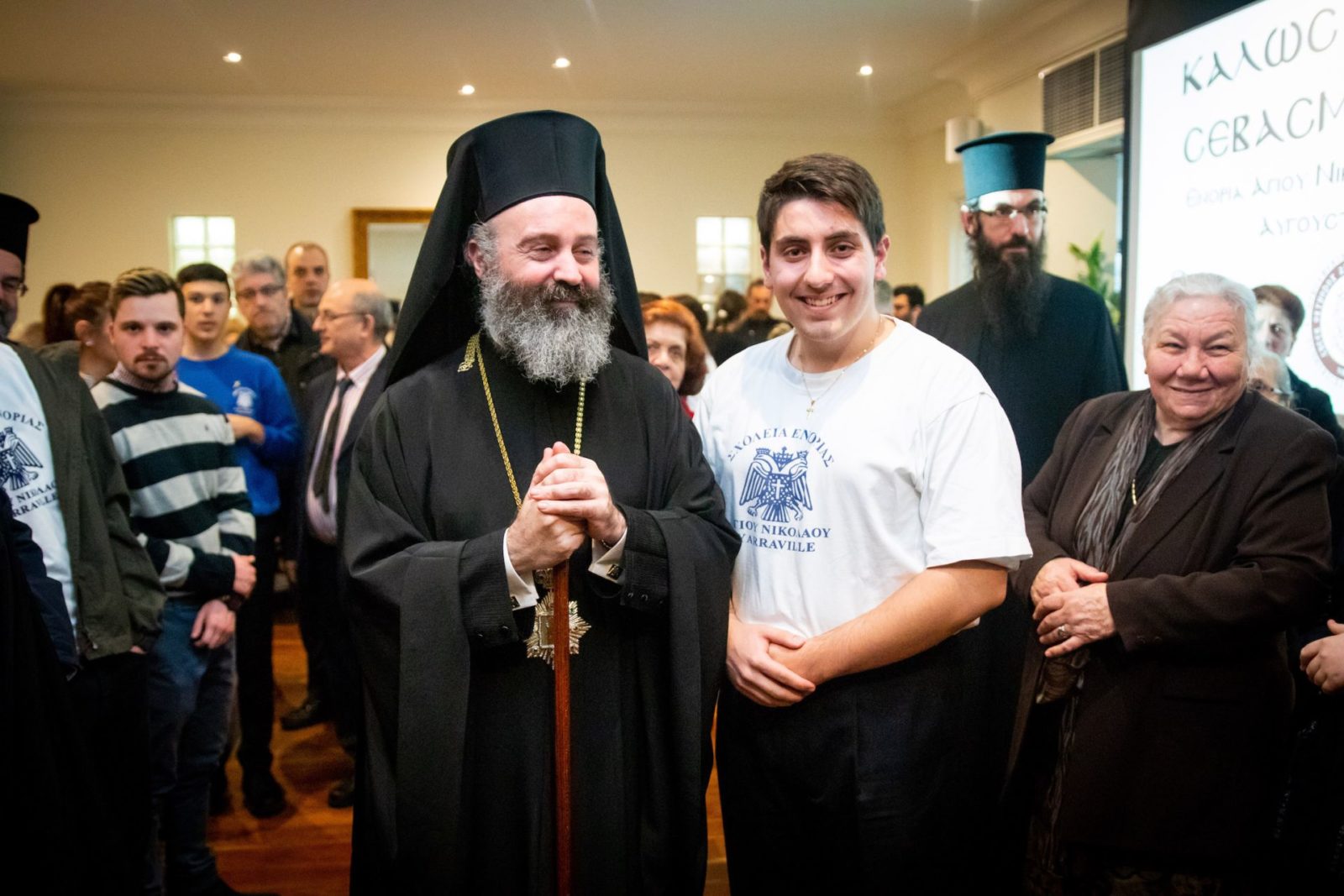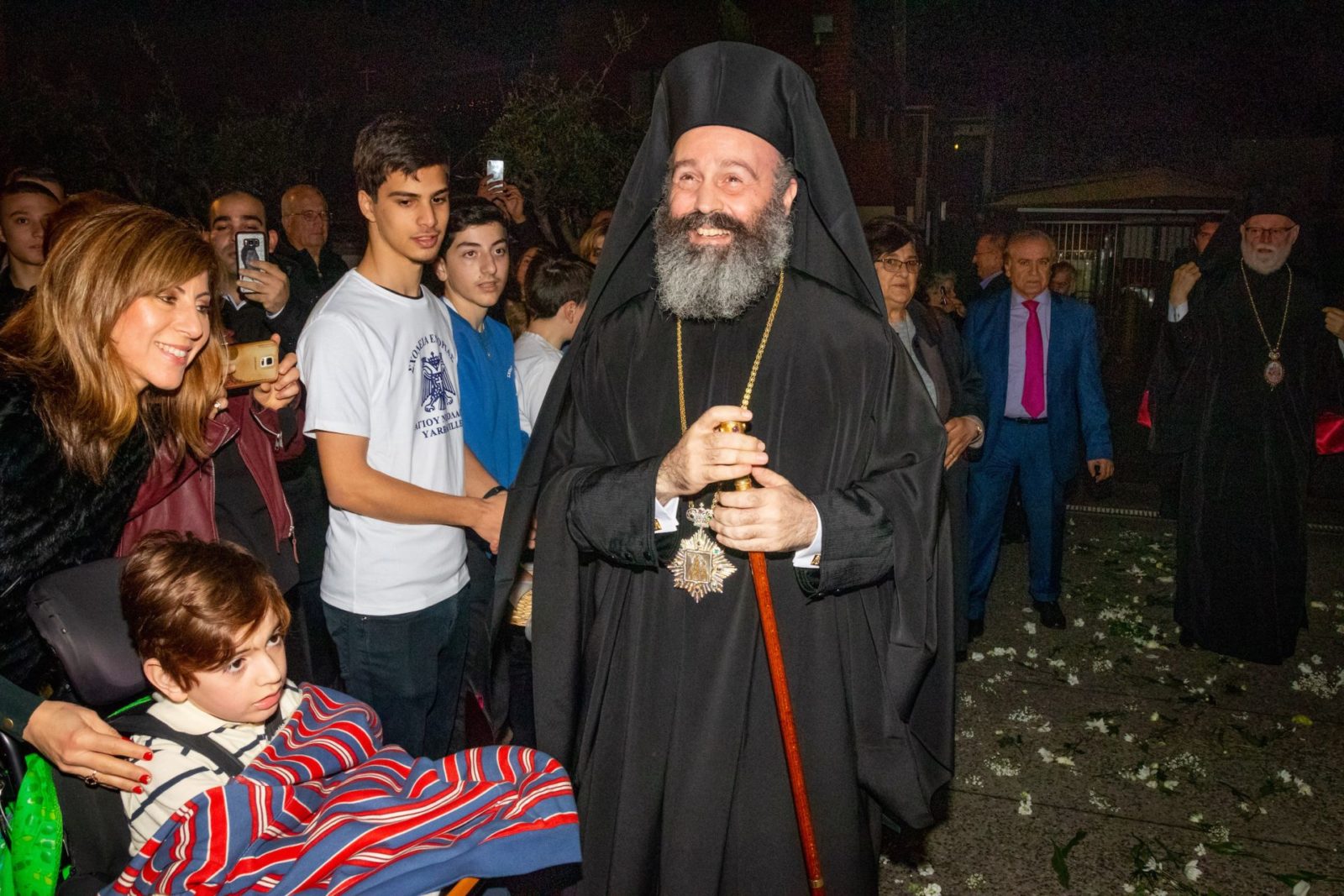 Photos by George Papadopoulos:
Monday, 5 August
07.30
St Eustathios Church, South Melbourne
Archbishop Makarios will be performing the liturgy at St Eusthatios Church every morning this week.
More photographs from this morning's liturgy, courtesy of Aristidis Tsoulakos.
The archbishop sill be visiting the Transfiguration of Our Lord Parish at Thomastown at 7pm this afternoon for a Festal Vespers service followed by dinner at the parish hall. Do you have photos with the Archbishop? Send them to mary@neoskosmos.com.au and we'll include them in our live blog.
Paraklisis Service at St Nicholas, Yarraville
Archbishop Makarios was part of the Great Paraklisis at Saint Nicholas, Yarraville, on Sunday night. The Paraklisis is a special service with prayers dedicated to the Virgin Mary for the 15 August feast day of the Annunciation. Stella Papas spoke to Neos Kosmos. "It was a beautiful welcome for Archbishop Makarios, and he shared a meaningful message with the congregation, telling us how blessed we are," she said.
Photographs by Stella Papas:
Photographs by Helen Sartinas from the Paraklisis service at St Nicholas Church, Yarraville.
Thanks to our reader Nikki Pappas for this photograph featuring her daughter daughter Kahlia Pappas (middle) and her 2 fellow class mates from St John's Orthodox College.
Sunday, 4 August
Archbishop Makarios has just performed the divine liturgy at St Eustathios Church in South Melbourne with Bishop Ezekiel of Dervis and Bishop Iakovos of Miletoupolis and other clergy. Addressing parishioners he once again put out a call to bring more young people to church, along the same lines as his first sermon on Saturday. He invited all to have faith. "I thank God for having blessed me in having been sent to this beautiful and warm parish of St Eustathios," he said.
Photos below by Aristidis Tsoulakos: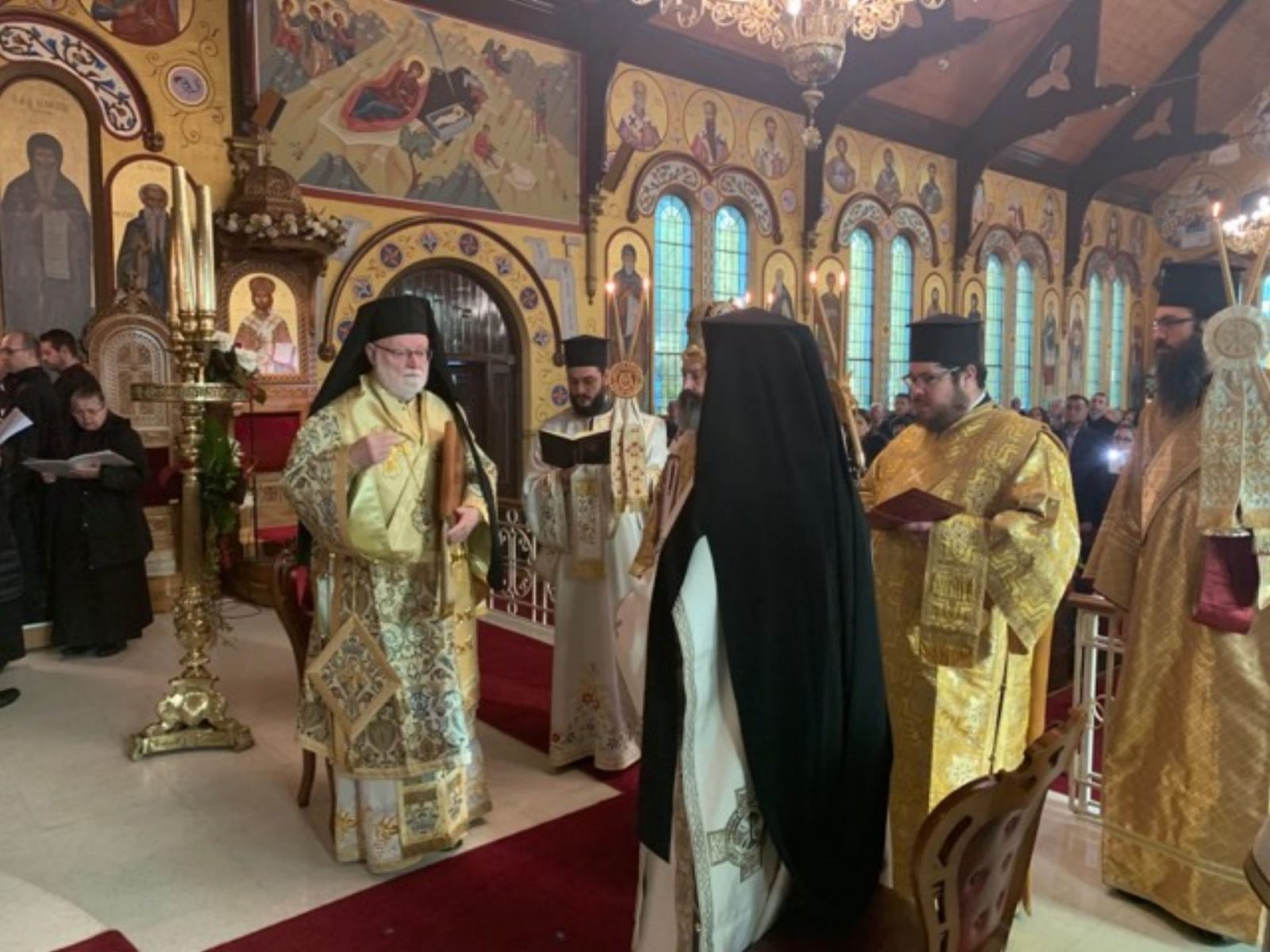 9pm
Another busy day for Archbishop Makarios in Melbourne today. His Eminence is currently at St Eustathios Church in South Melbourne performing the Divine Liturgy with Bishop Ezekiel of Dervis and Bishop Iakovos of Miletoupolis and other clergy.
Later in the day, the Archdiocese's programme lists that he will attend the awards ceremony for Byzanfest at the Dormition of Our Lady Church at Altona North, however the organisers could not confirm this. The festival features the 12 best Orthodox-inspired short films from around the world in English or with English subtitles. The final screening of the 12 finalists will be screened and there will be a Q&A ceremony from 5-8pm.
READ MORE: Meet the Greek Australian founder of Byzanfest, the world's first online Orthodox Christian short film festival
The Archbishop will then be attending the Great Paraklisis (in Greek) at St Nicholas Church in Yarraville, followed by a dinner.
Below are photos sent to us from our reader Stella Argyris:
Saturday, 3 August
8pm
At Melbourne Town Hall, clergy and other stakeholders of the Greek community gathered to meet with His Eminence Archbishop Makarios.
Bishop Michael of the Romanian church said, "The Romanians of Melbourne are behind you Archbishop Makarios. It was through the Greek church that the Romanian people remained close to God. We will support you in any way possible."
Archbishop Makarios then made a toast:  ""Allow me to raise my glass and in breach of protocol to say: Cheers Mate!"
5pm
Neos Kosmos photographer Kostas Deves sent us photos from a great day with the new Archbishop of Australia. Enjoy the gallery below: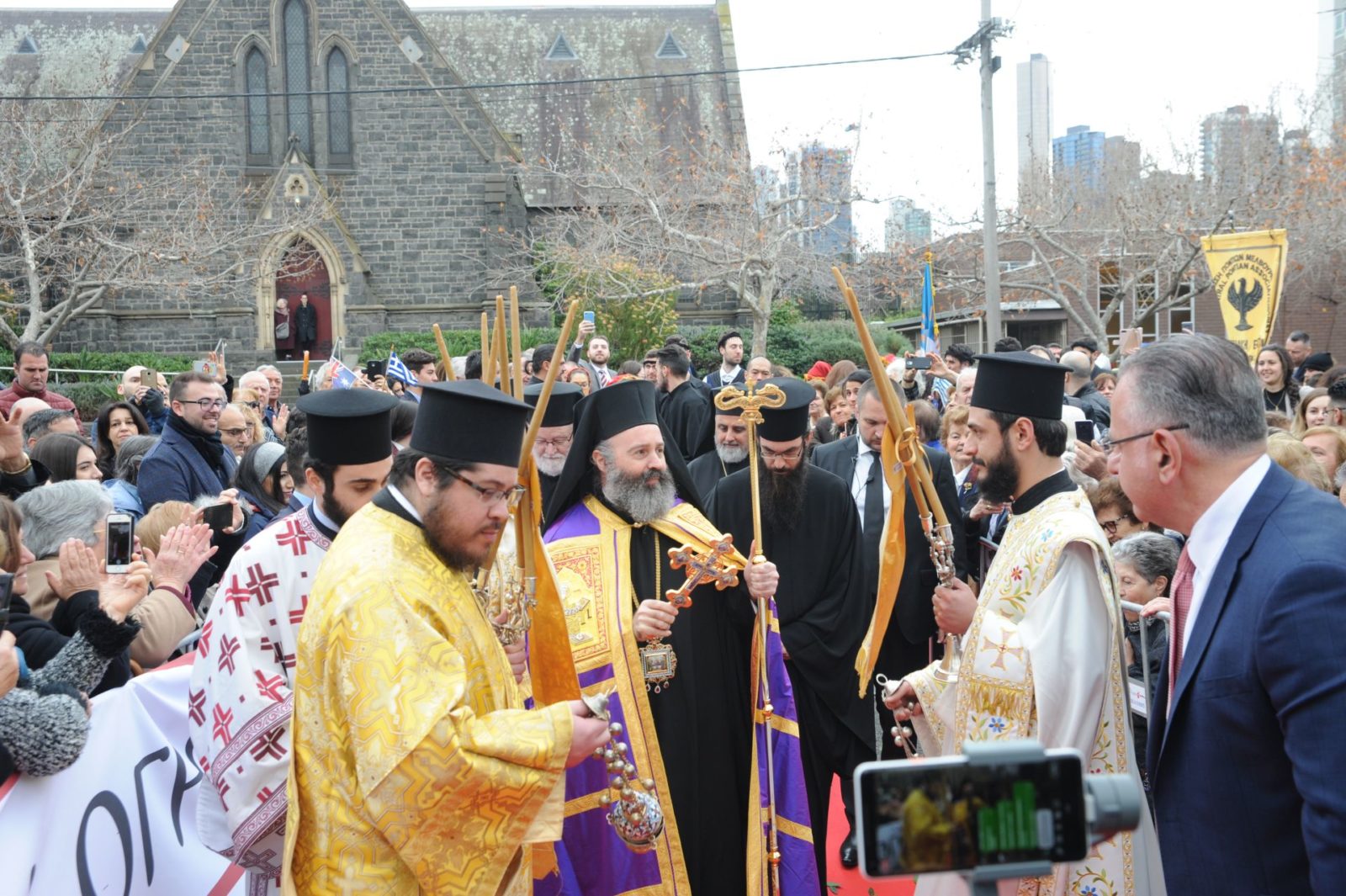 3pm
A doxology took place at St Eustathios, the church brimming with people of all ages.
Penny Tsombanopoulos from Pontiaki Estia was among those present, and said she was very humbled to be apart of this historic day in Melbourne for the Greek Orthodox community.
"Being Pontian we have a very strong religious background to Panagia Soumela so in anything we do, we always hold panagia very close to us, so it's always nice to be involved in any church event. But this one being the welcoming of the new Archbishop, it's obviously more special," she told Neos Kosmos.
"So this morning I had my son with me at the airport, it's new for him, different generation, trying to continue the same traditions that we were brought up with, with our parents."
The sentiment was shared by educator and writer, Melina Mallos who sees the newly appointed Archbishop as a step in the right direction when it comes to the community's youth.
"It's a very historic moment in the Greek Orthodox Church here in Australia, and how blessed we are to have such a humble person leading the church. I think it's going to really revolutionise the church for the youth and bring them closer. That's something we need in terms of our faith in current times," Ms Mallos told Neos Kosmos.
Those in attendance included clergy, members of the Hellenic Police Association, students from various schools including Oakleigh Grammar and St John's, and members of associations wearing traditional dress such as Pontiaki Estia and the Pan Macedonia Association of Melbourne & Victoria.
After being officially welcomed, Archbishop Makarios gave a touching speech.
See our live video footage of the speech in English below:
3pm
Thank you to Aristidis Tsoulakos for the following photos from St Eustathios Church. Readers are welcomed to share their images by sending them to mary@neoskosmos.com.au or posting them on our Facebook page.
1pm
Journalist Anastasia Tsirtsakis shares her photos from St Eusthatios, South Melbourne.
1pm
Hundreds gathered outside St Eustathios church to greet Archibishop Makarios despite the cloudy skies and drizzling weather. His arrival was met with enthusiasm and cries of "Axios". The smell of incense blanketed the lanes and a spirit of euphoria prevailed.
Archbishop Makarios told parishioners that he was "humbled by love" and sent a message of hope.
Addressing the crowd, first in English, he said that he was happy to be in Melbourne, the city with the largest Greek population outside Greece. He encouraged the faithful within the church to embrace all, especially "people who thirst, who yearn for spirituality and are still looking."
He stated that a promise that he made to Patriarch Bartholomew and the Synod was to preserve the Church in Australia and to multiply this. "I can only do this with the grace of God, the support of my clergy, the assistance of the many people of God, the assistance of my Bishops and the strength God has given me," he said. He had begun his sermon analysing the word "yparho" (I exist) which means I am under (up) His authority (arho). "I came as your shepherd and father , sent by the church of Constantinople". He blessed the memory of Archbishop Stylianos and the good crops he had yielded during his 44 year tenure.
He also commended the work of Bishop Ezekiel, who has served the church well for the past 35 years, since his graduation from the seminary at Halki.
In Greek, he said Greece is an unimportant place to leaders, but of huge importance to every expatriated Greek. "Let us be Greek," he said in a teary voice. A statement that met  with cries of "Axios".
"I invite you all to join together in love," he said. "I invite young people to come to church."
He said that a camp, a retreat centre, would be created for youth that would give young people an environment to learn life lessons. He also said that a youth conference to coincide with 200 years since the Greek War of Independence would take place in 2021. "Greece gave culture, education, quality of life," he said, adding that today much of that is being lost. "And not just dark forces are to blame." He stressed the dangers of turning away from the Greek lifestyle of our forefathers.
He asked people to pray for him that he be worthy of the task of guiding the church in Australia.
Following the service, the Archbishop met with those that gathered. He is still there, his goal being to speak with as many parishioners as possible.
11am
His Eminence Archbishop Makarios' entrance to Melbourne had not been overly publicised so as to not cause the same commotion at Tullamarine airport as had been the case in Sydney last month. Nonetheless, dozens gathered to greet the primate of the Greek Orthodox Church who arrived at 11am Saturday. A choir sang, and students from local Greek schools gathered to offer him a warm welcome. The calls "Axios" (He is worth) could be heard as he arrived.
Addressing the crowd, he thanked the choir singing psalms and the flag bearers carrying the flags of Greece, Cyprus, Pontus, Australia and other groups. "I want to assure you that your presence here stresses the huge responsibility I bear," he said, urging the community to continue its presence with "love" and "unity".
His Eminence is joined on this visit to Melbourne by his parents.
READ MORE: Australian Archbishop Makarios elected – but what's next for the Greek Orthodox Church of Australia?