The Kali Orexi (KO) team – aka Christine, Rita, Carlos and Kathy – are dedicated to keeping Greek culinary heritage alive, bringing yiayia's recipes to the table.
The KO Team has vowed to deliver the rich culinary heritage bestowed upon them from their parents and grandparents via engaging and easy to follow video tutorials and photos that will make anyone salivate.
The reative 'foursome' of food aficionados has done it again, offering simple yet delicious advice on how to soothe the soul with a Greek comfort food favourite and a sweet, nutty delight.
Vasiliki's Flat Beans with Lamb
(recipe serves 6)
You will need:
800g lamb shoulder, deboned 800g flat beans 2 medium brown onions, chopped 1 clove garlic, crushed Salt and pepper 1 teaspoon dried chillies 2 level tablespoons tomato paste 1 cup tomato puree 1 bunch parsley, finely chopped 1/2 cup extra virgin olive oil Water
How to:
1. Wash the flat beans. Top and tail the ends. Cut the beans in half width-wise and for the wider beans, length-wise as well. Set aside.
2. Wash the lamb and pat it dry. Trim off the excess fat. Chop the lamb into pieces of roughly 6cm thickness and set aside.
3. Heat the olive oil in a large (approximately 5 litre) pot over a high flame. Add the lamb pieces and sear them on both sides. Add the onions and garlic and fry them until they soften and brown a little. Gently stir the ingredients to prevent them from sticking to the pot.
4. Add the remaining ingredients to the pot in the following order, gently mixing with each addition: flat beans, salt, pepper, dried chillies, tomato paste, tomato puree, parsley and enough water to totally immerse the ingredients in the pot.
5. Keep the pot on a high flame until the fluids come to a gentle boil. Then reduce the heat to a low flame, place the lid over the pot either slightly ajar or with the vent hole open and gently cook for 1. – 2 hours. 6. After the first hour of cooking, check the fluid level in the pot. If the fluid level is low, add more boiled water to allow the dish to cook a little longer. After 1-2 hours of cooking, all of the fluid within the pot should have cooked off, the meat should fall apart easily and the beans should be soft. If the ingredients have cooked through but there is excess fluid, turn up the flame, remove the lid from the pot and continue to cook until the fluids have completely reduced.
7. Flat beans with lamb are best served warm, with feta cheese and crusty bread to soak up the delicious sauce.
Ioanna's Amygdalota
(Recipe makes 35 pieces)
These almond macaroons are sweet and crispy on the outside and soft and chewy on the inside, and with a hint of almond essence they make a sophisticated treat.
So go ahead, make some and enjoy them with friends and family over a coffee or tea.
You will need:
4 egg whites
500g almond meal
350g icing sugar
1 heaped tablespoon jam
2 teaspoons vanilla extract
1 teaspoon almond essence (optional)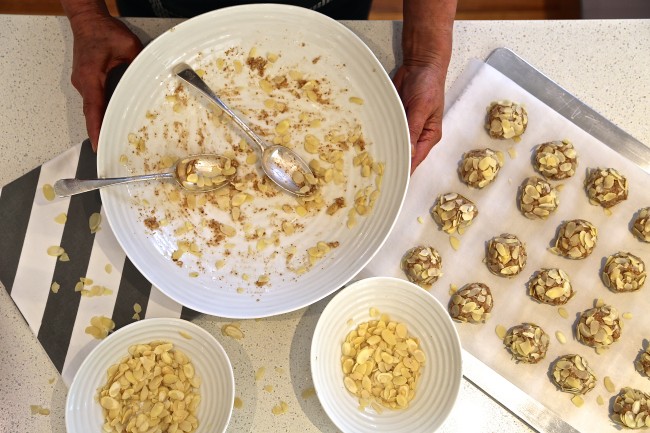 How to:
1. Preheat the oven to 200ºC.
2. Gently beat the egg whites in a small bowl with a fork for about 30 seconds. Transfer the beaten egg whites to a larger bowl and add the almond meal, icing sugar, jam and vanilla extract. For a stronger almond flavour, add the optional almond essence. Use your hands to massage all of the ingredients together.
3. Cover the mixture with a piece of baking paper and refrigerate for 15 – 20 minutes or until the mixture is firm to the touch.
4. Remove the mixture from the refrigerator.
5. Use a soup-spoon to scoop out a spoonful of the mixture and roll it into a ball about the size of a plum. Roll the ball in almond flakes and place onto a baking tray lined with baking paper. Allow sufficient room on the baking tray(s) for the amigdalota to spread a little whilst baking. Repeat until all the mixture has been used.
6. Bake the amigdalota for 10 – 12 minutes or until lightly golden-brown in an oven preheated to 200ºC. The amigdalota will continue to brown a little when they are removed from the oven.
7. The amigdalota will be quite soft when they are first removed from the oven, so allow them to cool for 10 minutes before handling them. Best eaten within a week.
To say that Kathy, Rita and Christine – three of the four member KO Team – have a passion for homewares is an understatement. They have an enormous appreciation for contemporary and vintage design in all creative forms.
Kathy purchased her first Fornasetti plate at the age of 16. Many of the props she uses for styling of KO Signature Recipes were acquired as a teenager or young adult some 25 – 30 years ago on local and international shopping adventures.
Rita has a great appreciation for enduring luxury brands, thoughtful design and exacting craftsmanship. Rita is also the proud owner of an extensive tea towel collection and is often torn between using her beautiful tea towels or keeping them in her collection.
Christine is obsessed with curvaceous Art Deco design and is a keen furniture restorer and collector. Christine also has a quirky preoccupation with aprons. She believes her appreciation for aprons stems from her childhood when she spent endless hours at the Prahran Market, where stall holders and sales assistants wore an array of aprons in different styles and materials.
"The KO Homewares range brings all these passions and interests together to create a stylish yet practical range of homewares," Christine says.
"Our capsule collection consists of sassy canvas aprons, lavish linen tea towels, luxe linen aprons, handy-dandy tote bags and fun and funky wooden spoons – all created with attention to detail, high quality materials and finishes and a fashion-toward style sense.
Believe it or not, the KO girls' passion for homewares is even starting to rub off on Carlos!"
* To learn more about Kali Orexi, visit the website www.kali-orexi.com.au