Fig & Walnut has only been around for eight months, but it feels like it's always been nestled in that leafy pocket right opposite Seddon train station. The old Edwardian cottage breathes life into the neighbourhood, reintroduced as an artisanal café which is attracting locals and foodies alike. The retro European feel of the interior is very welcoming, yet exudes a certain aristocratic elegance, with its sparkling vintage chandeliers and heritage mirrors juxtaposed with the wooden surfaces and exposed brick walls. The rustic fit-out gives way to a beautiful backyard sitting area with an adorable pathway leading to a large wooden cubby house perfect for the kids to play. The backyard is surrounded with fig trees and lots of little corners to grow herbs organically.
Fresh cupcakes, cookies and pastries are on display, almost making you feel as though you have been transferred to a Hans Christian Andersen fairy tale.
The owners offer vegetarian, vegan and gluten-free options as well as fresh, cold-pressed juices for the non-caffeine- addicted clientele. Goran Boskovki's brewing skills are not to be taken with a grain of salt though, which is the main reason Vera Xanthis, Fig & Walnut's kitchen half, chose him as a partner.
"I didn't want to just open a café, I wanted it to be something special and offer people in the west an amazing experience," Vera Xanthis tells Neos Kosmos.
"To me everything makes a difference. Every little detail from the setting, to the service, the look and eventually, the quality of the food. Let's not forget it's a café, so if the coffee isn't top notch you won't be able to keep your clientele. This is Melbourne after all!"
Vera, with a long background in the food industry, as her husband's family owns Alfa Bakehouse, has always been interested in creating unique culinary experiences and events for her close friends and relatives. Cooking became her hobby and led her down the path of catering. It was about a year ago that she decided to venture into starting something of her own and began renovating the space next to her home. Around the same time she bumped into Goran, an old schoolmate she hadn't seen for 20 years.
"Our daughters happened to be attending the same gymnastics course, and we started talking about life and our plans," Vera explains.
"Goran owns Kinship & Co café in the city and has managed to build a good name for himself. When I found out he was moving into the area I suggested joining forces. Our philosophy is the same."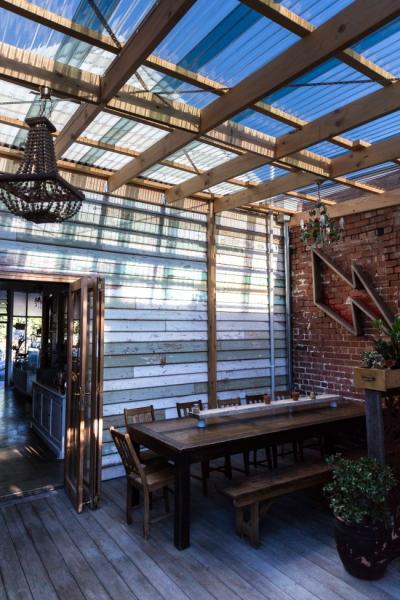 For Goran, although he was very happy with his café's success in the CBD and wasn't looking for anything else, Fig & Walnut seemed like the perfect opportunity. On the menu one will find not only the mainstream options but new additions like the turmeric or the beetroot and coconut chai − always bursting with flavour thanks to Goran's twists.
"When Vera brought me to this space, it was still a shell. And she told me she needed some help coming into the coffee side. I saw a challenge," he says.
"I brought my knowledge from Kinship to the table, but having done my research into the demographic I went for a slightly smoother blend from Fitzroy's Industry Beans. People here usually sit down, relax and get two coffees. In the city, they are after a head-rush, a toner, so my coffee there is stronger."
Melbourne-style beverages aside, Greek coffee is one of their hero items. Having tried it myself after being away from Greece for three years, I can say it felt like home.
"Greek coffee has a strong presence in both our backgrounds and we take pride in it being duly done," Goran says.
"We also do smoothies for the health and well-being focused. Lots of different flavours with a kick."
For both the owners, it is imperative that everything that leaves the table and touches the mouth has an impact, and is a pleasant experience that will ultimately make people happy.
"We love putting things together," Vera says. "The quality of food and aesthetic, keeping the flavours is important to both of us. We experiment a lot until we get the best combination of ingredients.
"Our menu is ever-changing based on seasonality but consistent at the same time. Going a bit more Mediterranean this year; traditional but with a twist," Goran adds.
A delicious seasonal menu.
Meanwhile, they agree, the base of their business is about community, "creating awareness about food and supporting each other". They even have a community pantry and enjoy exchanging groceries with their neighbours. Depending on seasonality they have weekly or daily specials on their blackboard.
For the Fig & Walnut team, nothing compares with being able to pluck your own vegetables from the garden. This common ground and mutual understanding and interest in food brought chef Arianne Spratt on board.
Many of you might know her from Cakes by Arianne or from Channel Ten's 9am with David and Kim.
"At the moment we have sticky lamb ribs with date molasses and oregano, partnered perfectly with our grain salad and pomegranate yogurt on our specials. It's my signature dish," Vera enthuses, bringing a dessert tray to the table.
"There are, however, many options like this delicious vegan beetroot and zucchini cake Arianne has made. It's all come from our garden. Give it a few more weeks for our figs to get ripe and we'll add so many new dishes!" Honestly, we can't wait!
We tried and recommend for breakfast and brunch:
· Crushed avocado with goat's cheese and pomegranate molasses with poached eggs, burnt lemon and crushed seeds on sourdough
· Beetroot fritters and smoked salmon on pea puree with poached eggs and horseradish crème fraîche
· Mixed greens pie, a very, very generous take on spanakopita
· Grainy gluten-free pancakes with coconut ice cream, maple marscapone, saffron poached pear, berries plus walnut and pistachio crumble
Follow Fig & Walnut on Instagram @figandwalnut and like them on Facebook www.facebook.com/figandwalnutcafe