Batman is shaping up as a battleground between the ALP left and the Greens centre. Ged Kearney, a former ACTU president, is pitted against local Preston (Batman) resident, Greens candidate Alex Bhathal. This by-election may shape the atmospherics for Mr Turnbull in 2018.
Labor's David Feeney resigned at the start of February as the Member for Batman ­– the latest federal politician to be caught up in the dual citizenship fiasco.
He had held the safe Labor seat since 2013, narrowly fending off Bathal in the 2016 election by a margin of 51 votes to 49. Liberal's Labor-directed preferences helped him retain the seat in that election.
The ABC reported his resignation "put Labor's increasing struggle with the Greens on its left flank in the national spotlight."
The Queensland Labor Government's support for the controversial Adani mine, and the increasingly edgy factional contests within the ALP that Bill Shorten is keeping a lid on, for now at least, will resurface no doubt.
On the exterior, it's clear that Opposition Leader Shorten has new-found left Green credentials: he selected Ged Kearney for candidate as the ABC reported the "hardening stance" on the proposed Queensland Adani mining enterprise.
Turnbull begins the year buoyant whereas Shorten is flat. The Opposition Leader is digging deep into the pre-Keating economic playbook as his poll lead over Turnbull softens.
Shorten has caught a whiff of the populist sentiment from recent focus groups on the government's proposed corporate tax cuts. Shorten has to be careful not to alienate the larger number of Australians who need the middle to lower income tax cuts that were promised by the prime minister last year.
Rather than renovate the Hawke-Keating economic agendas to suit the times, he's decided to go for a sugar-hit of populism. This will come back to haunt him if he wins the next federal election.
Why is Batman important? Batman extends beyond the inner city left-green belt to old working class and new migrant suburbs around Reservoir and the outer north of Batman.
Australia's economy, and the world's economy are growing again. Wages growth may be sluggish, but housing growth – especially in Batman – shows no sign of easing.
Infrastructure development in Melbourne, and across Australia, is on every government's agenda. And, there is no certainty that any push for higher wages will not impact negatively on a frail, albeit growing jobs market. The ALP cannot afford to be perceived as the enemies of small to medium business, the meat and potatoes for the NLP. Nor can the Greens.
A renewed love affair between unions and the ALP, when union membership is at its lowest in modern history and continues to decline, may not benefit them. Batman is Labor but it represents a large number of self-employed and small business people, middle managers, tradies, and aspirational immigrant populations.
Any talk of dumping negative gearing will have many in the seat looking for alternatives. Something the Liberals are thinking about aloud, yet they are not willing to throw in a candidate as fresh meat in the lions' den.
However, an aggressive non-Anglo Liberal candidate from the area could maul 'left' Labor and give soft liberals an alternative to the normalising Greens party.
The experienced Greens candidate, Alex Bhathal, is local and is well liked even by traditional Labor people here. She lives in Preston, not Northcote the lefty centre of Batman.
She grasps the complexities of this huge northern electorate. She does soccer runs and effectively gauges social needs such as culturally appropriate aged care services, pre-school childcare and schooling. Any good candidate should know this.
The increased pressure by aspirational new and old migrants for better schools is very real. Catholic and other mid-tier independent schools are brimming with students from all cultures. It is a wonder why no candidate in the area has ever sought to initiate a new state selective school for the area.
Why not negotiate with Melbourne Boys High School or MacRob High School for the establishment of annexes in the north of Melbourne?
Bhathal has links in her Sikh community here. She's progressive but not extreme. She understands her cohorts' desire, like all migrants, to establish new businesses, buy homes and generate a future for their children. It is hard to gauge if Kearney understands Batman; she's a local but has so far been invisible compared to Bhathal. To be fair to her, she has not been on the hustings whereas Bhathal has had the grip in her teeth for some time now, preparing for her time in the sun.
Bhathal and her leader Richard Di Natale know that if the Greens are to continue to make an impact in Batman they cannot be seen to be too Green, or socially left. They cannot flaunt their connectedness to the Northcote largely Anglo-Celtic middle class. There is a left-hipster-green proof fence called Broadway and anything north of that is not socially left, or very Green.
Bhathal will need support from socially conservative Labor voters like older Greeks, Italians, Macedonians, Lebanese, and their ambitious middle-aged children who are now carving up their parents' 750sq metre blocks for town houses to be sold at feverish prices.
Labor and Green candidates must lock onto new Indian and Chinese migrants who are running small businesses and are sending their kids to independent and state schools not trendy state schools like those in Melbourne's inner north.
Neither candidate should forget the Catholic and Buddhist Vietnamese, Muslim Sudanese and African Christians who seek a better economic outcome: these people care about the environment and may have views about what is fair but are less interested in #MeToo, Green issues, or Indigenous perspectives of Australia Day. They may have opinions on these matters, however they are overwhelmed by their own economic needs and desires.
These constituents live outside Northcote and its gentrifying tentacles that reach all the way to Reservoir East. They work 14 hours a day in service jobs, in retail and as accountants and tax specialists, administrators, cab drivers, and labourers in manufacturing, or as self-employed trades' people. They pump money into mortgages, home renovations, education, and sporting activities for their children. They buy cars and clothes and can afford an annual holiday in Rye, and a biyearly visit to Greece, India, Sudan, Italy, or China.
The second-generation middle-aged Italians, Greek, and Lebanese work long hours increasing their wealth using their parents' sweat-earned equity. Migrants know that resilience lies in owning a business, a house, or two, and making sure that their offspring have access to solid educational or training opportunities.
The Liberal Party, who probably won't run a candidate in the by-election, have let their Victorian state president do the talking.
Michael Kroger said he wanted the party to field candidates against Greens who had been involved in protests and campaigns against Israel's treatment of Palestinians. Kroger regards such protests as anti-Semitic activity.
This was an attempt to damage the repositioning of the Greens under the more centrist Di Natale. Kroger also knows that Di Natale, like Bhathal, is a local; his alma mater is the 100-year-old Catholic Parade College in Reservoir – the largest suburb of Batman. Di Natale knows his people, one hopes.
This sane part of the Greens must have worked hard to purge the poisonous Lee Rhiannon from NSW Greens.
Rhiannon's pathological adherence to the controversial Boycott Divest Sanctions (BDS) movement protesting Israel's treatment of the Palestinians her not so disguised anti-Jewish narratives, and cult-like leadership, was a thorn to the mainstreaming strategy laid out by Di Natale.
He wants the Greens to become a conventional social democratic party. The hijab-wearing customers buying Jericho Israeli face-care products in Northland Shopping Centre burst the middle-class BDS fantasy bubble.
Di Natale and Bhathal, if they are strategic, will be pushing a Green and economic growth agenda, business friendly, with a focus on education and services. The ALP's play of the union card may be misspent outside the camp of teachers and public service union members that live in the affluent bits of Batman.
The Greek and Catholic churches, the mosques, temples and ethnic seniors' activity groups, schools, and preschool centres will have many visits from these respective candidates no doubt.
The Batman by-election will unnerve Labor and add a spring to Turnbull's step if the Greens show significant gains outside the Northcote heartland. Let's see.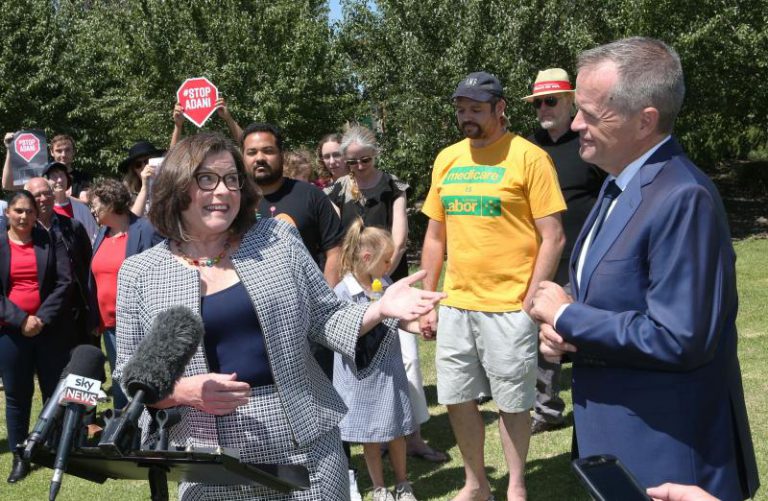 The by-election for the Australian House of Representatives seat of Batman will be held on 17 March 2018.