George Tambassis is not one of those who feels comfortable talking about himself and his achievements. While it was pretty clear from the start that this interview was all about his life and achievements, his self-sarcasm and hesitation when it came to being probed about his personality traits revealed a humble person who tends to shy from the spotlight.
Tambassis doesn't chase publicity, either. He avoids it like the plague. He enters the process of an interview only when, and if, he is going to argue for the interests of the industry he represents. Since 2011, he has held the position of the national President of the Pharmacy Guild, one of the most powerful professional organisations in Australia that champions the interests of community pharmacy owners of Australia at large.
Though his name is relatively unknown to the wider community, his lobbying as Pharmacy Guild President has included triumphs in staving off supermarket pharmacies in Australia and success in resisting moves for the restriction of the sale of natural and complementary medicines in pharmacies.
A reason why he may shun publicity may be because he really doesn't need it to do his job. A smooth operator and a powerful institutional interlocutor to the government of Australia, Mr Tambassis has no difficulty securing a meeting with any high-ranking stakeholder and even the prime minister – the head of government – will simply find the time to make himself available when Mr Tambassis requests it.
The same applies for the country's media outlets. When Mr Tambassis reaches out to them, they fling their doors wide open to host his views.
His prompt, positive response to my request for an interview surprised me. The sparkle in his eyes, the exuberant spring in the tone of his voice when he started talking about his Greek origins, his worship of Greece, which he visits every year no matter what, made it clear why the powerful and mighty Mr Tabassis accepted Neos Kosmos' request for an interview.
GEORGE THE OARSMAN
The philosophy behind the words of the hilarious, yet wise, Aristophanes are "you must first become an oarsman before you take the steering wheel". And these can describe the principle that cuts through Mr Tambassis' career path.
He began to "pull the paddle" from a very young age as the child of working-class immigrants. His parents migrated from mountainous Arkadia to Australia in the late 1950s, settling in the working class suburb of Fawkner, and both spent their working lives in factories. His father worked in the Ford factory and his mother as a machinist.
"Yes, I am Fawkner kid. After finishing elementary school, my dad sent me to a private school in Broadmeadows because he thought that the public school in our area was too rough. Finishing High School I got my score and I had a couple of options with that score. The one was pharmacology and the other chemical engineering. Science and mathematics was always my thing, short-term memory I guess," he said.
He ended up at Monash University studying to become a pharmacist and that's what he ended up being.
I am Greek and I never hid it. I always care to remind everyone, even the Prime Minister, that we are pioneers with unparalleled determination and perseverance.
Fresh out of uni, George worked for about a year or so in a community pharmacy.
"I really wanted to get into business though and I bought my first pharmacy in 1989, a year after, with my partner who is still my partner. My first pharmacy was in Greenvale, the second one in Brunswick," he said.
These days apart from leading the Pharmacy Guild, George has shares in five more pharmacies.
Tambassis is a well-known and trusted name in the Greek community of Brunswick and surrounding suburbs to this day. He served thousands of Greek Australians, healing their pain, answering their questions, listening to their issues and giving millions of pieces of advice. He still does it. While his working weekdays are dedicated to his leading role at the Pharmacy Guild, on the weekends he wears his white robe and, next to his son these days, does what he always did.
"I am still there. My son just qualified as a pharmacist too. The next generation of the Tambassis pharmacists is here. Billy qualified at the start of the year as he did his internship last year. This job keeps me out of the pharmacy but not during the weekends. Yesterday I did 10 or 12 hours there. The face-to-face interaction with people, their problems and their issues, does not tire me at all, I enjoy it. That's what makes it easy for me to do this job (president of the Pharmacy Guild), I presume," he said.
"For people to get involved in the Pharmacy Guild, the prerequisite is you have to love to work in a pharmacy; you have to love being a pharmacist otherwise you can't be part of the representative group. You have to love what you are doing, through the good and the bad, it is like a marriage I guess. There aren't two ways about that. If you don't love what you do people will see through you. You know regulators, politicians, see through you all the time."
His determination to seek answers to daily issues he faced as a pharmacist, led him to their representative body – the Pharmacy Guild. He got involved and soon after with the support of his business partner and his family entered the 'sacred chamber' of the organisation's board. The rest is history which can provide many insights, through comparison on his personality traits.
AMONG AUSTRALIA'S ELITE
These days he interacts with Australia's most powerful and famous stakeholders, successfully communicating with the PM one minute and his elderly customers the next.
"It is the same when I speak to the prime minister who wants to know what's happening in the pharmacy and when I speak to the elderly man that walks into my pharmacy and informs me of his problem asking for my advice," Mr Tambassis said.
"In both cases you have to be believable, to understand what you are talking about. If there is something serious and I want to talk to the PM, I go to him; we do not employ lobbyists. The same thing applies to our pharmacies. We try to employ as many pharmacists as possible. So knowledge, research, have skin on the game, is important. You have to know your craft, otherwise you are not going to be believable.
"Then, it's compassion. You need to have that with the PM. He needs to see that you care and that's the beauty of talking to people to get things done. You have to understand what their little pressure points are, what their issues are, you have to be relevant. If you walk into someone's office and you start talking about things that are not relevant to them, you are not going anywhere. That applies also when you interact with the patients. We are the only health professional who people can see without having an appointment. That's what I liked about the profession when I got involved; it was very hands on. You are always dealing with patients; we also consult people after they [have] lost a loved one for example. Compassion is the key all the way through. It is an honourable profession where you gain the respect of people. That's invaluable. It means a lot to me when people come in the pharmacy and they say a little thank you."
The "el presidente", as he calls himself jokingly, some weeks ago was named by the ABC as one of the 10 most powerful people of Australia. He laughs off the suggestion with an impeccable, watchfully restrained manner.
There is little doubt, however, that Mr Tambassis is a man who acts more than he talks, does more than he says. By the end of his term of office, Australian pharmacies will not only be able to sell but also be able to offer injections of antibiotics to their clients. Furthermore, during his tenure at the helm of the Pharmacy Guild, the government caved into the organisation's demands to administer the influenza vaccine.
Professional success and power dominates the public aspect of Mr Tambassis' life. His restrained manner and body language goes out the window when he starts to talk about more personal sources of enjoyment, Greece being one.
"I AM IN LOVE WITH GREECE"
"I am Greek and I never hid it," he says when I ask him about his relationship with his parents' homeland.
"I always care to remind everyone, even the Prime Minister, that we are pioneers with unparalleled determination and perseverance," he says, referring to another achievement that has to do with his work and with his Greek colleagues.
He refers to the Guild's inclusion in Pharmintercom that consisted of English-speaking countries that met in different countries to talk about pharmacies "cause that's what we do, we love pharmacies." A couple of years ago, a new organisation known as the World Pharmacy Council was created to include all those English-speaking countries, such as Australia, New Zealand, United States, United Kingdom, South Africa, Canada, Ireland along with new members.
"We renamed Pharmitercom to World Pharmacy Council and they made me their first president. We started signing up other countries. The first countries we signed up were Portugal, Spain, Denmark and I am going to go to Greece, and by email I have been told that the Pan-Hellenic organisation there, the Greek Guild is also going to sign up as a member," he says, adding that the process of persuading his Greek counterparts was as simple as "hey there is a Greek president on the organisation, you cannot be out of it".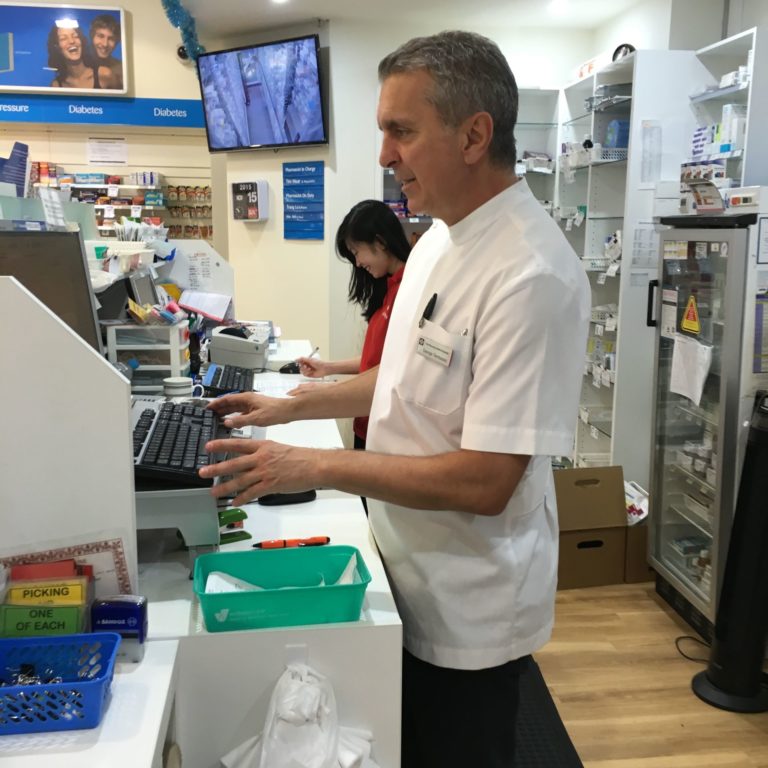 The yearly trip to Greece is a tradition for Mr and Mrs Tambassis along with their two sons.
"There is no way to miss any opportunity, to visit Greece. I love Greece."
Through his role at the Pharmacy Guild he travels extensively. He has visited numerous countries, seen many places and acknowledges that this is one of the benefits of his job. When it comes though to holidays and spending quality time with his family his "Greek affair" wins over, hands down.
He exclaims repeatedly about the beauty of the country and goes on to inform me that every year he visits a different place because he wants to see all of it.
"In Greece I feel Australian, in Australia I feel so Greek," he adds with a wide smile on his face.
Mr Tambassis' mandate at the helm of the Pharmacy Guild expires in two years. And while it is almost certain his involvement with the organisation and policy development will remain a significant part of his working life, his negotiating skills, his experience, knowledge and of course his Greek temperament, certainly guarantee that Mr Tambassis will have a lot more success stories to tell in the near future.