My relationship with cancer is a strange one; one of both hatred and respect. From the first moment I started to receive the good news after the surgery, not once did I say: "I beat you, you bastard". I simply made the sign of the cross, and thought to myself that I had dodged a bullet. Even now, when those closest to me say "It's gone, you beat it", I huddle up and change the subject, speaking in a loud voice just in case 'it' hears us and returns to give me lesson – the final one.
Firstly I must clarify that whatever I do, it's not to impress anyone, or for applause, on the contrary in fact. I am still fighting; still undergoing treatment, being injected with needles and taking pills. So the celebrations have been somewhat delayed. While my body has recuperated from the chemotherapy, it has yet to truly recover; the medication I am now taking has affected me to the core. When I try to stand up, I move like RoboCop; every time my foot comes into contact with the ground, a pain shoots through like sharp knives. Thankfully, the more steps I take, the pain becomes more bearable.
So as you can see, there hasn't exactly been a chance for celebration.
On the other hand however, I am stubborn by nature, so I have never considered giving up, or admitting my weaknesses. With a smile on my face, and an open heart, I close my eyes to my unyielding "friend" and I try to drive him crazy. I constantly change my outward appearance in the hope that I confuse him in case he comes looking for me again. And as for the pain, I simply ignore it.
So last Sunday, I put on my sports gear and made my way to the Melbourne Museum, where I met with fellow sufferers – they call us "survivors" – and walked together for a worthy cause; raising money for those at the Peter MacCallum Cancer Centre who battle daily to find new treatments to combat cancer. Our slogan: "Let us unite in the fight against cancer".
Coming off the back of such a long period of inactivity, I opted for the shorter route of seven kilometres. When I arrived at the Museum's courtyard, the starting point for the event, I couldn't believe my eyes. Hundreds of people of all ages, some on bicycles, and others on foot at the starting line, all with the biggest smiles and full of life.
A voice was heard over the loudspeaker, enthusiastically kicking off the event. Walking next to me, as always, was my guardian angel Dimitri, my husband. We walked the first few metres in silence. But soon, we started joking around with our fellow participants, using a code of sorts that only those of us who had experienced cancer first-hand could truly understand. We resembled happy children on a school excursion. The Spring sun shining in our eye, had us winking cheekily, and the morning breeze filled our lungs. So full of life, you couldn't help but be consumed by the present moment, there was no room for other thoughts.
At the halfway point, we passed the imposing Peter Mac building. I felt my heart drop; my eyes swelled with tears. Over the past 18 months, I had walked and in and out of those doors, sometimes full of fear, sometimes in pain, sometimes standing upright, and others hunched over. I walked in as someone, and walked out as someone else. I saw all my fears and my hopes. It is there that I had come to trust people with my life, and they in turn had taken care of me and brought me back to life with such affection and love that they became my second family. Now as I walked past, looking on from the outside, I felt emotional, and sincere gratitude.
READ MORE: Maria Kampyli: 'My battle with cancer'
At the corner of the hospital, a team from the centre was waiting to cheer us on, greeting us with a big "Thank you". I looked at them in wonder, and with tears in my eyes I responded "I thank you". Thank you for holding my hand in the tough times, for sitting next to me until the chemotherapy was complete, for being patient with me when I lost my temper, for making me feel important and special at every stage of the process, for not giving up even when I didn't want to continue, and for still looking after me to this day.
As we passed the hospital, a second wave of silence enveloped us, as we continued on our walk. At one point I realised I couldn't see properly; my eyes were going blurry from the tears continually welling up in my eyes. My mind had yet again wondered back.
This time it had drifted back to the days after the first round of chemotherapy. It was on the third day that the side-effects hit me. I tried to get out of bed and everything started spinning, my mind was blank, my limbs were paralysed. I didn't know what was happening. Instinctively I got dressed – I put on the same outfit that I was wearing now – I tied my shoelaces, and I ventured outside to walk, as I had always liked to do.
I walked as though I were drunk, weaving from one side to other. With every step I had to try and catch my breath, as though I had been running for miles; I thought I might faint. I started to panic, and felt as though I was losing my mind. I wanted to cleanse my body of this poison that had made me feel so horrible. I gritted my teeth, stifled the fear and continued to walk. The soft air caressing my face felt like a strong slap, only I didn't know who was hitting me and why. Was it life yelling at me to hold on? Was it death calling for me? I don't know, I couldn't tell.
I just kept walking, or staggering as it were. And it was then that I promised myself that as soon as I recovered, as soon as I regained even an ounce of my strength, that I would walk to fight; for more effective treatments, for a future without the Big C.
And I did it my friends, I did it! On Sunday, when I passed the finish line and I raised my hand, I wasn't celebrating my victory over cancer. I was celebrating the promise that I had made to myself 18 months ago, to the empty vessel that I was, and I managed to fulfil that promise. I was celebrating my moment. Because now my life is only moments; whether big or small, it doesn't matter. Tomorrow seems so far away in comparison with the present moment, and that is so liberating.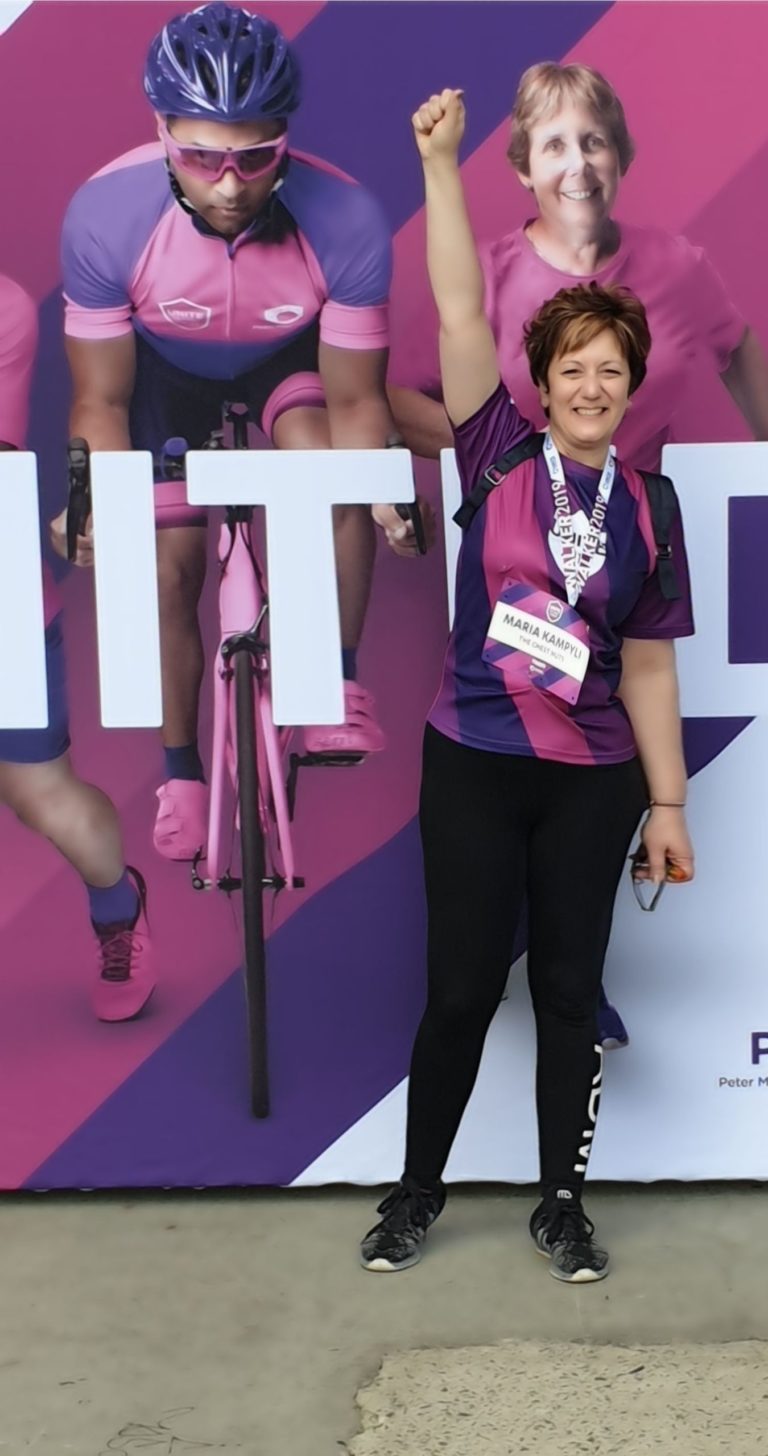 * Translated by Alex Economou and Anastasia Tsirtsakis.