"The last 10 years have been a nightmare for me," says director Alex Proyas.
Two major movies have fallen over: Dracula, based on the historical figure of Voivode of Wallachia, which Proyas says he "could not get the budget to make work," and an ambitious project based on John Milton's epic poem 'Paradise Lost'.
"Paradise Lost was the real disaster for me. We were in full prep for 18 months, we had designed everything, we cast it, we were four weeks from shooting and Warners had spent $25 million on it, and at that stage we had all this special equipment built, but they pulled the plug on us."
The son of Greek-Egyptian migrants, he arrived in Australia with his family when he was three. By the mid-90s Proyas had garnered a reputation as a master of dark science fiction and fantasy genre.
His noir superhero thriller The Crow, in which lead actor Brandon Lee, son of Bruce, died after a tragic stage-gun incident, and the dystopian Dark City, with Kiefer Sutherland and Jennifer Connelly, are considered by many to be iconoclastic fantasy and science fiction films.
The Matrix, which hit screens after Dark City, owes much to it. But Proyas' last critical and box office success came in 2004, with his adaptation of Isaac Asimov's short story I, Robot, starring Will Smith.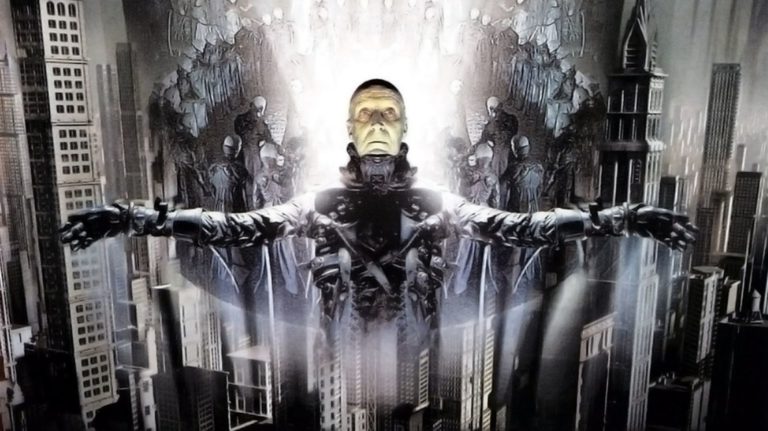 He is currently working on a new Australian sci-fi film, The New Country. Despite the Paradise Lost disaster he rejects the notion that he is coming out of a hiatus.
"People do not realise that I am working hard, harder than before," he says, before conceding that "maybe it's an imposed hiatus."
The New Country has Guy Pearce in the lead role and is loosely inspired by Proyas' own life story. A man travels back in time to team with his younger self to save his mother from dying. Can he save his mother? Should he?
"I tailored the era to Guy Pearce's age so the child is in the mid 80s, even though my childhood was in the 70s, but the 80s work for me as well," he says.
Proyas grew up in a housing estate in Waterloo, Sydney where the main tenants were immigrants, like him, and Indigenous Australians. "We encountered racism and conflict with the Anglo Australians and I reflect on that in The New Country."
READ MORE: Proyas' film shoot set for Australia
He has been asked by American financiers to base the story in America but won't consider it. "I would need to change it culturally. This is about the Australia of that time and I am seeking authenticity."
Proyas says he was "seduced" into making Gods of Egypt in 2016, which turned out to be a critical and box office failure. "After the collapse of Paradise Lost it was like being seduced by someone new after a bad break up. I embraced it, and I needed to work."
He was blindsided by the reaction to the movie, which he says was killed by "American identity politics, even though it did well in China, where they do not give a shit about that stuff.
"We faced the rage of many African Americans, who consequently were not asking for more Arab, or Semitic, or Mediterranean people."
The greatest irony for Proyas is that his own heritage is Egyptian. "I am Egyptian-Greek. I was born there, my mother's family migrated to Egypt from Cyprus, but my father's ancestry extends all the way to the Egypt of Antiquity, and Egypt traded and lived side-by-side with Greeks, Phoenicians, Jews and all the people of the Aegean," he laughs.
Proyas is hoping to secure the budget to make A New Country for the big screen, but "a lot of films that are conceptually challenging end up on the TV screen. [They] have a few weeks on a cinema screen before they end up on Netflix.
"Hollywood has become a complete disaster, as the big screen is mauled by the Internet and streaming networks."
As a child Proyas fell in love with the experience of sitting in a dark movie theatre and watching films with other people. It as a communal experience for him and ignited his passion to make "science fiction and fantasy, genres that needed money to make them well.
"It's a horrible irony for me that I am living in a time when the genre of science fiction and fantasy is embraced but the studios in Hollywood have decided that original storytelling is not for them.
"Hollywood is now only interested in franchises, or remakes. If it's a superhero movie that's ok."
READ MORE: Gods Of Egypt trailer sparks backlash
He has rejected offers to make one of those franchise superhero movies. "Imagining something, writing a story, and then [getting] to see this world you have imagined created on set is a real thrill for me," he says.
"Hollywood has fragmented. It's big franchises, and everything else is in the lower price bracket. Sure there are exceptions like 1917 now, but original stories with a big budgets are rare."
He seems to have accepted a harsh new reality. Post-GFC risk aversion has coincided with streaming and high cost of movie tickets, which he says has destroyed big budget originals.
"If a family is not committed to a film they won't spend over $80 to see any film, so they wait to see new releases on Netflix."
His assessment of the Australian film industry is equally grim. "We have to go with our cap in hand to the states or look for money outside."
The Australian film industry is "totally independent" he says, given the absence of a studio system. "In America at least, some independent films bubble up and are picked up by studios to become minor-majors."
He argues the independent film industry is being "slaughtered globally" as distributors and exhibitors baulk at showing independent movies. "For every Parasite that succeeds in Hollywood there are a multitude of films that will never see the light of day and that's the world the Australian film industry lives in."
Our "identity crisis" is another issue for him. "I wanted to make genre films but was told to 'explore our Australian identity', well I am an Australian, and a Greek Australian born in Egypt, everything I do is part of the Australian identity."
Australian filmmakers like Peter Weir and George (Milliotis) Miller who, like him, made genre films, defined the height of Australia cinema in the 70s and 80s.
"Weir with Cars that Ate Paris, and The Last Wave, Miller with Mad Max, and maybe my Dark City changed the way Australians regard genre films, and these films have stood the test of time."
Proyas never grew up thinking he was Australian, Egyptian or Greek. He considers himself first and foremost "an individual."
"My best friends were a Palestinian and a Spaniard; I hung out with children of migrants like me, and Indigenous Australians in the housing estate. We had no cultural clarity but that did not worry me. I read science fiction, I discovered American movies and movies from around the world. I had no need to define myself."
READ MORE: Uncaged: Marco Kyris' crazy life as Nicolas Cage's stand-in for 20 films
Along with a Hollywood system focused on cookie-cutter superhero films and remakes, Proyas is alarmed about 'trigger warnings' and what he sees as the new fear of offending. "It has become an epidemic" he says, while recognising that people are beginning to "speak out against it.
"This stuff happens in waves throughout history, it will swing back to the middle. Maybe new Punks may arrive on the scene soon and clean it up… I hope."