"What's in a name? That which we call a rose
By any other name would smell as sweet"
William Shakespeare,"Romeo and Juliet".
Shakespeare and Juliet were wrong. A name is not just a name and not any old name will do: at least that's the case when you are Greek Orthodox.
Last Saturday, priests across Australia's 121 Greek Orthodox churches honoured the faith's dead by reading out thousands of Greek names  to mark the Saturday of Souls.
In full and without substitute, Greek names that are religiously important and share saints's names, like Eleni, Despina, Vasilios and Konstandinos, were recited many times.
So, too  were more obscure names and names without name-days.
How do you like the names Romantiki, Evterpi, Dimokratia and Therapon?
These, and many others, were read out at Victoria's oldest purpose-built Greek church, Evangelismos, in East Melbourne, last Saturday.
Archimandrite, the Very Reverend Father Kosmas Damianidis, of the Holy Church of the Annunciation of our Lady (Evangelismos), said to me after the service that all Greek names were important.
"We should strive to become saints ourselves, " Father Kosmas said.
"So the name does become commemorated and celebrated."
Father Kosmas said there was no issue in the early church with names that did not have name-days.
He said the Sunday of All Saints, on 14 June, existed to accommodate names without correspending saints.
Father Kosmas said  it was important for subsequent generations of Greeks to use Greek names, even the unusual ones.
Doing so provided a link to the church and to a cultural tradition. That tradition in turn provided a connection between the younger generations and the elders, he said.
READ MORE: Legal saga over mispronunciation of Greek name Kyriazis as… "Mr Crazy"!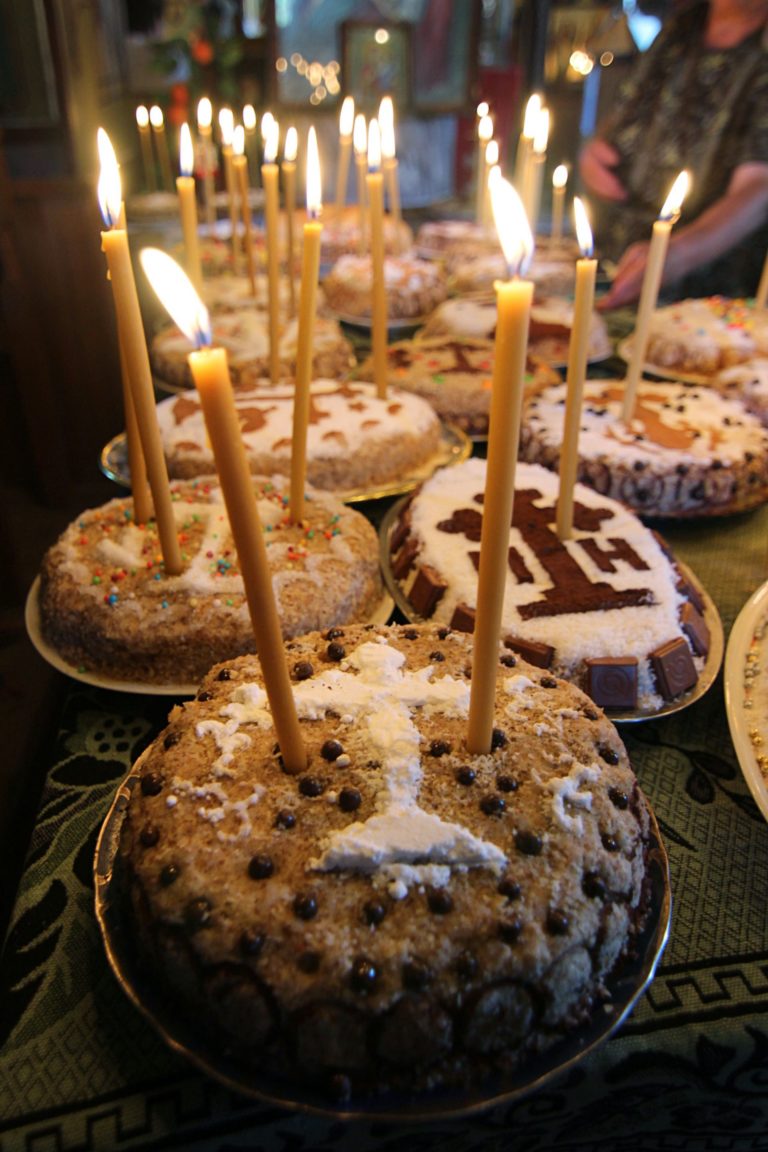 Last Saturday, 7 March, was the first Saturday of Lent and the commemoration of the miracle of Kollyva (boiled wheat) wrought by Saint Theodore, the Tyro.
In the two Saturdays before Lent and the first Saturday  of Lent, the church celebrates liturgies that commemorate the dead with lists of  names brought to church along with boiled wheat (kollyva).
It is said, 50 years after the death of Saint Theodore, the emperor Julian the Apostate, wanted to defeat the Christians. He commanded that on the first week of Lent, blood be sprinkled on  all the food in the marketplace.
Saint Theodore appeared in an archbishop's dream who told him to tell all Christians not to buy from the marketplace by eat cooked wheat with honey instead.
Father Kosmas said because of this, St Theodore was important.
READ MORE: Religious cuisine and the supernatural at kolyva-making workshop in Altona
"He helped prevent the faithful from starvation," he said.
At last Saturday's service, you could hear a pin drop  as Father Kosmas read out the hundreds of names of the dead.
He read out the common Greek female names named after saints like Panagiota, Georgia, Vasiliki,  Anastasia, Theodora, Stavroula and Maria.
There were  also the common male names: Dimitrios, Christos, Ioannis, Pavlos, Andreas and Nicholaos.
There were the ancient Greek names of Sokratis, Aristoteleos, Euripidis, Sophocleos and Achilleas.
But interspersed among all these names were other gems.
Names like Kanellis, Triantafillia, Elektra, Nikiforos, Aspasia, Lambrini, Dorothea, Margeta, Levkadios, Haido, Gerasimos, Grammatiki, Olympia, Vaia, Zographia, Venitia, Therapou, Aristodimos and Paraskos.
Greek names are historically and religiously important.
The church does it's duty. It honours, remembers  and commemorates Greek names.  It reads them out in full on the First Day of Lent. It consecrates an infant's name when it baptises the infant into the faith. It observes name days, including having an All Saints Day for those who are not named after saints.
We have a duty to our Greek names, too. We need to preserve and honour our own  names and names like Kerasimos, Akrivi and Dialecti. After all, a  Greek name is not just a Greek name and not any old substitute name will do.
READ MORE: Top 10 Things to know about Lent
In the name of Jesus
A third of humanity is set to remember one of the world's most famous names in a few weeks.
Jesus Christ's name is instantly identifiable. It has no substitute. It is a name so special that only one being has ever been known by it.
Christians of all denominations are preparing to commemorate the death of Jesus Christ 2020 years ago and his resurrection,with Easter.
Greek Orthodox Good Friday is on 17 April and Sunday 19 April, is Easter.
The Very Reverend, Father Kosmas Damianidis, of the Holy Church of Annunciation of our Lady, in East Melbourne, told me after last Saturday's service that he wished everybody a happy Easter and invited Greek Orthodox Christians to attend church.
" Kalo Pascha", he said.
"All welcome, as you are."