When photographer David Krasnostein AM first put together his book 'A Resilient Spirit: Greek Life During the Lost Decade', it was supposed to be the study of Greek resilience in the face of the economic crisis. And the official launch on 1 April was supposed to be a celebration of better years ahead.
Instead, a global pandemic swept the world with social distancing prohibiting gatherings but also making the message of resilience outlined in faces of the subjects in the book even more poignant.
When Neos Kosmos spoke to the former financial CEO/strategic corporate planner/philhellene/philanthropist/photographer, the coronavirus crisis was just brewing over the horizon and much of the conversation centred around the 'lost decade' filled with calamities for Greece.
"Americans use an expression in business, 'you don't want to waste a good crisis'," Mr Krasnostein said, unaware that within a few days coronavirus would result in the cancellation of his book launch and an end to life as we know it, thus making his words all-the-more prophetic and resilience all the more necessary.
"In a crisis, you challenge the status quo, and in a big crisis you get to rethink everything. It is a huge opportunity that doesn't come often. And though Greece suffered through an economic crisis in a lost decade, it also gained a lot.
"If you were (former Australian Prime Minister) Keating, you would say it was the crisis they needed to have."
As a Lefkadian property owner, Mr Krasnostein visits Greece regularly with his Greek Australian wife and understands the intricacies of the workings in the country. So when asked whether the subjects in his book were the 'innocents', he sheepishly said, "it's complicated".
READ MORE: Greek shipping pride and maritime tradition, and how shipping noted an 800 per cent boost during debt crisis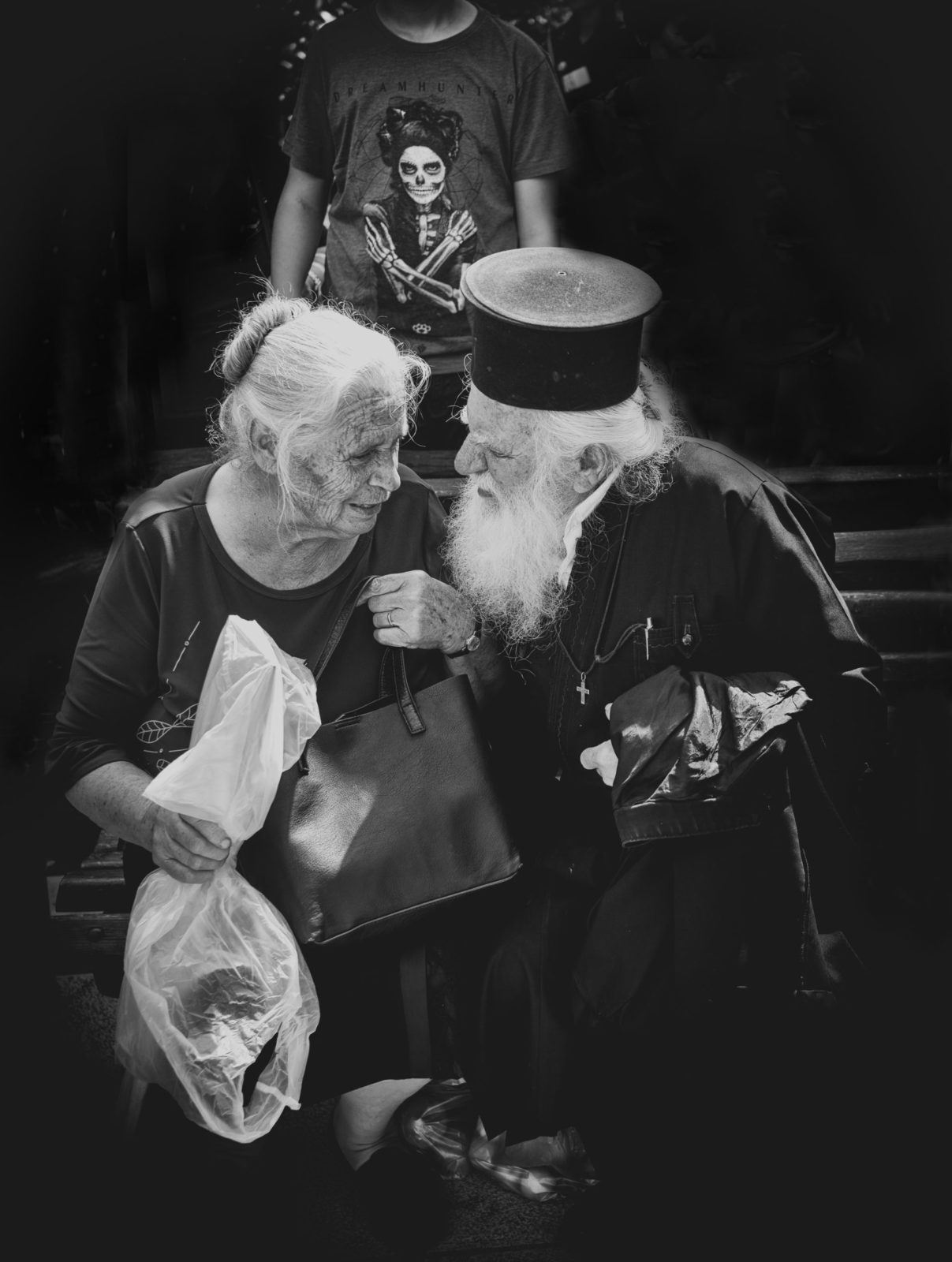 "In a small country of 11 million people, everyone knows what is going on. There are no secrets," he said. "So everyone benefited (from the corruption) to some extent, I think. Everyone also suffered when it had to be corrected, and because it went so far off-centre it was painful to get back. Did everyone suffer in the same proportion that they benefited? I don't know that's the case."
Mr Krasnostein sees a silver lining: "The good news is, I think Greeks understand now that managing the economy properly really matters, and the government they've got now is completely different."
Random resilience
The crash test for this, of course, has been the global pandemic at the back of the economic crisis that has meant that, rather than rewards, Greeks are back to showcasing their 'resilience'. But they'll get through if the photos captured through the lens of Mr Krasnostein are to be believed though he admits that he did not aim to capture the resistance, resilience and rebelliousness in the faces of random subjects snapped at sites around Greece during the country's debt crisis.
"I laid the photographs all out and looked at them and was struck by the expression on their faces," he said.
"I looked at photos of photojournalist Dorothea Lange and the Dust Bowl of America in the 30s, and saw faces of people who had lost everything showing despair, such as the iconic image of Florence Thompson, a mother with her two children outside a factory. And though the economic contraction of Greece was worse than the Dust Bowl and only a few per cent better than the economic conditions of Germany after the war, the Greek faces were not of hopelessness, and the photos did not look like depression era photos."
READ MORE: 1950's Mykonos through Robert McCabe's lens
The photos were random, but Mr Krasnostein wondered if there was some sort of "selective bias" so to keep a fair balanced view, he went back two years in a row to areas he would normally never visit, such as gritty Exarhia, and found that the expressions of the people were still the same.
And though Mr Krasnostein does not claim to capture every aspect of Greece during the economic crisis in his photo journal, he does show the overriding resilience that has marked Greek history and has his own theories as to its source.
"I think it's because of – number one – their history," he said.
"Greeks are no strangers to hardship going back to the Persians, Roman conquests, Ottoman rule, Nazi Occupation, bitter civil war and so forth," he said.
"Greeks are very aware of their history. They've been through a lot of suffering and I think a culture learns how to deal with it and survive.
"And number two –  they have big strong families which support each other.
"Number three, there's the religion. Whether Greeks are spiritually observant or whether they just follow the customs doesn't matter because it pulls the community together and is coherent. I think these three things distinguish Greek culture and helps Greeks pull through."
Mr Krasnostein loves the sunlight of Greece which he describes as "magic" though, like the people themselves, is difficult to harness.
"Despite the amazing blues and colours of Greece, I chose to process my photos in black and white when I put together this body of work. I looked at the faces and for some reason wanted to feature them in black and white. Some of the photos are like those of your childhood. They're from the past decade but the scenes could be any decade from Greece's history, unchanged, from the Greek fisherman to the widow on her way to church," he said.
Indeed, they are of the last decade but they could belong to any time… they are much like the faces of Greeks today, straight out of debt and battling two fronts with a refugee crisis and Covid-19 but who soldier on, knowing that this too will pass, and take to their balconies to sing national anthems, grit their teeth, and ready for their next challenge – and there's always one brewing if your a little country with a rich history in the Balkans.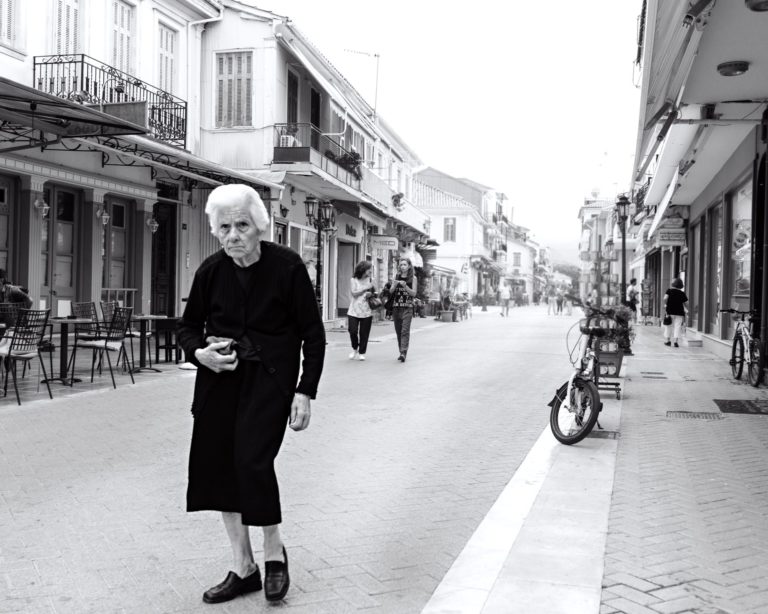 'A Resilient Spirit – Greek Life During the Lost Decade' is available at the Hellenic Museum (280 Williams Street, Melbourne). Call (03) 8615 9016.
About David Krasnostein
The first time I held a camera… I was probably 10 years old. I was fascinated from the very beginning that film could magically produce such wonderful images of the world around me and preserve precious moments in time.
My love of Greece began when… my then Greek girlfriend (now my wife of 14 years) took me to visit her family island of Lefkada. I thought then, and I still believe it's true, that this is as close to heaven as a person can get without having to die to see what it really looks like! I loved everything about it – the food – the people – the light – and goes with out saying – the beauty of the island and the sea."
Something the world can learn from Greeks is… that life isn't all about work. A life well lived balances time with family, friends, fun and work with a focus on community and being there for others. Our Greek friends on the island say we in Australia live to work, while they work to live. Since Socrates the Greeks have been thinking about the philosophy of what makes a good life. I think they got it right!
When I hanker  for a sip of Greece, I drink… When I get off the plane in Greece, I have an immediate urge to drink ouzo. That thought never crosses my mind at home in Australia. Every night in Greece at 6pm is ouzo time for me!
When I miss Greece, I head to… my photos – the sunsets over the Ionian Sea from our balcony in Sivota Bay on Lefkada and photos of our friends and family who we have spent time with together in Greece. It restores my sense of peace with the world.
My favourite photo in the book… if I had to pick one it would be the photo of the cover, taken in Lefkas town. If you're looking for a face of grim determination that's the one. It's like she is saying, 'This is one crisis, we've seen many crises. We saw the Persians. We saw the Ottomans. We saw the Nazis. We saw the generals.'"
David Krasnostein was former CEO of MLC Private Equity, Australia's oldest and largest private equity investor with over $4billion of assets globally. He was former Chief General Counsel of National Australia Bank, Telstra's first General Counsel and Head of Strategic and Corporate Planning, and a Partner of Sidley Austin in Washington DC. David is an adviser to the Federal Government on the International Legal Services Advisory Committee, Chairman of Melbourne University Advisory Board for Masters in Banking and Financial Services Law, and Chairman-elect of Global Reconciliation. David has law degrees from the Universities of WA and Virginia, and attended the International Executive Program at INSEAD.