Grandparents have been especially affected by the COVID-19 restrictions. Unable to see their grandchildren and having spent Easter and Mother's Day keeping a distance has been particularly strenuous.
Neos Kosmos reached out to some grandparents to see how they were faring.
Cameras can't replace hugs
Roma Siachou is known to the community for her efforts in keeping alive the memory of the Pontian Genocide. When she isn't campaigning, she is a proud mother of two and grandmother of three angels, aged 13, 10 and one. She told Neos Kosmos that isolation has "come at a high price".
"Before coronavirus we had regular contact with the children and granchildren and I really don't feel psychologically well with this situation," Ms Siachou said, adding that she never believed that she would be celebrating her grand-daughter's first birthday via the internet.
For two months, she has seen her children "via a lifeless camera" and she looks forward to touching her grandchildren. "This sense of touch cannot be replaced with a camera or by telephone contact," she said. "'Contact' is what matters."
She has managed to cope with lockdown by focusing on other matters. Even the easing of restrictions did not help the situation. "I went at some point last week when visits were allowed, but I didn't hug the children. I avoided it. They came to hug me but I pulled back," she said, adding that we still need to be very careful.
READ MORE: Mati vs Malice: The secret power of the evil eye undone by yiayia
It is very difficult
The daily life of Irene and Lukas Christou until recently was filled with family moments with their children and grandchildren, and for this reason it was very difficult for them to deal with the new state of affairs caused by the pandemic.
"We always had the children with us in the past, we would take them to school, bring them back, watch them, make them lunch," Mrs Christou told Neos Kosmos. "Once a week, all the children would gather so that we could eat, and that suddenly stopped."
"In the first one-two weeks this carried a huge toll but afterwards I started cooking and told the children to come one by one to pick up the food. From a distance, without kisses, without hugs. I knew that I had to make the decision because at first I cried because I was unable to hug my children."
In the last two months, both she and her husband have been restricted to communicating via the camera and having some contact from a distance when the children came to bring them something.
"Now, we've become experts on the internet," Mrs Christou jokes, adding that she has also communicated with her sisters in Cyprus who are also dealing with the same situation. It is hard, very hard, especially when you are so near to your children and grandchildren as we are," Mr Christou said.
"The youngest ones wonder why they can't hug yiayia," Mrs Christou said.
"One day my daughter brought them so that I could see them from afar. They got out of the car and started to run to me. Their mother screamed at them and they stood like statues. What can you say so they can understand?"
"I am afraid. Not for me, but for the children and our grandchildren. It is as lethal as they say and this scares me. Now I am worried because my children have returned to work and the little ones will start school in a few days."
The couple go shopping for basic items, and they go for walks when the weather is right.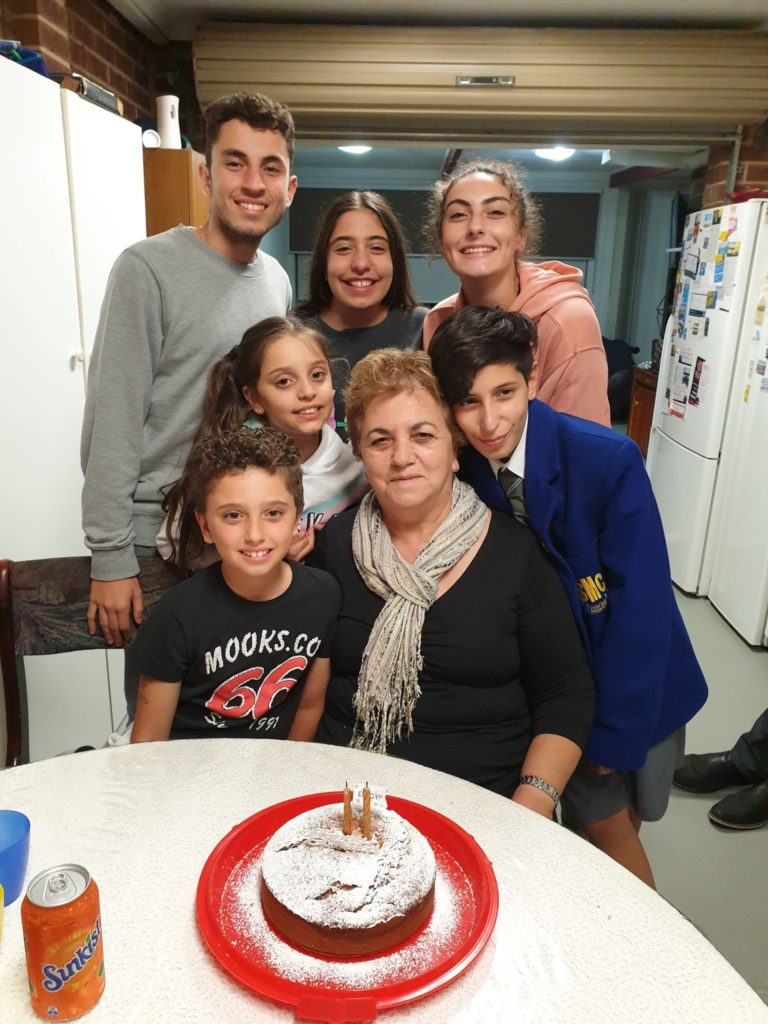 READ MORE: Parents in trouble: 'Just wait until Pappou and Yiayia hear about this!'
Never again away from my grandkids
Maria Paximada has three children and seven grandchildren, who she would see on a daily basis. With lockdown, she has had to make do with telephone and Skype communication.
"When you are used to seeing them on a daily basis, it is very difficult. Before the pandemic, when we didn't see them for a day the house felt empty, so you can imagine how things are now," Mrs Paximada told Neos Kosmos.
To bide the time away from her grandchildren, Mrs Paximada has spent her time cooking. The easing of restrictions has meant that they are able to now see them more which gives Mrs Paximada and her husband, Con Paximada, great joy.
"On Saturday, they came by and it was a celebration for us. When you see the door open and they say 'yiayia', 'pappou', it is like a sweet melody. When they left, my husband said, 'the house is empty again, Maria'," Mrs Paximada said.
"I am not afraid to get near my grandchilren. I say that if it is time for me to catch it, then better to catch it from them than to keep a distance now that I am finally able to see them," she said, adding that she still avoids crowded areas, and keeps a distance when outside.
READ MORE: 10 DIY ideas to re-purpose your yiayia's doilies
There is much we need to catch up on
Eleni Voidis granddaughter was born on Christmas 2019, and she has only seen her three times. The last time was on Sunday, 8 March 2020. Now, little Alissa is almost five months old and her grandmother only sees her in photographs and via video calls.
This is not the way Mrs Voidis had imagined her time with her precious grandchild.
"She won't recognise me and she will definitely cry when I hold her. I missed her first smile, her first rollover, her first experience with food, and there is a lot to catch up on," Mrs Voidis told Neos Kosmos.
Kaidan, Alissa's older brother, loves his Greek yiayia. He is aged 3 and speaks perfect Vietnamese and is lucky enough to live with his Vietnamese grandparents.
The first visit which Kaidan paid to his grandmother after two months was a huge moment for both of them.
"He refused to go home with his parents and he cried when they came to get him. He remembers me and tells me that he loves me and that for me is a sheer blessing. In video calls, he makes us laugh and demands that his mother invite a taxi so that he can go to his yiayia."
Mrs Voidis says that the moments we are living through are "very hard" and she hopes that we will be able to "make up for all the lost time with our loved ones."