On Monday, Australia's COVID-19 vaccine rollout officially began with Prime Minister Scott Morrison receiving one of the first Pfizer BioNTech jabs the day prior.
According to the Australian Government's fact sheets, the vaccine is "voluntary and free and available to all people living in Australia".
The vaccine rollout is being administered in stages beginning with quarantine and border workers, aged care and disability care staff and residents and frontline health care worker subgroups.
There are still many questions that the general public have regarding the vaccine and whether or not they feel comfortable taking it.
Just this week two elderly patients in North Brisbane were administered five times above the recommended dosage prompting an investigation by the federal government.
The doctor has since been stood down from the rollout program, whilst Health Minister Greg Hunt had to make an correction in parliament earlier this week, saying the doctor had not in fact had the correct training despite saying that he had during question time.
READ MORE: Logistical issues raised in first week of vaccine roll out to aged care facilities
Registered Nurse working in aged care Toula Mykoniatis had tested positive for the coronavirus after an outbreak occurred at her work facility, but is in no rush to get the vaccine until she sees the evidence herself.
"I'm absolutely scared because there is no long-term study on the effects of this, there's no long-term study on COVID to begin with," she said.
Ms Mykoniatis also has a difficult time trusting the public health information out there due a bungle that occurred during her own time dealing with the coronavirus.
"I had the people who were supposed to be advising me what to do with my family stuff things up, there wasn't clear cut information why my husband had to isolate with the kids and extra 14 days," she explained.
Despite quarantining for 14 days as per public health regulations, Ms Mykoniatis alleges they were told her husband and two young children would have to self-isolate for a further two weeks even though the whole family had not tested positive and had quarantined all together.
"They cleared me, so the one that had COVID-19 got cleared and the ones that never got it had to serve another two weeks 'just in case', although they were still with me," Ms Mykoniatis said.
The Registered Nurse also alleges that a DHHS employee had said that her husband's negative COVID test could have been a result of "something he ate" and has since been weary of the information she has been given.
READ MORE: More vaccine arrives as Victoria records no new cases of coronavirus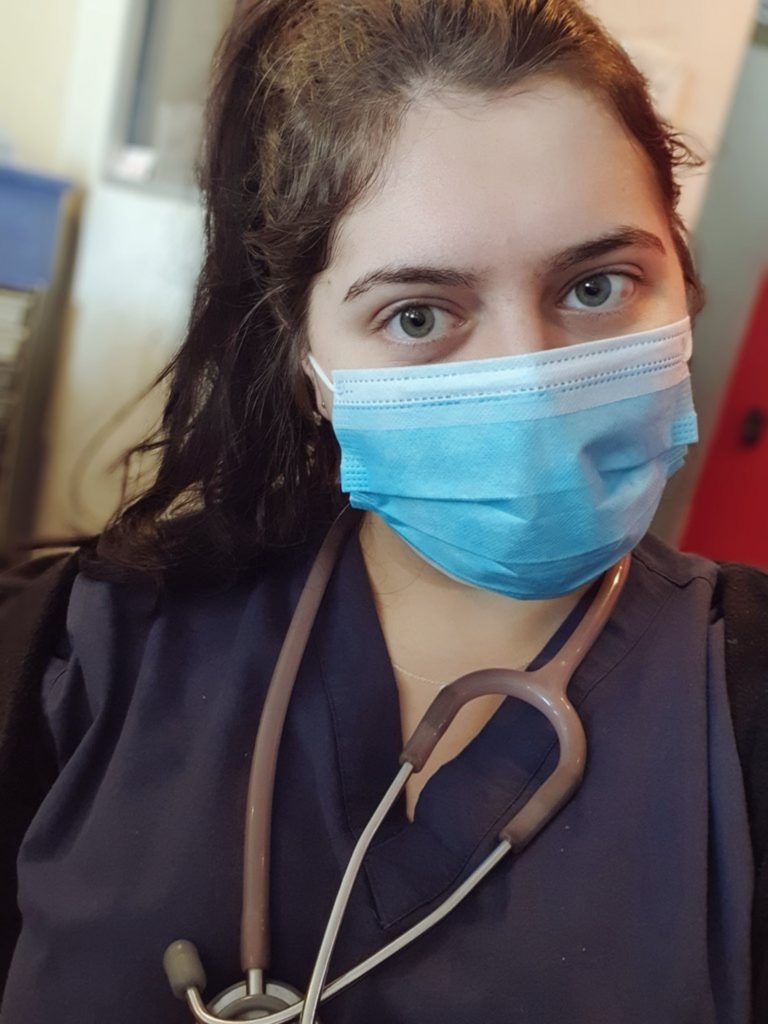 Registered Nurse Stephanie Dimitriou deals largely with an elderly demographic too and will be getting vaccinated as soon as it becomes available to her.
"I trust them [the Government]. I just don't think they would do anything to harm the public and they've got the information from all the scientists, health experts and epidemiologists," she said.
Ms Dimitriou relies on work emails, the Nursing and Midwifery Board of Australia and peer reviewed articles for her health information.
As the general public does not often get access to facility specific information, the young nurse understands why many people are adamant to jump in line for the jab.
READ MORE: Overseas travel may be possible this year with COVID-19 vaccine rollout
General practitioner and Royal Australian College of General Practitioners (RACGP) Fellow Doctor Magdalena Simonis does not believe the public should be concerned about how quickly the vaccine has come about due to the collaborative effort of the international research community.
"The key players in the scientific world have shared information on their vaccine strategy and trials, which is a world-first for this type of collaboration. It's like the international scientific community said: 'You take this route, we'll take this one and let's see what we each arrive at. Then each one of us can take it to our national leaders to decide which vaccine to purchase and/or manufacture in bulk'," she said.
Dr Simonis points out that by the time the rollout reaches the later stages of the roll out, Australia will have most likely switched over to the AstraZeneca vaccine.
"The decision has already been made, as there is a limited supply of the Pfizer. It's been limited to the high risk category…GP's are not considered in that high risk group as we don't have much in the way of community spread," she said.
The RACGP Fellow notes that around 70 percent of the population would need to get the vaccine before effectiveness can be felt, but it took "close to 20 years" before the flu vaccination hit those numbers.
Above all, Dr Simonis urges those who are unsure and would like to quell their concerns, to go and have a chat with their family GP.
"See your GP, have the conversation, have your Q and A's ready, your GP's will have some resources to help you find the answers and if they don't, they will make a commitment to look those answers up for you," she said.