"The day we found out our son had cancer, our lives changed forever," Nelly Theodoridou, Alex's mum, told Neos Kosmos.
"Our beautiful Alex was a cheeky little boy whose aim in life was to make everyone laugh. He was a natural-born comedian with the ability to put a smile on anyone's face."
Those are the words of Alex's mum, a 43-year-old teacher, who six years ago had the life of her family turned upside down when her three-year-old son was diagnosed with a rare form of cancer.
The nightmare for the family of five started back in September 2014 when, after a month of suffering from a mysterious illness which was diagnosed by most GPs as some type of undetected virus, Alex was rushed to The Women's and Children's hospital in Adelaide with symptoms of severe vomiting, dizziness, lethargy and stumbling.
After a series of tests, the doctors discovered fluid around Alex's brain, causing intra-cranial pressure, and the little boy had to undergo emergency surgery to alleviate the symptoms.
The surgery saved Alex's life, but the worst was yet to come.
Following a biopsy and an agonising 10-day wait, Alex's results came through, and every parent's worst nightmare was realised.
READ MORE: Greek speakers wanted for paid cancer research survey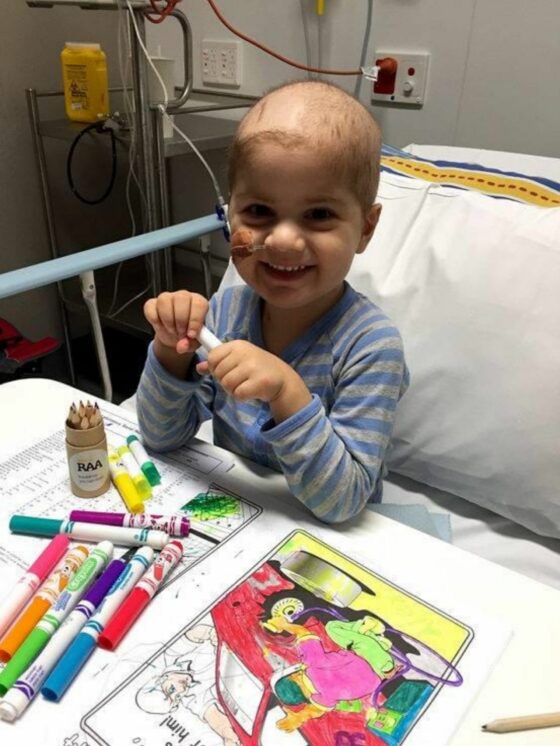 The Diagnosis
The three-year-old boy was diagnosed with Medulloblastoma, a rare and highly aggressive type of brain cancer.
Ms Theodoridou said that from that day onwards Alex's life and that of the family changed forever.
Following the devastating diagnosis the little boy endured multiple brain surgeries, each of which carried a high risk of complications.
At the same time, Alex underwent a grueling regime of high-dose chemotherapy.
The stress on his parents and siblings, who spent weeks by his side in intensive care, were immense but with love and support from his family, the brave young man managed to pull through.
"Every parent knows deep down when something is not right with their child but nothing and nobody can ever prepare a family for the worst," Ms Theodoridou said, adding that she will never forget the day that she and her husband received the news that Alex's condition was incurable.
The little boy was given approximately 2 to 3 months to live before he would succumb to his disease.
During the last few months Alex was able to enjoy some time away from treatment and live a 'normal' life.
Together with his family he went to the circus, played at the beach and enjoyed time with his siblings, making as many precious memories as possible in such short time.
READ MORE: Revolutionary CAR T-cell therapy for cancer patients available in Greece
His parents tried to stay strong and give strength and courage to their little boy.
"It was just a devastating time in our lives. As a parent, how does one find the words to explain to a little child the unexplainable? How do you tell a three-year-old that what they are going through is not of any fault of their own and that the doctors and nurses are only there to make them feel better? How do you explain pain and suffering to an innocent little soul who looks at you confused and scared and can't even comprehend or process what is really happening to them and their little bodies? All we could do is be there for him, show strength and courage and shower him with as much love as possible," Ms Theodoridou who describes her experience at the hospital as surreal.
"In all honesty looking back now I feel like there are two different worlds that exist within our world. The outside world that most people live in when things are ok, and the "hospital" world that we as a family and every other parent who has had a terminally sick child experience on a 24/7 basis. A surreal world in the pediatric cancer ward, where you see sick, pale children all hooked up to cords and monitoring machines. A world where nothing else is relevant and nothing else matters."
Following a 12-month battle with cancer, Alex passed away peacefully in his home with his parents by his side, three months after celebrating his fourth birthday.
The little boy deteriorated rapidly following Christmas Day. He lost his appetite for food and play and joined forces with the rest of God's army of angels on October 24 2015.
The Lesson
Ms Theodoridou said that throughout the most difficult time in her life, she was blessed to have the support of her husband and Alex's grandparents who helped the family stay strong and positive.
"Our two older children were amazing and showered their little brother with love and affection when he needed it the most. It wasn't easy for them to see their brother suffer and it is true what they say that when one person in a family suffers, everyone suffers with them. When it was all over and we said goodbye to our little boy, the guilt of having neglected my other two children started creeping in," Ms Theodoridou said, adding that despite the sadness and countless moments of feeling lost and helpless, she kept reminding herself that she needed to stay strong for her little boy and for her two older children.
"I wanted to show my kids that, no matter what life throws at us, we need to stand tall, fight and never give up. It was not easy to do as the nightmare of seeing your child suffer doesn't compare with any other pain anyone could ever experience; it is a pain that never leaves you, nevertheless this tragedy taught us all that life is unpredictable, that we are all vulnerable, and that children are the strongest, most resilient, and courageous souls even when they are facing death," she said.
The lemon tree
On Friday, 16 July, Alex's family held the Lemon Tree inaugural event in memory of their late son, and in honour of the Childhood Cancer Association who help so many children and their families affected by childhood cancer.
They named the evening "The Lemon Tree Dinner Dance", remembering the lemon tree Alex planted at home a couple of weeks before he left this world.
READ MORE: "My mother is dying in Greece and I can't be there for her"
"I remember one night when Alex was home with us, and he was playing around in my office. I was sitting next to him, holding one of his photos in my hands, thinking that one day when he is gone, this photo would be the only thing left of him so that's when we decided to plant a lemon tree with him at our home which would then grow to be a beautiful memory of our son," Chris Andonas, Alex's father, told Neos Kosmos.
On the night of the Lemon Tree event, two brave young ladies, Alex's older sister Antonia Andonas and her friend Paras Siasios, were amongst many attendees that had their hair cut, to be donated for the purpose of making wigs for chemotherapy patients who lose their hair during treatment.
"We are forever grateful to everyone that attended the event and the people of the Port Adelaide Community who worked hard to help us make our dream come true. Together we raised $35,000 which we will donate back to the Childhood Cancer Association," Ms Theodoridou concluded.
The Childhood Cancer Association provides ongoing and practical hands-on support for hundreds of children with cancer, and their families.
Donations in memory of little Alex Andonas can be made to the account below.
BSB 065124 Account 10411856
https://ccasn.grassrootz.com/childhood-cancer-association-heroes/lemon-tree-dinner-dance?fbclid=IwAR0auOB5z0SBua-O4bkbyAeRjOhpvvxnY58Wcs5Mxl5eA8rxvoNnIjr7krw