At the age of 14, Stefanos Ntouskos passed the entrance of the Nautical Club of Ioannina for the first time.
His family home is only one kilometre away from the Club's facilities, but until that fateful day 10 years ago, the Olympic gold medalist, had nothing to do with the sport. He was more of a land athlete.
It was shortly after the start of the 2011 school year when members of the Nautical Club of Ioannina, had gone to Ntouskos' school and selected children who they believed would have a future in rowing.
"I went to try it and I really liked it. It was something completely different. That's how I started with coach Thomas Vardakas," Ntouskos told Neos Kosmos.
Nine years have passed from when he received his first gold medal at the 2012 Panhellenic Junior Championship in Athens, up until his most recent one at the Tokyo Olympics.
The accolades during this period were many but not without sacrifices made by himself and his family.
"I'd probably hit close to 5,000 kilometers a year [rowing], at least," Ntouskos explained, as if it were something completely normal.
This level of physical exertion is achieved with over 300 days of training a year (which includes not only pulling oars, but also weights, exercises, etc.), 8-10 hours a day, with discipline, persistence, perseverance and of course love for what you do.
READ MORE: Olympics: Greece gets its first gold!
THE DEPARTURES
The difficulties of training as an athlete in Greece have been brought into light since during the 2020 Tokyo Olympics. Ntouskos' challenges were not far off, having paddled despite the injuries, going forward with very little official support, but also the frequent changes of crews.
Rowing, despite collecting many distinctions at Pan-European, World and Olympic levels, is not a sponsor favourite in Greece.
As a result, many athletes, with medals in important competitions, leave before their strongest years, as there is the stress of professional rehabilitation.
In 2016, at the age of 19, Ntouskos participated in the Olympic Games in Rio. He was in the lightweight fours, along with Panagiotis Magdanis, Giannis Petrou and Spyros Giannaros, finishing in sixth place.
These athletes, despite being at an optimal age for rowing, with professional rehabilitation in mind, were forced to stop racing and dedicate themselves to their studies.
Panagiotis Magdanis, originally from Lemnos participated in two Olympics (London 2012, Rio 2016), at the age of 22 and 26.
He was a world and pan-European champion and at the age of 31 and could chase another distinction with the blue and whites in Tokyo.
In 2016 he decided that he would not go to the championship anymore, not because he could not stand the 300+ training sessions every year, but because he decided that it was time to see what else was out there.
"It was not an easy decision. I was thinking about it all year in 2016, despite being an Olympian who should have been even more dedicated to the preparation. I knew that at some point I had to look to my future," Magdanis told Neos Kosmos. 
"I was trying to figure our my next steps and what I would do when I finished. If I continued for another four years, I would be 30, so I would not have a degree, some kind of paper. I would start from scratch. That is why Spyros Giannaros, Giannis Petrou and I entered into study."
There is no love lost for the team's exit, after all, the athletes knew the real cost of training at the elite level in Greece.
"We received 2,000 – 4,000 euros a year from the Federation; we had no sponsors. The support we had was mainly from our families. If there was some help in the aftermath, I would like to continue," he said.
READ MORE: Miltiadis Tentoglou's Tokyo gold and the uncertainty of Greek sports in the future
TAKING ONE FOR THE TEAM
Ntouskos enrolled at the school of Medicine of Ioannina, but deferred his studies as he continued his journey to the championship.
"After Rio I had said to myself that I want to go to another Olympics and then study. I did not know what would happen in these four years – which became five in the end – until Tokyo," Ntouskos said.
Although he crew mates would no longer be around, the 24-year-old pushed on.
"I thought, you will take ahold of the competition yourself. It's impossible to take risks," he said.
Making it to Tokyo almost didn't come into fruition. Ntouskos hopes future young athlete will not have to choose between survival or competing in the sport they love.
"My family tried to support me as much as they could. But after a while they also saw that there was no response from anyone [officials] so they told me to finish up at these Olympics – so as not to leave it in the middle because we started it – and after that to go and dedicate myself to study so that I can have a job in the future," he said.
"I really like sports, I like what I do, I like rowing, but if there was nothing to support me I would stop and go to school to sort out my future. It is not possible to sacrifice your whole life and go out the next day and not have anything to eat. What should I do? Should I hang the medals and sell them later?"
READ MORE: Olympics: Eleftherios Petrounias adds a bronze to the Greek medal tally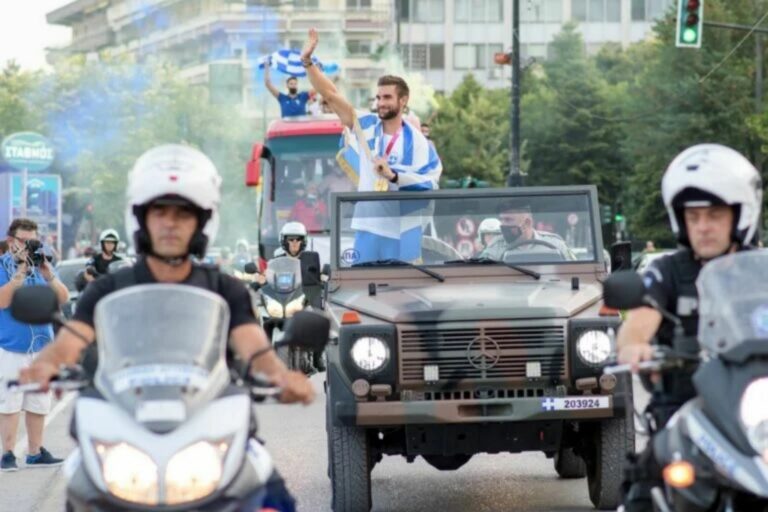 THE 'GAME' CHANGES
Ntouskos' gold medal may have opened some new doors, so we asked, "What's next?"
"You become an officer in the Air Force, Army or Navy," Ntouskos said, which essentially means professional security.
"And then," he added, "there will be sponsors."
In the lead up to Tokyo Ntouskos found it difficult to secure sponsorship to help with the costs of preparation and participation in competitions.
"The 'game' with this medal changes completely", stressed the Greek Olympian who can now be happily anxious only when he enters the boat to compete over the next three years or at least until the 2024 Paris Olympics.
READ MORE: Young taekwondo athlete Lucas Mamonitis takes out the Victorian state title
THE FUTURE OF ROWING IN GREECE
Ten years after Stefanos Ntouskos entered the Ioannina Nautical Club for the first time thousands of Greeks tuned in on July 30, at 9:45am (Tokyo time) to watch him compete in the single sculls final and win the gold medal.
"It is a medal for Greece, for all Greeks everywhere," he told Neos Kosmos.
His fellow citizens welcomed him home with open arms, showering him with their pride.
"What happened was unbelievable," Ntouskos said.
"I think I will motivate many children to start rowing," he continued, hoping that his success will finally push sponsors and officials to recognise the true work of Greece's athletes.