Rita Macarounas the coordinator of the Darwin section of the Keith and Florence Payne National Aboriginal Youth Art Prize, has launched Art Dot, a Northern Territory arts consultancy.
The catalyst was her curation of the 2020 Pandamonia exhibition of works by Territorian artists responding to COVID-19.
"Pandamonia was supported by Territorian politician Luke Gosling, and through that I was approached to coordinate the prize".
"The Paynes want to educate and open opportunities to First Nation children through creative pathways.
"Our goal is to mentor and inspire First Nations youth to follow career paths in the creative arts, design and architecture."
Indigenous art makers, Macarounas says, "have an extensive contemporary practise."
Macarounas' experience of racism, as a Greek Australian in 1970s Darwin was enough for her to commit to "building bridges" between First Nations people and others.
"All the name calling at school, the casual racism, heightened for me the need for inclusion, cultural acceptance through greater participation in the arts."
Prior to launching her own creative business Macarounas was director of the Northern Centre for Contemporary Art (NCCA).
"I have fond memories and made amazing relationships – I loved my time at the NCCA."
She felt that her creativity began to take a back-seat to management. It was time for her to reinvest in her art and select her own projects.
"As an artist, a consultant and curator, I will build on the skills I got from NCCA, I am excited for the future, and as a friend says, I have 'fire in the belly'."
Macarounas is loaded with Territorian grit and Greek pride.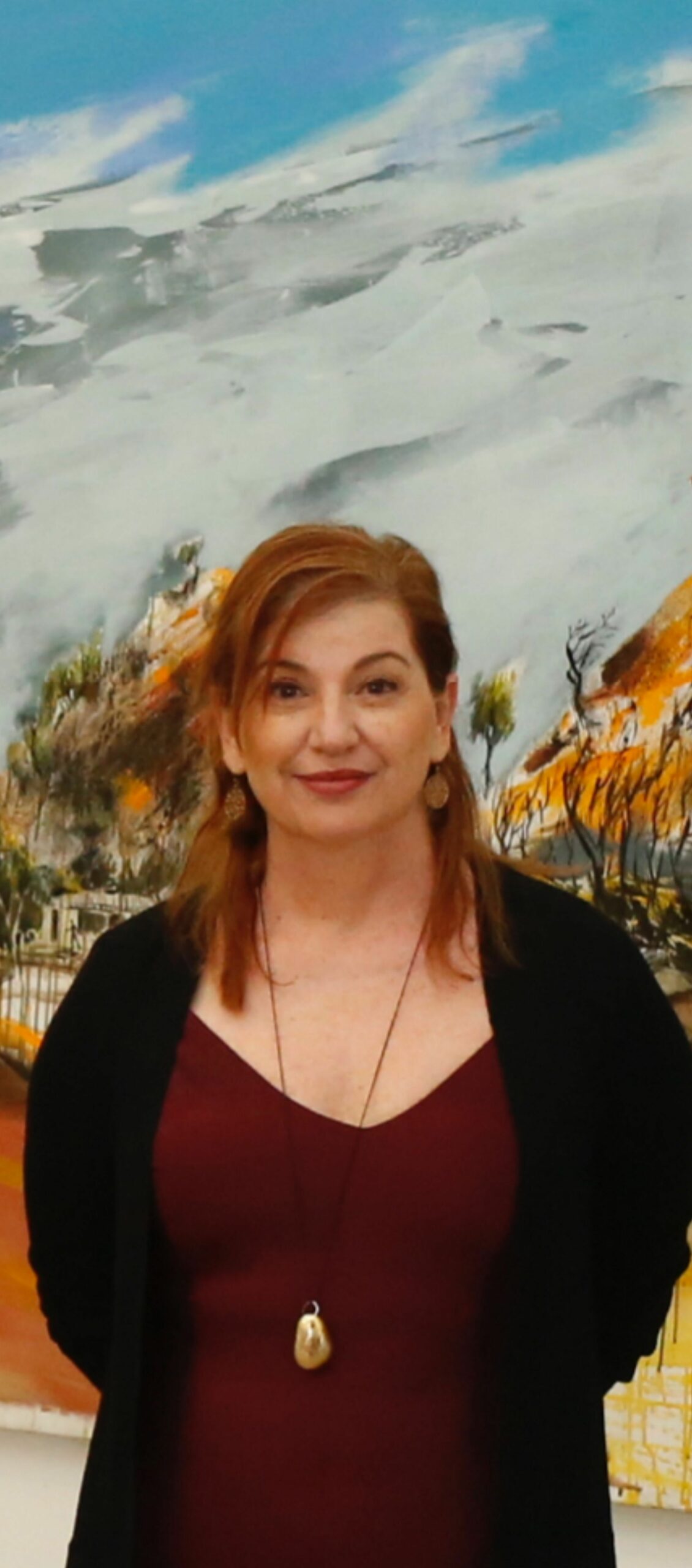 "My self-worth, the importance of family, and community, a strong work ethic and the desire to do my best were instilled in me by my parents."
Macarounas' parents took her and her siblings to Greece after Cyclone Tracy killed 71 people and devastated 80 per cent of Darwin on the early hours of Christmas day in 1975.
To survive in Greece as a Greek Australian required "shape shifting".
Macarounas' parents "showed surprising foresight" and sent her to a "progressive private school focused on culture and art.
"I came into contact with a different type of Greek culture than the one we knew in Darwin."
"The Parthenon, Byzantine churches… architecture and sculpture… lit my passion for the arts."
Her parents though could not settle so they returned with the family to the Northern Territory. This is a common story. Salman Rushdie once said he had three nations, England, Pakistan, and Migration. We know the nation of migration well.
Back in Darwin Macarounas completed Year 12 then entered art college at Charles Sturt University. She also studied and trained in Byzantine iconography.
Macarounas wants to continue "community engagement" through Art Dot and will focus on projects that appeal to her and reflect her values.
She recognises that it's a business, and as an artist she needs a creative outlet, and collaborations.
"I think there are many layers to myself, I cannot just sit in my studio churning out work."