Greek olive oils from new and established companies took home 78 awards out of the 736 oils, from 26 countries competing at the EVO International Olive Oil Contest (EVO IOOC) in Italy. Judged by 23 expert tasters from 11 countries, Greek extra virgin olive oils received 53 awards, while Greek flavored olive oils claimed 25 medals at this competition.
In the Best of Class category Terra Creta captured the Best of Greece distinction and a gold medal for Terra Creta Platinum 0.3 extra virgin olive oil (EVOO). Terra Creta Grand Cru Koroneiki EVOO and Terra Creta BIO Infusions olive oil with lemon won gold medals for a successful, well-established company that exports large quantities of extra virgin olive oil around the world.
Arising from the renowned, and healthy cuisine of the island of Crete, Terra Creta's extra virgin olive oil merges a long tradition of olive cultivation in Crete with the latest technological developments in olive cultivation and production. Working closely with teams of farmers, Terra Creta's agronomists train olive growers on sustainable farming practices that benefit the environment and the final product. The company's mottos, 'life in balance' and 'our strength', 'our people' reflect a philosophy focused on love of the land and people who work to make authentic products.
A younger company, ootopia, added to their list of prizes this year with three gold medals for their Organic Single Estate Iliokastro (Koroneiki variety), ootopia Manaki, and ootopia Blend Koroneiki & Manaki EVOOs. Thrasivoulos Anastasiadis attributes their success to "sustainable growing practices to support the environment and minimize our carbon footprint," as well as a team of people who are "passionate about olive oil, with proven professional track records."
With bases in Greece and Italy, ootopia cultivates Greek, Italian and Spanish olive varieties on their estate in the hills of Ermioni, Peloponnese. They plan to build their own olive mill in next year to "welcome our friends, further and deepen our knowledge of the earth and its treasures, and train a community of connoisseurs." Anastasiadis told Greek Liquid Gold, they are "so proud of our product but more so of our people, our dedication, our dream, our vision"
Laconiko, a company with olive groves in Peloponnese, captured an impressive four gold and five silve rmedals, including a gold for their extra virgin olive oil and three more for their flavored infused oils. The olives are grown in a sandy grove near the sea in Trinisa, Laconia in southeastern Peloponnese. Dino Pierrakos said, "Laconians are very proud people, like the ancient Spartans" who lived in the area long ago. "This mindset, along with our father's teachings of hard work, honesty, and dedication to the craft, is what drives the Laconiko family to always strive for excellence."
As Pierrakos informed Greek Liquid Gold, "none of our achievements would be possible without the support of our customers, who give us the courage to continue the hard work required to attain excellence; the amazing family of Jimmy Tsaconis, who help maintain the Laconiko olive groves when we are traveling back and forth from Greece to the United States; and our mother and father, with their love and everything they instilled in us."
Sakellaropoulos Organic Farms, another family business in the area of Sparta, Laconia, is celebrating 13 medals from EVO IOOC this year–three gold and 10 silver–for both their extra virgin olive oils and their flavour infused olive oils.
Their Masterpiece Blend, mixes the oil from three olive varieties (Koroneiki, Athinoelia and Koutsouroelia) with pimento, cloves, nutmeg, and cinnamon for a truly unique flavor, was a finalist in the Best in Class award.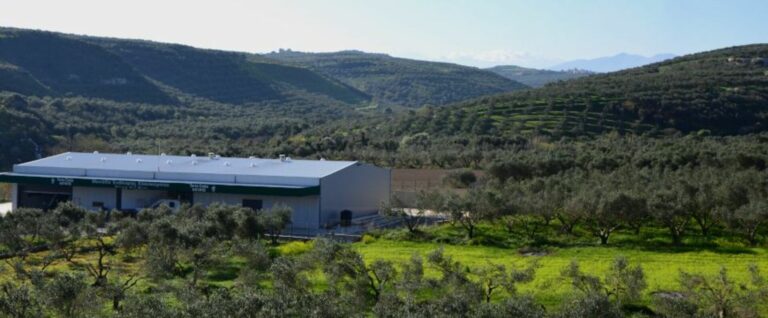 Nikos Sakellaropoulos said that their "specialized production comes from a single estate," reflecting the "very specific terroir of our own organic olive groves. This provides our olive products and especially our gourmet and organic olive oils with the signature of the Laconian land and of our own terroir." Sakellaropoulos credits his company's record-breaking success at numerous international competitions (with 480 awards, and counting) to that terroir and their use of their "specialised expertise" in cultivation, production, and blending.
Devoted solely to flavour infused oils, Pellas Nature added four gold medals to their list of awards. Pellas Nature Oregano Olive Oil, was a finalist for a Best in Class award. Ioanna Diamanti told Greek Liquid Gold, "we use premium EVOO in our products, carefully selected and tested," a well as selecting aromatic plants with great care. "We collect the plants at their maximum bioactivity, and we process them fresh the same day."
Diamanti said that for the team at Pellas Nature, "learning never ends, as every year there is something new."
She attributed her company's success to teamwork that spans the cultivation of olive trees and aromatic plants, the production process, and quality tests. "It is critical that all these people are committed to the company procedures and cooperate smoothly. This needs a certain work mentality and attentive management." Pellas Nature has achieved this, and "we are grateful to each and every one" of the individuals behind the company's award-winning products.
It takes many dedicated people in various parts of Greece to produce and bottle the high quality Greek olive oils that win awards at international competitions, and enliven the meals of consumers across the planet.
Greek Gold Medal Winners at the 2022 Edition of the EVO IOOC
Best of Greece
Terra Creta Platinum 0.3 EVOO
Greek Extra Virgin Olive Oils with Gold Medals
HYPERELEON GOLD
ootopia Blend Koroneiki & Manaki
enKardia EVOO Ultra Premium
One & Olive Premium Extra Virgin Olive Oil
Terra Creta Koroneiki Grand Cru Extra Virgin Olive Oil
ootopia Organic Koroneiki Single Estate Iliokastro
HYPERELEON ULTRA GOLD
LIÁ
Konos – Premium Edition
ootopia Manaki
Eleonas MONASTIC
OLIX OIL Koroneiki Premium
Skoutari
ena ena Ultra Superior PGI Olympia
Olvia Extra Virgin Organic Olive Oil
Mavroudis Monovarietal Lianelia Extra virgin olive oil
Konos – Filoso
Liokareas Early Harvest
HYPERELEON GREEN
ELIAMA D.V. PREMIUM
Laconiko
Oilove limited EVOO
Terra Creta Platinum 0.3 EVOO
Greek Flavored Olive Oils with Gold Medals
Laconiko Lime
MASTERPIECE Blend – Flavored with Pimento, Cloves, Nutmeg and Cinnamon
GEMSTONE Blend – Flavored with Ginger, Lime and Basil
Pellas Nature Basil Olive Oil
Mavroudis Gourmet Chilli
Terra Creta BIO Infusion with lemon
Pellas Nature Oregano Olive Oil
Laconiko Blood Orange
Laconiko Lemon
SYLLEKTIKON Gourmet – Flavored with Orange, Lemon and Thyme
Pellas Nature Green Chili Olive Oil
Mavroudis Gourmet Lemon
Pellas Nature Lemon Olive Oil
Olive Breeze Herbs and Spices
For the Greek silver medal winners see the EVO IOOC Results page, and search by country, then by EVOO or flavored olive oil.

Originally published on Greek Liquid Gold: Authentic Extra Virgin Olive Oil (greekliquidgold.com)