In June, Athens hosted this year's World of Coffee at Metropolitan Expo, with the Australian-Greek coffee brand, MELVOURNI, making its first-ever appearance.
Organised by the Specialty Coffee Association, the annual event gathers baristas, coffee professionals, and experts for three days of exploration, networking and personal development.
"We wanted to exhibit what Melbourne has to offer within the coffee scene, but also introduce our specialty grade, ethically sourced and organic Greek coffee," said George Dardamanis, of MELVOURNI Greek coffee, in an interview with Neos Kosmos.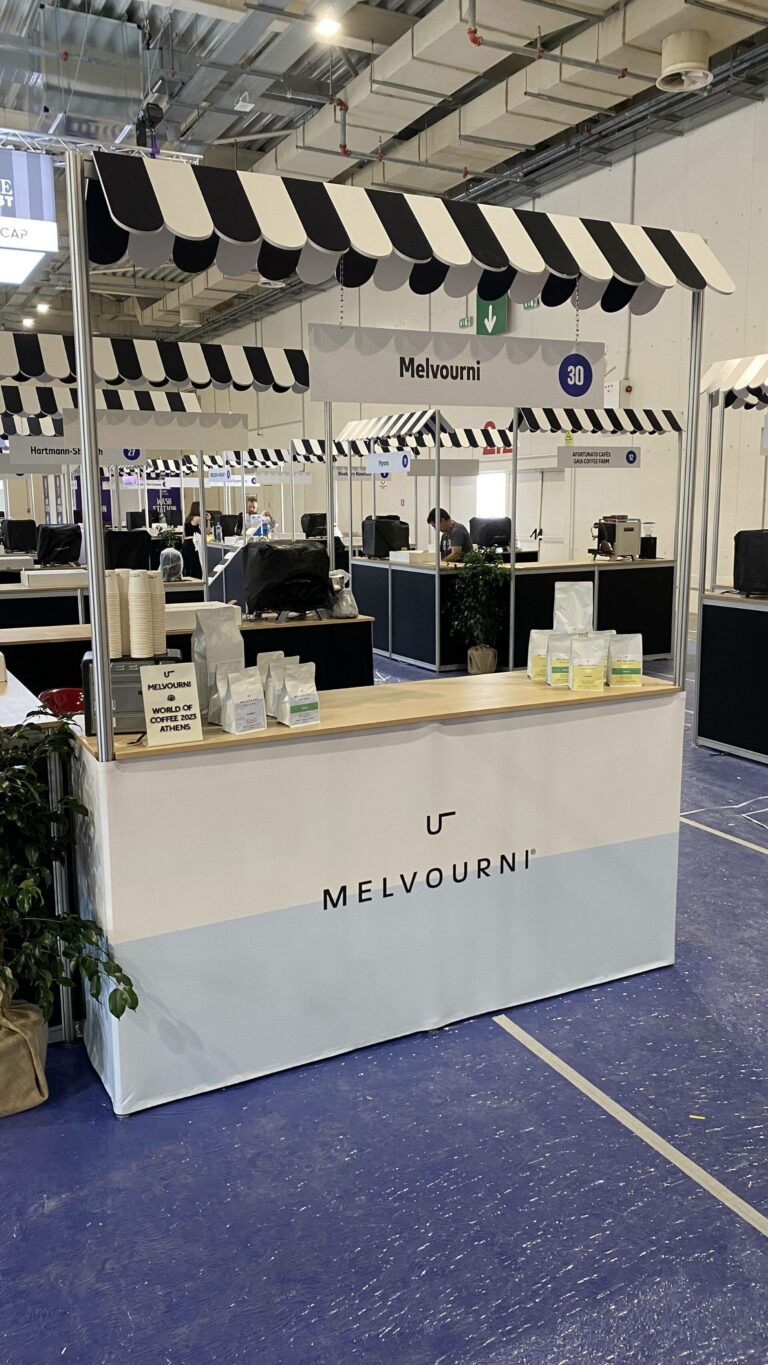 At the expo, coffee enthusiasts were treated to a diverse range of activities such as seminars, presentations, workshops, networking opportunities, and award programs. Although there were no specific championships or awards for Greek coffee, Dardamanis felt a deep sense of pride when their brand, MELVOURNI, was mentioned as a finalist.
Experiencing both a "very quiet" and a "very busy" Athens due to the ongoing elections during that time, he talks about the distinct aromas that instantly evoke the feeling of being in Greece.
"The smell of tarmac, the whiff of cigarette, the smell of frappe…you just know you're in Greece."
With the help of his cousin and Margarita Nikolaidi, 2021 Greece's MasterChef winner, whom he's known from a young age, Dardamanis says their Australian-Greek coffee brand, attracted the attention and curiosity from a few attendees at the expo.
"I had a couple of Greek guys, coffee roasters and baristas that were exhibiting there, coming on the last day in the morning and saying, 'are you doing that coffee?' There must have been a bit a word of mouth going around the expo. It's really about getting people drinking the coffee."
Reflecting on MELVOURNI's humble beginnings, Dardamanis shared how the brand evolved from a mere "hobby."
It all started when his wife Thalia, realised the lack of organic Greek coffee to serve their guests who would pay the couple constant visits at home, after their first child was born.
Spotting an opportunity, they ventured into the coffee world, launching their own brand, which has since grown.
Dardamanis praises the Greek coffee's simplicity—just "a briki, heat source, water, and sugar are all you need," he says.
"I remember my mom making coffee for me when I was, about seven or eight years old, and I used to dip my teddy bear, biscuits in it," he recalls, sharing how Greek coffee serves as a connection to cherished memories for many people.
With the World of Coffee Expo heading to Copenhagen next year, Dardamanis reveals their plan "to exhibit there too," driven by a clear vision of pushing the essence of Greek coffee to new heights.