I spoke to Fotis Vergopoulos on bouzouki and vocals and the instigator of the group, as they were about to hop on a bus to Port Fairy Folk Festival and then fly to WOMAdelaide.
The genre now has universal appeal, but it was once the music of outcasts, first brought to life by the pain and hardships of Greek refugees from Asia Minor Catastrophe of the 1920s.
Rebetiko music and lifestyle linked comfortably to emerging 1920's Jazz and new Balkan sounds as much as it maintained its eastern roots.
Rebetien's dense acoustic timbre is built on accordion, double bass, violin, bouzouki, and guitar. Vergopoulos says Rebetien enthusiastically "embrace the gramophone sounds of the 1930s of Asia Minor, (Turkey) and Greece."
Rebetien are nostalgic. Nostalgia, a Greek word meaning sickness of longing, is an apt descriptor for Rebetiko and Greeks.
Vergopoulos was born in Melbourne and lives in two worlds.
"We left Australia when I was six months old in 1989 and I came back 2010 and again in 2012," he remembers the passages.
His father Nikos was an inaugural member of Apodimi Kompania in the 1980's. Apodomi Kompania were the first Rebetiko ensemble in Australia and the first 'world music' groups to be funded to produce records as new Australian music. They too left Australia and established an admirable career in Greece, across Europe and the Middle East.
READ MORE: Rebetiko festival comes to Melbourne
"My father was the reason my brother and sister and I became involved in music," says Vergopoulos.
Like many Greeks, Vergopoulos studied what was 'practical', civil engineering. He adds, "…but the music took over, it's in in the blood."
Rebetien are also Avgerini Gatsi on accordion and vocals, Giannis Zarias on violin and double bass, and Kostis Kostakis on guitar.
"I first met Avgerini in 2010 – we met through the Internet and in Athens we began to develop a band.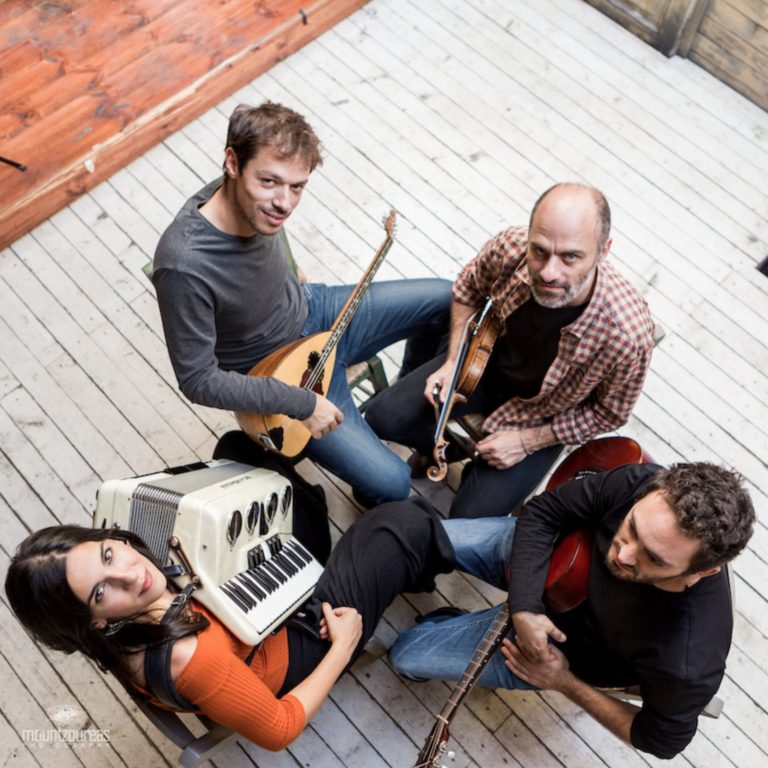 Gatsi studied classical music the National and the Kapodistrian Universities of Athens. She is ensconced in western and eastern classical music forms.
Avgerini learned from some of greats in Turkish music, Omer Erdogdular a master of the ney, Yurdal Tokcan the exemplar of the oud, and Mercan Erzincan a leading exponent of the Turkish grommet song.
When Vergopoulos finally returned to Athens he met Kostis Kostakis and Giannis Zaris, and with Avgerini they created Rebetien.
"We liked each other and we loved playing together," it was simple for Vergopoulos.
"Giannis studied classical violin in Athens and then took up Jazz at the Conservatorium van Amsterdam.
"He has a PhD in violin performance and teaches music at the University of Macedonia, Thessaloniki, Greece," Vergopoulos points out.
Kostis on guitar began his involvement with music at the age of eight. "He studied and played classical guitar at the Music Conservatory of Athens and later fell into electric guitar.
READ MORE: Japanese musician performs rebetika
"He became part of Athens' booming alternative rock scene," Vergopoulos adds.
The inevitable issue always arises, the Financial Crisis that crippled Greece from 2008 to 2016 and its impact on life not least, on music and the arts.
"My youth defined my relationship to the Crisis, it mattered less to me, and to young people, we just played, Rebetiko is after all music born of crisis," Vergopoulos says.
Rebetiko has no ethnic, or national boundaries. It is open to all from the East, the West, South and North.
"People love Rebetiko, young and old, and it is being rejuvenated as new people learn to play it in new ways.
"We play regularly in Lebanon, Germany, France and across the Mediterranean and Europe, we see for example, French musicians that have fallen in love with Rebetiko, and know the form, know the history and the relation of the music to all, not just Greeks," Vergopoulos clarifies.
A testament to the global appeal of this music is Japanese Rebetiko artist Atsushi Tookaya will feature in the Festival and in a report in Neos Kosmos he equated, Rebetiko, to Enka, a Japanese ballad style
Rebetiko was once the voice of the dispossessed. It arose from the crowded ghettos in the ports of Thessaloniki and Piraeus. It was the music millions of unwanted Greek refugees from 1913-1923 brought with them. These Greeks were seen as Asian, as Turks, and were looked down upon by mainland Greeks desperate to be 'European'.
Rebetes, were outsiders and music outlaws. In the 1930s and 1940s, right-wing governments sought to imprison and censor them.
Vergopoulos says that the themes in Rebetiko, like those in Flamenco, African American Blues, "are about love, loss, poverty, migration, oppression – constant themes."
Modern Greece – born of revolution in the mid nineteenth century – has never been homogenous regardless ethnocentric fantasies and Rebetiko proves that.
The music is rooted in Byzantine, Turkish, Middle Eastern, Sephardic and Jazz idioms.
"In Greece now we have new people involved in Rebetiko. Africans, Middle Easterners and others are working in the form and like many of us, they are migrants they feel the music," Vergopoulos is poignant.
Rebetien will also perform in Sydney after the Festival.
The Melbourne performance is on Saturday, 23 March, from 3pm to 10pm at the Melbourne Recital Centre (31 Sturt Street). Tickets are at $69 ($55 concession).