When Australian Cypriots Nathaniel Anthony and Chris Anastasi met at a fitness expo in 2013 it was meeting of like minds that developed Muscle Nation into a rapidly-expanding business and a friendship that transcends business.
"I met Chris through business but we became friends in the process. His brain ticks in a different way and he is a marketing genius," says Mr Anthony. "My partner is one of the main reasons the business is doing so well. I am more business savvy and good with the back end (website, financials, analytics and reporting). But this is more of a friendship than a business partnership."
Both men are family orientated and members of their families are actively involved in the running of a business that is growing far faster than projected when the two men launched Muscle Nation from Mr Anastasi's study desk on 22 August 2016.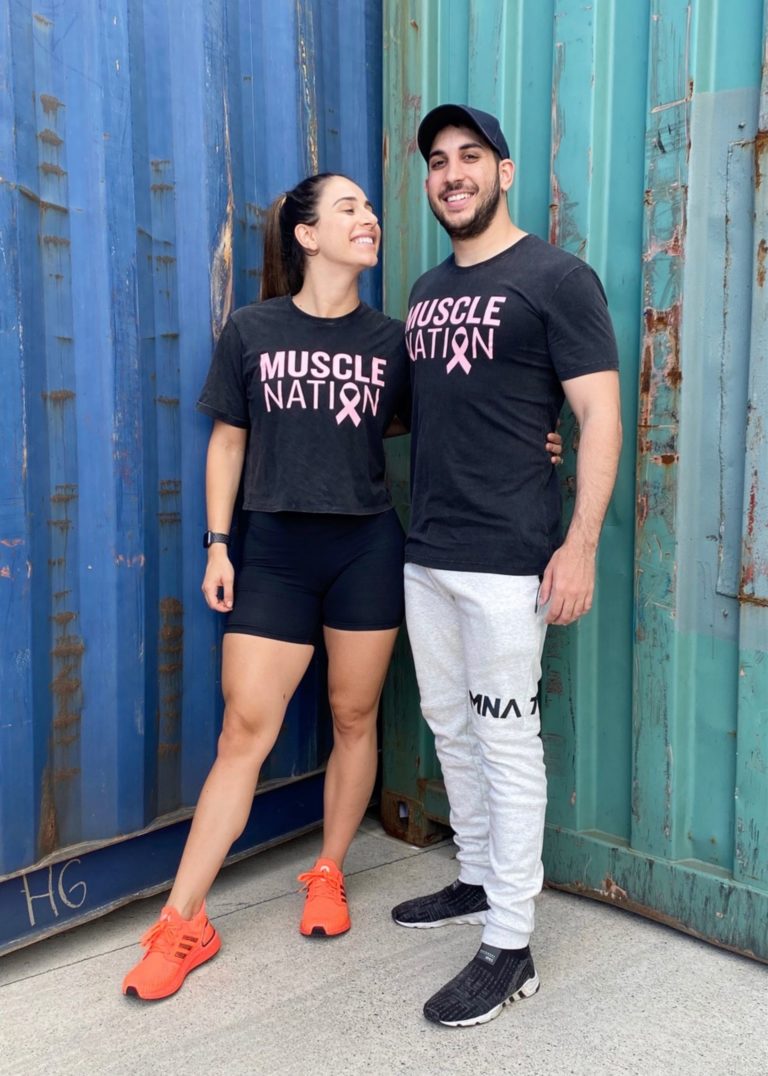 Mr Anthony's wife, Demitra, is the third spoke in the Muscle Nation wheel and is in charge of the company's 1,700 square metre warehouse in Brisbane.
"There are very few examples where husband and wife have important roles in a growing company," said Mr Anthony. "The business would fail without her."
Having a warehouse to store the company's constantly changing product range is a key component of Muscle Nation's success. A new, giant 4,000 square metre warehouse is being built to cope with ever growing demand and Mr Anthony's father, Chris who is a builder is managing the project.
"When we started (in 2016) we sat with orders stacked in mum's dining room. We rented our first warehouse (in 2017) for $550 a month which was a lot of money for us at the time. We have moved to three (ever larger) warehouses since then."
READ MORE: Successful young Greek Australian in Greece's Forbes prestigious list
Muscle Nation has over the years introduced more than 1000 products online. In 2018, it branched out to supply supplements which are available through its online business and is stocked in over 300 supplement stores across Australia and New Zealand.
The growth has been impressive. Sales have been doubling on the previous year since the launch in 2016. Mr Anthony said this year the company is on track to reach over $50million in sales for the current financial year. This despite (or because of) the rise of COVID-19 a year ago.
"When COVID started, we were stressing that we would have to lay off staff. We are very family-oriented and were worried about what would happen. It turns out we had to hire more people."
Muscle Nation employs 50 people but on Black Friday in November, the biggest event on the Muscle Nation calendar, that number doubles in order to shift the orders as quickly as possible.
"Last year, on Black Friday alone, we had 30,000 orders to get out within the first day- it reached about 50,000 over the month. We had to have day and night shifts going," said Mr Anthony who manages the back end of the business.
Mr Anthony is the eldest of three brothers. He studies at Iona College and while he says his grades were not good they were enough for him to study construction management at the Queensland University of Technology. He went on to work in a construction company after graduating.
But the pull of business was strong and his parents were a big influence. His father has his own construction business and his mother, Maria, has three coffee shops in Brisbane.
At 21, Mr Anthony bought his first investment property. He still runs a property development company. It was while he was still in the construction trade that he realised the growing power of social media, then a new development in the world of the internet.
READ MORE: Young achiever Fotios Tsiouklas, 19, making millions with his business
"I was one of the first to get on board with Instagram and grow fitness pages so that now we have the biggest fitness pages in the world. I studied how to manage social media and kept up with changes in the algorithms. I was also looking at what other industries were doing with social media," he said.
"I started to build fitness related Facebook and Instagram pages to the point where I had a network of millions of followers within a few years. Now this network is 10m+ Followers.
"I used these pages to start an advertising business (selling shoutouts to fitness brands) and to start promoting gimmicky gym apparel. This is how I met my now partner Chris (Anastasi) as he was working for a company that paid me for advertising.
While Mr Anthony's parents were sceptical of these developments, he could see that this was the way to go.
He also realised the advertising potential of social media and developed a business promoting the products of big brands.
He tried his hand at a number of ventures. Some were successful and others not so much. He still has items such as cell phone covers that he was not able to shift.
He tried his hand at selling gimmick clothing via eBay.
"I used to have racks full of clothes in my room and used my Yiayia's house as a warehouse.
"My first failure was trying to sell singlets and clothing. I decided to ship the stock worth $50,000 to China to distribute from there because Auspost was new to sending products overseas. But the products just sat in China. I was dealing with people who did not understand what I wanted."
He then decided to transfer the clothes to a US site. That did not work so they were moved to another US site.
By this time he had met with Mr Anastasi and together they determined to bring the clothes back to Australia to rebrand and sell the clothes.
"We were able to grow and streamline once we were working from Australia rather than overseas," said Mr Anthony. Today 70 percent of business is generated from within Australia.
The experience while frustrating proved invaluable.
"I knew I had what it takes to overcome the problem. … In business you have to have the mindset to look out of the box and to be afraid to try new things. I took a lot of risks and I failed at a few things on the way."
The experience has been poured into the Muscle Nation and it is a brand that follows a unique path.
"We do things differently and use unique methods to develop a 'cult-driven' community. We make friends with our customers, we don't just try to sell and leave it at that.
"We make sure our customers are happy and they tell their friends and family. People do not realise that word-of-mouth is the biggest form of advertising and also the cheapest.
"A lot of businesses are focussed on getting new customers rather than servicing the customers they already they have – surely they are more important," said Mr Anthony.
"We have grown so fast at Muscle Nation that the whole experience has been like a car taking off without any brakes. We are not looking too far ahead into the future.
"We are looking to hire quality staff and getting more of the right people. The key is to work hard and with the right people, to stay humble and make sure we put back into the business from what we have earned.
"We have a lot of staff to support and we are proud of that.
READ MORE: Greek Australian teen entrepreneurs introduce a new underage demographic to the clubbing scene