When sommelier Angie Giannakoudakis discusses wine, she talks about a journey more than a taste.
"We can't jump on a plane (to Greece), but we can drink our way there," she told a small group of wine tasters ranging from connoisseurs to the not-so-classy wine drinkers like myself, who commit frowned-upon travesties when it comes to wine drinking, such as adding coke to it on the odd occasion.
But our meeting with Ms Giannakoudakis was a special occasion, and one where the taste of wines from the cellars of Hellenic Wine and Spirits (HWS) were to be savoured rather than disguised.
"Let's just say that we land in Athens, and then we just decide to take the scenic route," Ms Giannakoudakis said, before guiding us on a road trip to the land of Tyrnavos, Thessaly, at the foot of Mt Olympus, where the gods once lived.
Beneath the sacred mountain, viticulture has been renowned since mythical times, with Homer writing of how Evnios – the son of Jason and Ipsipilis – was sent to Troy to supply men with Thessalian wines. Its reputation is evidenced by archaeological findings in the area.
READ MORE: Wines of Greece touring Australia #drinkgreekwine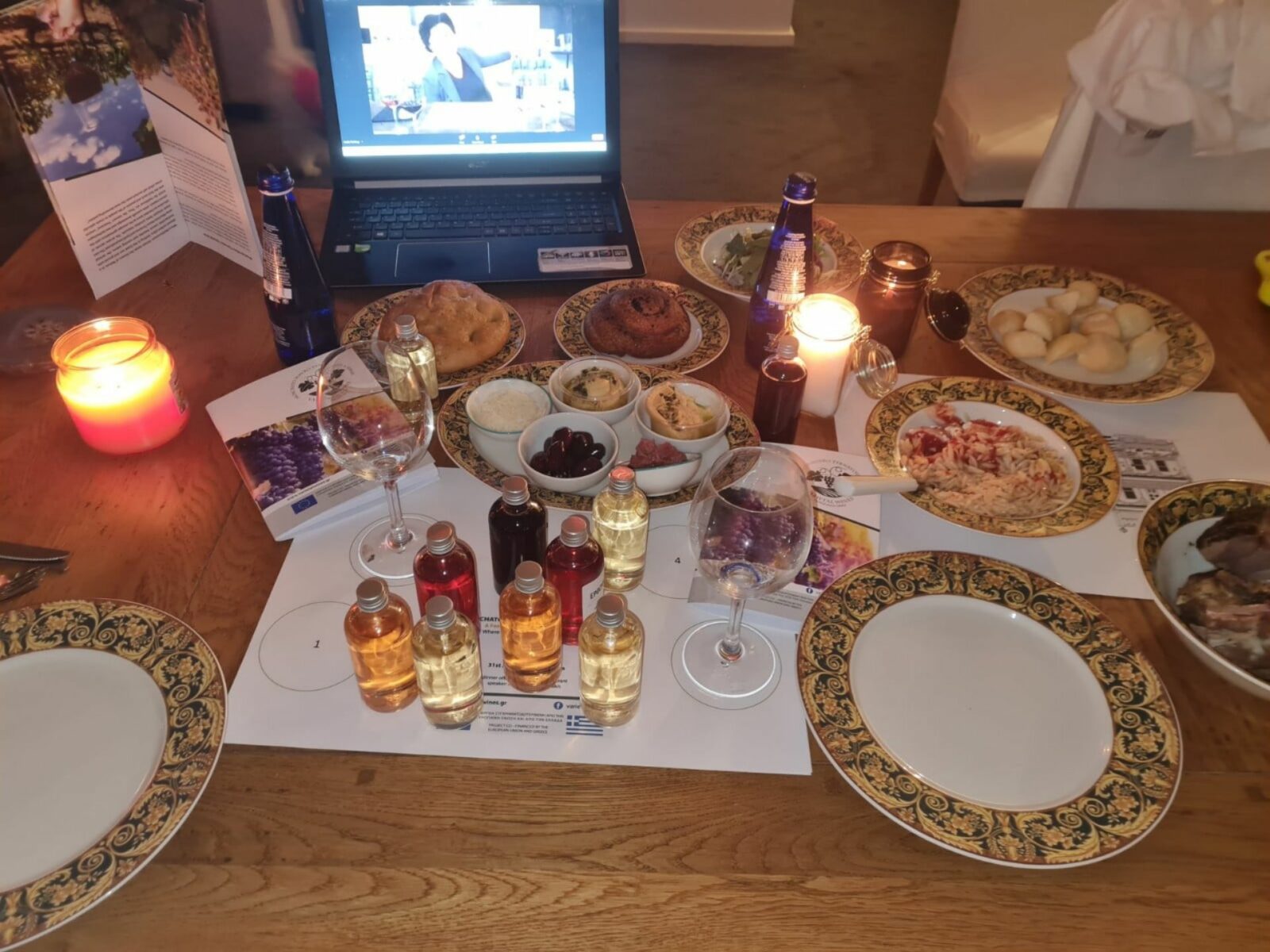 "As you can see, the area is luscious and green, slightly elevated," Ms Giannakoudakis said. "There's drifting sea breezes and that is very interesting as far as microclimate is concerned. That's what it looks like, but what does it taste like?"
And so the journey began.
As we each sat in the comfort of our own homes with the same aromas oozing from our kitchens, created by chef Petros from Epocha to be perfectly paired with five varietal wines.
While the pairings were the same, the experience was different depending on each palate and perspective.
As the night progressed and the wines flowed on, and little stories were unbottled with every variety of wine, from the strong pale appetizer to the blush syrah, served with tender lamb, slow cooked, with celery and date stifado. We were instructed to eat it with the lamb, and try again with the date.
By dessert, the flavours were richer and more voluptuous, taking us to the lolly shops of Athinas Street.
READ MORE: Naoussa wines receive pride of place in unique free online tasting event
"Every time I'm in Athens, I go to this place in Athinas St before I go home, and I load myself with these karameles – big ones, small ones – and the reason I know this place is that my mother goes there and when she'd go she'd bring us back a memory or a box," she said, instructing us to take a "gorgeous mouthful" to be transported there ourselves.
We savoured the flavour and the moment, paired with mastic and raspberry 'toffee apple' dessert, though it would also be a match for galaktoboureko or maybe Roquefort cheese from Southern France – because one thing the evening showed us is that Greek wines can be paired with flavours from all around the world – and there's definitely something for everyone's palate.
The story behind the sip
As sommelier Angie Giannakoudakis weaved together pictures and tastes, interchanging wine with food, Hellenic Wine and Spirits (HWS) national sales manager Vicky Wedderburn carefully watched people's reactions to her family's wines, eager to hear their stories as their tongues were loosened by the good food and wine.
Though she grew up surrounded by Greek wines and spirits, she never tires of hearing of new pairings and their potential.
"My father started the company in the 90s," she told Neos Kosmos, "though he was in food and retail earlier than that. He just saw the need for more Greek products."
As a liquor store owner himself, Archie Tsoukras had a hard time finding Greek products, so he looked to his own birthplace – Tyrnavos – where the oldest ouzo distillery is located and beginning with ouzo, he slowly began to bring more products, carefully and selectively building up his stock.
READ MORE: The merry drinks of Hellas: 10 unique Greek spirits and liqueurs
Ms Wedderburn remembers the early days of Tirnavos Imports, before the company was rebranded to HWS in 2020 to showcase not just the offerings of Archie's birthplace but also the evolution and excellence of Greek wine.
"The company operated in Oakleigh, before the area became the Greek precinct it is today. Back then, only Nikos Quality Cakes existed in the area," she said.
She remembers the spike in sales during the Athens Olympics in 2004, when people who couldn't get to Athens chose to "travel" through wine.
"During the Olympics there was a huge write-up in the Age and our shelves were emptied out," she said.
And wine is in the spotlight again with COVID, now that people can't physically travel to Greece but can still savour the tastes of the country in the comfort of their own homes.
For Ms Wedderburn, it's not just the taste but the entire experience that matters – for her, it's an opportunity to focus on lifestyle.
"Let's talk about Syrah, A few commented (during the masterclass) that it was light in comparison to Australian Shiraz, but you need to understand Greek culture and life to appreciate it," she said, explaining that Australians go for "bigger bolder shirazes" because they are in a rush.
"In Greece, people don't drink at home alone but prefer to socially drink with friends. So the whole idea of Greek food, wine and lifestyle is intertwined. People will conversate and bond over a bottle of wine with meze.
"Same with spirits. You don't have people drinking ouzo and tsipouro without food. Why do people add water and ice? The whole idea is that you savour every sip, enjoy it and prolong that experience. You don't just rush and have a glass of ouzo."
READ MORE: Perfect pairings: Moschofilero
Ms Wedderburn said that COVID is making people more mindful, and more inclined to savour the drinking process rather than rush through a bottle.
"People in Australia prefer Stelvin caps than corks because the wine is to be consumed immediately, and they won't necessarily cellar, whereas in Greece and other parts of Europe they continue to use corks, and one of the reasons is because they put the wine in their cellar to keep for later. They are hesitant to change this as they feel it cheapens the wine," she said.
Ms Wedderburn sees that Australians are seeing the benefits of enjoying a good bottle opposed to guzzling it down, "a lot of non-Greek wine drinkers appreciate Greek wine", she said, adding that HWS aims to "change a palate at a time".
"Sales have gone up," she said, adding that people are these days more inclined to splurge on a $50 bottle of wine.
"I think it is because people are craving to try something new. They are not able to travel or go out to experience something new, and because they are not able to spend money on a holiday they'll spend it on good food and wine," she said.
In an effort to win over a few more palates, HWS took part in events cofinanced by the EU and Greece for the promotion of Moschato Mavro Tyrnavou. Initially, these were to have taken place in person, but thinking outside the square it was decided to offer people the chance to taste the wine via online events held with Epocha and with Tanya Hanouch from Wolfe & Molone in Bentleigh.
In total 200 people, only 25 per cent of which were Greek, enjoyed a five-star menu and a journey through wine.