It was Wednesday, a winter's evening like others, cold and cloudless with bite. An old schoolmate and I, Saro, shared a meal at one of High Street Thornbury's new hip joints.
We don't see as much of each other now but try and find the time to grab a feed and chew the fat.
We started to get thirsty, so we pushed on.
Our local was getting a little played out, and the weather had started to seep into our bones, so Saro said, "There's this place I've been meaning to check out – Capers – what do you think?"
It's only up the street we took a stroll. As soon as I stepped through the very low-key doorway, I was transported to my Yiayia's place.
Familiar Greek icons of Christ and his mum, the Virgin Mary, adorn the wall, and all the old school Greek house trappings from the 60s and 70s.
The glass pane door opening the courtyard was a time portal, and I stumbled into my Yiayia's saloni.
The furniture was a rhapsody of brown, tans, and forest green. Vinyl and woody 1950s to 1970s were alive. The only thing that was missing was an oversized HMV and TV console.
"I think this place is Greek man."
"How can you tell"? my mate laughed.
I order a couple small bottles of retsina.
The furniture reminded me of Yiayia's as did the food. The music though was from Psiri, Rebetika through and through. We struck conversations with the locals.
Two women on the next table couldn't get over how good the olives were, so they insisted on sharing. They were convinced they're the Kalamata.
The night moved on and we spoke about everything, befitting the baraki. Greek themes – history, culture, politics.
I was hooked and back on Sunday night. I only had one wine this time and told the barkeep about my luck stumbling on this place.
"Up my alley, in my backyard," I said.
The barkeep was the owner, Christian Evripidou.
With his cousin Tasso, they opened Capers two years ago, just before Covid monstered everything. Originally it was for day trade, but they soon realised the younger crowd in the Greek and general community were looking for a night café of their own.
"That's important to us because it's mostly about community, and the local Thornbury community isn't just Greeks, we provide an experience apart from your typical hospo venue."
His father Niko and family arrived in Australia as refugees, after the Turkish invasion of Cyprus. His father stayed but many moved back including his Yiayia.
"The place reminds us of our Yiayia's, we've recreated the look, because we don't see her often, the food's all magirefta [home cooked meals] too."
Chris said he was embracing his identity and wanted to share it with others.
"There's lots of first- and second-generation Greek Aussies that aren't as in touch with their culture as their parents, but they want to learn more and have that experience, we're trying to be a place where they can do that."
Capers have managed to build up a community around them.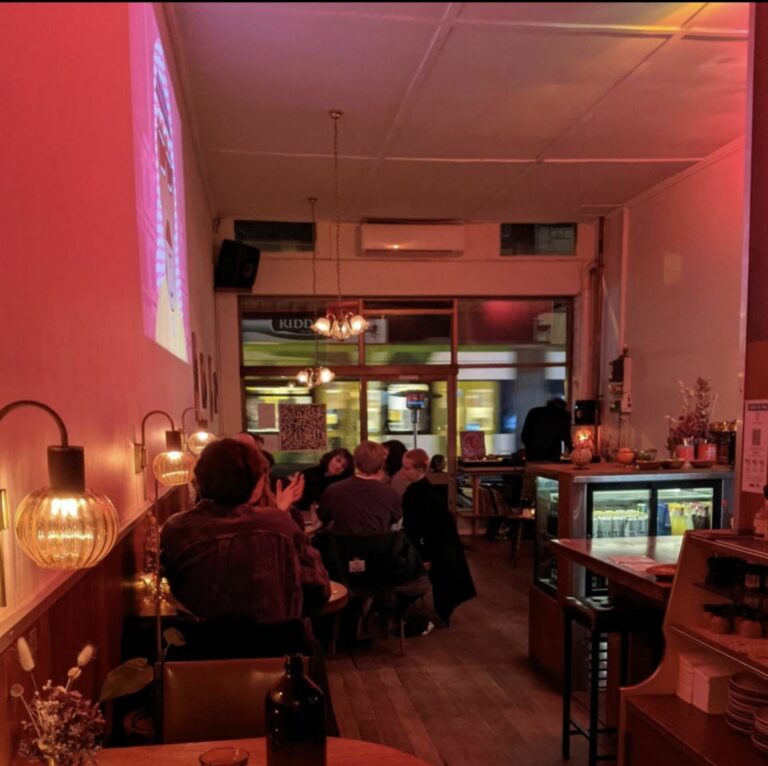 "They come and have something to eat and drink, they're dancing by 10pm and they're out by 1am. We get a DJ in most nights so it's not just the food, music, or the drinks, it's about the place…the nostalgia and feel, we're a spot where all people from the community can come to."
I got the chance to speak to a local DJ, Nema Šansa, about what his takeaways after spinning discs quite a few times for the venue.
"We've never not had a good time. The crew there's happy for us to bring a squad of friends and just share the music with each other, have a chat, even bring our parents down to jam and have dinner."
Nema reckons when a bar crew and his dad can have a chat with each other, you know it's a friendly spot.
"They're actively engaging with the community; they take a slice of their revenue and reinvest locally."
"Recently they helped restore the Night Café signage a few doors down where the old boys hang out, and they're always stocking up from Psarakos."
It's a social haven where people from all walks of life are welcomed, no-one is turned away. That's what made it for me – the sense of welcome and inclusion.
It's the kind of locally oriented spot we need in busy times like these, a place to unwind and be yourself, with good friends and good hosts.
In other words, it's a local caper.